Galeries Lafayette Delivers a World of Color this Spring Season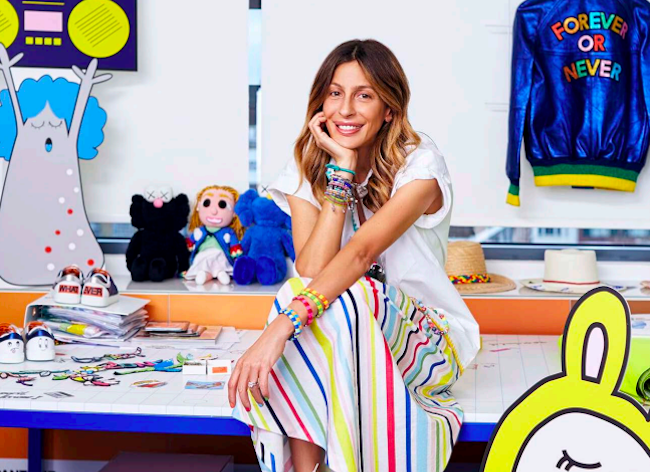 Have you heard about remote shopping at Galeries Lafayette? Oui, c'est vrai. A personal shopper can help you get exactly what you need, TAX-FREE
We all need a little color right now. The monotonous gray of winter, bookending a once-in-a-century pandemic, makes it tough to see the silver lining. But spring days are ahead, bringing sunshine, freedom, and optimism. Galeries Lafayette is channeling the mood with a spring-summer collection that celebrates color and outright joy. Step into this whimsical universe and you'll feel an instant mood lift. It's all about having fun and taking care of yourself with items that make you happy inside and out.
Who could capture the season's joy better than Mira Mikati? The Lebanese-born, Paris-raised designer has developed a cult following for her playful, colorful designs that express optimism and a whimsical spirit. Her upbeat style is carefree and cool, just what the world needs right now. As the special invitée of Galeries Lafayette, Mira Mikati has developed an exclusive collection: HAPPY HOUSE is a fashion and lifestyle pop-up shop that's been imagined as a concentration of positive energy.
"After months of isolation and uncertainty," the designer explains, "it is more important than ever to continue to color the world and to dream. The HAPPY HOUSE is a bit of my colors, a bit of the people I love, like the talented artist duo DabsMyla that I've collaborated with, and a bit of myself. This magical house will shine day and night, on Boulevard Haussmann and online."
You'll find striped hoodies in rainbow colors, Californian style sweatshirts in rose and yellow, stylish sneakers, a denim jumpsuit in sky blue, playful t-shirts, and a multicolored bomber jacket— a cool collab with DabsMyla. But fashion's not the only thing. Mira Mikati is also inspiring us with notebooks, stickers, outrageously colorful cell phone cases, pillows, and key chains guaranteed to put a smile on your face.
To spread the love, Galeries Lafayette is also showcasing a range of new items in their "Go for Good" label. First launched in 2018, "Go for Good" is a movement to encourage sustainable fashion and responsible consumption. It's all about preserving the environment, favoring local production and encouraging fair social practices. Galeries Lafayette is a positive force for change, championing sustainability across fashion, beauty, home, and gourmet. This theme will continue with the spring arrival of "Nature Urbaine" at the store, a showcase of the best of nature in the city. Some fabulous examples? Solid shampoo bars by Respire, and herbal infusions by Sous Les Fraises, concocted with plants and herbs grown on Parisian rooftops.
Other things we've got our eyes on? The high-waisted bikinis by Australian swimwear label Peony, handcrafted from recycled and sustainable fabrics. Trendy rainwear by Copenhagen-based Rains, the brand that's make a splash with jackets and accessories in concept stores in London and New York. Embroidered shirts by Maison Labiche. Organic children's clothes by Bobo Choses. Sculptural Hay candles in bright candles.
A world in color awaits at Galeries Lafayette.
Lead photo credit : The HAPPY HOUSE collection by Mira Mikati. Photo credit © Galeries Lafayette
More in boutiques, Mira Mikati, Paris designers
---
---