Le Balm and Le Brooklyn Diner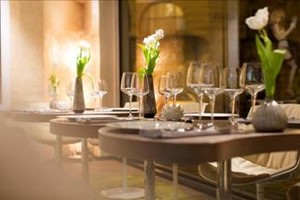 Le Balm. An unusual name for a Parisian restaurant you might think. However, as soon as you step inside this elegant new establishment in the shadows of the Ministry of Culture on rue de Valois, and are enveloped by the soothing vibes permeating the place, you sort of sigh and say to the gracious hostess, "Where might I be seated, please?"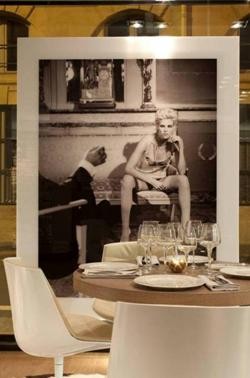 From outside, the design-rich interior first appears as if it could be a bit stiff with its generous use of white with bright spring green accents, full-size wall photos by Marc Lagrange and chairs designed by celebrated designer Jean-Marie Massaud. But once inside, whether it's for the lunchtime steal of a deal of appetizer + main for 29 Euros or appetizer + main + gourmet cafe (that's coffee served with little cakes and sweets) for 35 Euros, or in the evening for dinner service, the cosy warmth of le Balm overtakes you and serves to whet your appetite. In fact, it's a point that deserves even further punctuation as many big-city establishments serve outstanding food but skimp on tactile atmosphere. I find atmosphere – and vibes – imperatively important for pleasant conversation, ease of digestion, and quite simply put, overall enjoyable dining. Le Balm's got it all.
Owner-restaurateur Pierrick Mathon and his Thai wife, Kanya, like to say that le Balm is the extra room in your house that's, well, not in your house. And their warm hospitality serves to embody that philosophy. Even the accent décor is all about funneling positive energy towards you – above one table just in front of the gorgeous stone-by-stone bar hangs a Chilean Shamanic Light Staff designed by the (Chilean) artist Cosmo for his Sacro collection – traditionally the staffs were used to channel positive energy into tribal village gatherings. Whatever it is the Mathons do to achieve it, the positive vibes in the place are palatable.
Also, lest I perpetuate some sort of myth, allow me to point out here that Balm actually stands for "Boeuf à la Mode" which was the name of the original restaurant that stood on the very same spot in 1792 and lasted until 1936. After undergoing several incarnations as various shops and businesses, it is now once again the site of a restaurant.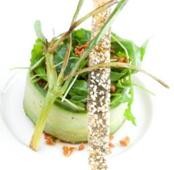 Menu highlights include Paris-Bangkok Thai Beef Salad, Foie Gras Ravioli in a mushroom emulsion, Langoustine Risotto (creamy and smooth), Pan-seared Scallops with topinambours puree, Irish Rack of Lamb with polenta and dried fruit, Fresh Fig Tarte with an almond paste base and a side of Speculoos ice cream, Mandarin Tiramisu in a citrus syrup with Kawasemi sake… Main courses (for dinner) are in the 25 – 35 Euro range. Good wines can be ordered by the glass as well as by the bottle and an impressive whiskey lineup is within reach above the bar.
Reservations Recommended. Lunch M-F Noon – 3pm; Dinner Monday – Saturday 7pm – Midnight.
Le Balm 6 rue de Valois Paris 75001 balm.fr 01 42 60 38 81
Brooklyn Diner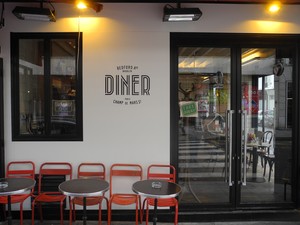 In the exciting scene that is the never-ending evolution of Paris dining, another small team of young Frenchmen has opened the doors to their first Burger joint in Paris. Like other youthful adventurers, the team went for their walkabouts around the globe and decided to bring back to Paris a NYC diner that outdoes the best of the burgers in the west.
For Yann Bourgeois, Alexandre Maloubier and Hadrien Birembaux this is their second restaurant following Gatsby. This time they decided to give Parisians a real taste of what an authentic diner is like, the kind you might find around Mid-town Manhattan or even in Brooklyn.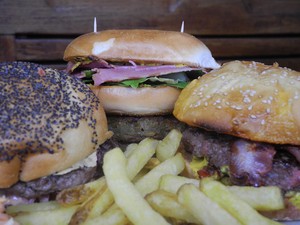 Things that make you feel like you're back home: Huge portions. I'm not kidding. We each ordered a salad and a burger and it was about two dishes too much. The salads come in dinner plate size bowls and my Caesar Salad which should be called a Chicken Caesar Salad had so much chicken in it I had plenty to share with my little dog. She already keeps asking me, When can we go back? My lunchmate ordered the XXL Burger. At 18Euros I was thinking it better be XXL. He's a big guy – well over 6 foot – and even he had a hard time downing all of it after chomping down his tuna salad. "One of the best burgers I've ever had," was his true blue American takeaway. They have fresh-baked bagel sandwiches too – Lox, Turkey, Pastrami, B.L.T.
But the best thing here – besides the freshly made french fries that accompany nearly all burger orders (ex: Basic Cheeseburger 6 Euro, Basic Cheeseburger with Fries 8 Euros) – are the fresh-pressed juices. If you're a fan of Bob's, you'll love this place! You can order whatever fresh juice combo that tickles your imagination. Go for the apple-ginger or get crazy and throw some carrot or celery or mandarin in there. Super delicious and refreshing.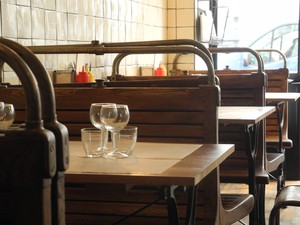 Another great thing is the location. It's right on the rue Champ de Mars so about a 5 minute walk from the Eiffel Tower. It's a nice option and alternative to the excellent (expensive) restaurants around the area and its comfort food draws in the American clientele, not all of whom are from the nearby American University, and the bobo chic Parisians most of whom have fond memories of that year abroad they did or their last family vacation in NYC. Décor is not the overly pervasively red vinyl that is classic American. Thank goodness. It's more "metro" with white ceramic tiles and old wooden benches. One more thing that is not classically American is that the burgers do not come with lettuce, tomato, pickle and onion. But I imagine if you asked for them, you'd get it. Try it and see.
In my estimation this doesn't really detract from the Aubrac Butchery all-beef burgers and the cheeses which are all top Comte', blue and cheddar. One piece of advice though… Remember to leave room for the gihumongous banana split for dessert, the one where you get to choose your flavors of ice cream from among the Parisian staples of salted-caramel, pistachio, strawberry, licorice, and such. Or you could always go for the cheesecake, the carrot cake or the milkshake. And then again, why not a cocktail or two? Especially now that the outdoor sidewalk seating weather is in season.
Main courses 5Euro (NYC hot dog with relish) to 18Euro. Salads 12Euro – 14Euro. Serving Breakfast, Lunch and Dinner.
12, rue du Champ de Mars Paris 75007 (M. Ecole Militaire) Open 7/7 8 a.m. to 2 a.m.
More in burgers, Le Balm, Le Brooklyn Diner, thai food
---
---