Georgette Popincourt – Hotel Georgette meets La Maison Popincourt (gym)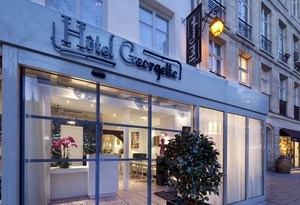 Georgette Popincourt. Doesn't that sound like the name of an Anglo-Parisian heroine in the latest NY Times bestseller? In fact, I like that name so much I think I might even use it.
But it's actually derived from two entirely separate and completely different entities, though both are Parisian.
Hotel Georgette, on the Right Bank, is one of Paris' charming boutique hotels. La Maison Popincourt is a fitness gym specialized in the Aquabike and it has recently opened its second location, this one on the Left Bank.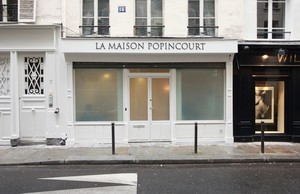 Part of what makes up a perfect weekend in Paris is Fun and Fitness, wouldn't you say (at least in the Springtime, ok)? In this respect, the hotel you choose to stay in and the area in which it's located provides more than just the background canvas to your Parisian escapade, it is the color, the texture, the very style that sets the entire tone of your sojourn.
Opened in December 2012, Hotel Georgette is a delightful design-rich boutique (19 rooms) hotel just steps from the Centre Georges Pompidou, that Paris icon to Modern Art. Ideally located on the corner of rue St. Martin but just away enough from Les Halles to be private, quiet and exclusive, this little Georgette takes its name from the Centre.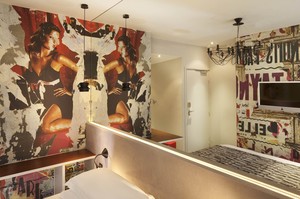 Its design is also inspired by the modern art you find paid homage to in the world-renowned Centre Pompidou. Hence each room is unique and has its own style and art palette that noted design and architect duo Anne Peyroux and Emmanuèle Thisy drew upon to create this haven of comfort, art and refined luxury.
Typical of the Beaubourg area, this 6-storey, human-sized hotel retained its old-world patinated wood-banister staircase when it was refurbished with all the modern amenities of LED-lit spa bathrooms, an elevator, an honesty-bar and homemade breakfasts for its guests occupying 3 Suites and 16 rooms. The hotel is pet-friendly and also offers one room that is equipped for disabled persons. Conveniences in the area are a grocery store and drycleaning across the street and some of the best little wine bars and wine shops in Paris along the rue St. Martin which is just outside the hotel front door. Centrifugally-situated, the Marais is within walking distance as is Les Halles, Ile St. Louis and even rue Montorgueil.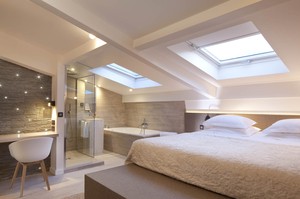 When booking and making your reservations, have a look on the website so you can request your preferred art theme. The rooms vary dramatically and so the much-requested Land Art Suite will give you a different ambiance than the equally as popular New Realist, Pop Art and 'Op Art rooms. Owners Thomas Le Pavoux and Guy Prestot look forward to welcoming you in their haven of peace and quiet to enjoy a truly Parisian art view on what is quintessential Paris Beaubourg. Check the website for their (reasonable) rates and more info/ details.
Once you're fortified with a good night's rest and an opulent, healthy breakfast, it's time for some physical fitness!…
If you're like me, the miles and miles I feel I walk through the streets of Paris and when changing metro lines somehow don't quite cut it when it comes to the stress-relief and overall feeling of well-being that a good workout gets.
Back in the 'States I was an early and avid fan of "spinning." Today – a decade since the spinning and yoga craze has firmly taken root – I'm much more ready to sign myself up for a gentler version of the same.
La Maison Popincourt has helped popularize the perfect version of this: Aquabikes. Ever since I first saw these Aquabike and Aquafitness gyms popping up all over the poshest parts of Paris I kept wondering, What is this? Well, what it is, is Spinning in Water.
It's wonderful!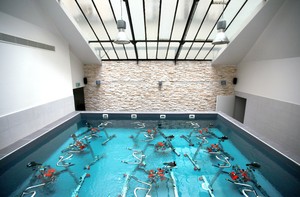 The pool is fairly shallow and comes up to an average-sized woman's shoulders. The bikes are fully immersed in the water. Soft plasticky-rubber shoes are provided for you in the changing rooms where you put on your swimsuit (a few private changing cabins provided; group shower). Some women wear a bikini but a one-piece is just as appropriate – your choice. Everyone showers before stepping into the elevated pool.
A full class – and most of the eight sessions per day fill up – is approximately 16 people. My class was all women but I imagine men would dig this kind of a work out too. Not least because there's lots of women in swimsuits working out right next to them. Thankfully they do have their own changing room at the gym here. Anyway, the instructor begins by having you pedal the stationary bike. He then works you up through timed sprints and differing degrees of intensity.
About halfway into the 45-minute course (30 Euros; 250 Euros for Ten) the instructor walks you through stretching your legs out and sitting behind the seat of the bike, cycling while holding onto the seat with your hands. Feeling the support and the gentle resistance of the water is lovely. As I mentioned, I have always been a big fan of spinning. But I'm not as rigorous today with my fitness regime as I was a decade ago. So this gentle toning and cardio workout, in water, an element I always love to be in for its soothing properties, is a great form of "going to the gym" that you can jump right into (pun intended) whether you're in top shape – or not. Advocates point out that the workout reshapes and firms your figure.
Location on the Left Bank is the exquisite rue de Verneuil – in fact just a couple doors down from the famous former Serge Gainsbourg house (you can't miss it, it's the building that is all graffitied and says 'I love you Serge!' on it). Around the corner is also an Eric Kayser in case you've melted a bit too much off during your workout. In the other direction is St. Germain des Prés, where, I kid you not, on a recent Spring day as I walked with my wet hair (from the Aquabike session) in front of Café de Flore, I passed none other that Charlotte (G. !) on a Saturday afternoon stroll with her little daughter. Ahhh… April in Paris!
Hotel Georgette 36 rue Grenier St. Lazare Paris 75003
La Maison Popincourt 16 rue de Verneuil Paris 75007
More in aquabikes, Hotel Georgette, La Maison Popincourt
---
---