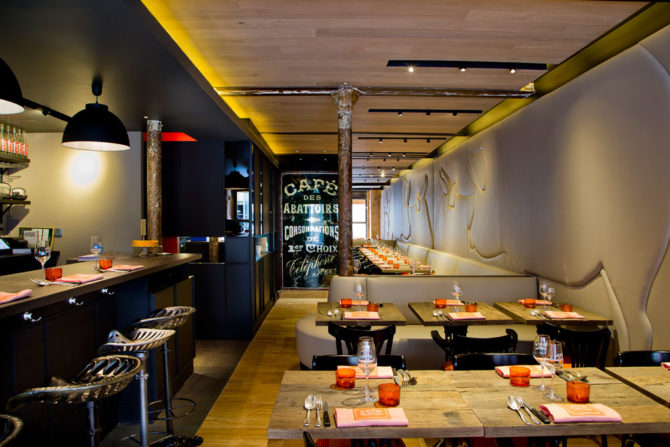 BP take: Located near the Opera, this stylish restaurant is run by Caroline and Sophie Rostang, the daughters of renowned chef Michel Rostang. Excellent steak, chicken for two, and a wide array of comforting sides.
"The Rostangs have decanted a great variety of Gallic comfort food into three prix-fixe menus"- Alexander Lobrano, France Today
"…a modern grill-meets-Lyonnaise bouchon at the edge of the Place du Marché St.-Honoré. The name is a nod both to the slaughterhouses of the defunct market of Les Halles and to their great-grandfather…" The New York Times
10, rue Gomboust, 75001. Tel: 01-76-21-77-60; cafedesabattoirs.com. Open 7 days a week. Lunch formule 22 euros. Other set menus: 32 euros, 38 euros, 45 euros.
Lead photo credit : Cafe des Abattoirs, Paris
---
---