Three French Ways with Asparagus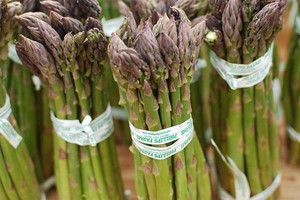 Fresh, local asparagus is finally making its way the markets in abundance. Take advantage, with these French ways to enjoy the spring-green veggie.
1. Asperges Vinaigrette // Asparagus Vinaigrette

In this oldie but goodie, asparagus is simply steamed, tossed with vinaigrette, and served "tiède"—at room temperature.
In recent years, however, roasting has replaced steaming as a favorite to serve the vegetable. In fact, if you plan on serving wine, you may want to choose this method.  Asparagus has a strongly vegetal flavor that clashes with most wines, but the more you bring other flavors to asparagus (such as the sweet, toasty flavors wrought by roasting), the better it will go with your wine.
To roast asparagus: Place 1 pound trimmed asparagus in a large shallow roasting pan. Drizzle with 2 tablespoons extra-virgin olive oil and season with salt and pepper to taste. Roll the asparagus around to coat each spear in oil, then spread the asparagus in a single layer. Roast in a 450°F oven until tender and lightly browned, 8 to 10 minutes (10 to 12 minute if your asparagus is thick).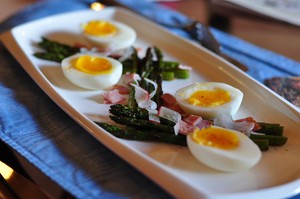 2. Asperges et Oeuf Poché // Asparagus with Poached Egg
In recent years, asparagus served with a poached egg and maybe a touch or two has become the darling of bistros on both sides of the Atlantic. It's best served as a first course.
You hardly need a recipe for this. Simply steam or roast the asparagus (I prefer the roasted method, above); dress lightly with a vinaigrette and top it with a poached egg and a few shavings of cheese, such as Comté or Parmigiano-Reggiano. If you're feeling splashy, add a little prosciutto or diced ham.
If you find poaching eggs somewhat tricky, follow the lead of this photo and simply soft-boil them (whites should be set; egg yolks thickened but not hard). This takes about 4 minutes for a large-size egg; 3 minutes for a medium-size egg. Run the eggs under cool water to stop them from overcooking; then, peel them and slice horizontally. Serve with the asparagus.
Soft-boiled eggs will bring you that wonderfully rich, slightly oozy flavor of the yolk and the texture of the whites, without the bother of poaching.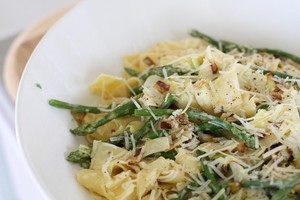 3. Papardelle aux Asperges // Papardelle with Asparagus
French cooks often toss asparagus in pasta dishes, as in the photo seen here.
In my version of the recipe, below, a few green onions and some lightly browned garlic and scallions get in on the act. Be sure to use a papardelle that is enriched with egg—it will bring so much flavor and richness to the dish.
8 ounces dried papardelle
2 tablespoons extra-virgin olive oil
1 pound fresh asparagus, trimmed
4 garlic cloves, roughly chopped
4 scallions (white portion and some tender green tops), sliced (about 1/4 cup)
1/2 teaspoon chicken base* or 1/2 teaspoon of a crumbled high-quality chicken bouillon cube
2 tablespoons snipped fresh parsley or chives, or a combination
Salt and freshly ground black pepper to taste
1 to 2 tablespoons heavy cream (optional)
4 ounces freshly grated Comté or Parmigiano-Reggiano cheese
1. Bring a large pot of salted water to a boil and cook the pappardelle according to package directions; drain, reserving 1/2 cup of the cooking water. Keep the pasta warm.
2. Heat the olive oil in the pot used to cook the pasta over medium heat. Add the asparagus, garlic, and scallions and cook until the asparagus is tender-crisp and the garlic and scallions are lightly browned.
3. Stir the chicken base into the reserved pasta water. Add the pasta water to the vegetables (stand back, it will spatter). Boil until slightly reduced, about 1 minute.
4. Return the cooked, drained pasta to the pot. Add the fresh herbs and salt and pepper; toss well to combine. Let stand about 3 minutes (the pasta will absorb some of the liquid). If the pasta seems dry add a tablespoon or two of heavy cream and toss again, gently reheating the pasta if necessary.
5. Divide into shallow bowls. Scatter the Comté or Parmigiano-Reggiano evenly over the plates. Serve.
* Chicken base, such as Better Than Bouillon, is a concentrated chicken paste available in jars in the supermarket, next to the dried bouillon cubes and granules. I find it a better option than dried bouillon.
Wini Moranville is the author of The Bonne Femme Cookbook and the Braiser Cookbook. Follow her on her blog, Chez Bonne Femme or on Facebook at Chez Bonne Femme.
Photo Credits:
Asparagus Bunches: Livin' Spoonful via Flickr.
Asparagus with Soft-Boiled Eggs: L. Richarz via Flickr
Papardelle with Asparagus: Megan Hemphill (Prairie & Co.) via Flickr.
More in asparagus, French recipes, recipe, recipes
---
---
Comments