Recipes for Your French Braiser
If you were very, very good this past year, Santa might have brought you a braising pan from the French manufacturers Le Creuset or Staub.
These great French pans have wide bases—which allow you to brown meat easily in one layer—and shallow sides, making them perfect for the time-honored technique of braising. Plus, they're both stovetop- and oven-safe—yes, you can brown your meat on the stovetop, then slide the pan into the oven to braise away.
Best of all, they're beautiful.
So, what are you going to cook in your new braiser? Nearly every region of France has its great braise, from Choucroute Garnie in Alsace, to Basque Chicken in the Southwest; from Coq au Vin in Burgundy and the Loire Valley, to Cassoulet in the Languedoc.
But why not christen your new braiser with something really special? Boeuf Bourguignon—the classic beef-wine simmer—will do your braiser proud, and it's perfect for serving at an intimate New Year's Eve bash. Enjoy!
Beef Bourguignon
From the Braiser Cookbook, a new ebook by Wini Moranville and Richard Swearinger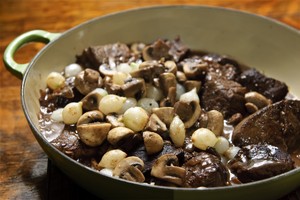 After years of making beef bourguignon, I've found boneless short ribs make the best beef bourguignon—there's just no other cut that offers the lusciously moist and tender meat that has made this dish a classic in its native homeland of France.
Although you can use just about any good fruity red wine, a red Burgundy is classic. You can also use a Pinot Noir from another part of the world.
Makes 6 Servings
2 1/2 pounds boneless beef short ribs, cut into 2-inch chunks
Salt and freshly ground black pepper to taste
2 slices thick-cut bacon, cut into 1/2-inch pieces
Vegetable oil, as needed
1 large onion, chopped (about 1 cup)
3 garlic cloves, minced
2 cups dry red wine, preferably Burgundy or another Pinot Noir
1 cup reduced-sodium beef broth, plus more if needed
1 teaspoon dried thyme, crushed
1 bay leaf
11/2 cups frozen pearl onions
3 tablespoons unsalted butter, at room temperature
8 ounces fresh mushrooms, stems trimmed, left whole if small, quartered or halved if larger
2 tablespoons all-purpose flour
Any-Night Baked Rice, for serving (see below)
1. Preheat the oven to 350°F.
2. Pat the beef dry with paper towels and season with salt and pepper; set aside. In a 3 1/2-quart braiser, cook the bacon over medium heat until crisp. Remove the bacon and drain on paper towels. Pour off all but 1 tablespoon of bacon drippings (or add oil to equal 1 tablespoon total). Increase the heat to medium-high. Brown the beef in the hot drippings, turning as necessary to brown evenly. Transfer the beef to a plate as it is done.
3. Drain off all but 1 tablespoon of fat from the braiser. Reduce the heat to medium. Add the onion to the braiser and cook, stirring, until tender, 4 to 5 minutes; add the garlic and cook, stirring, until fragrant. Return the meat to the braiser; add the bacon, wine, beef broth, thyme, and bay leaf and bring to a boil, stirring to loosen any browned bits from the bottom of the braiser. Cover and bake until the meat is very tender, about 2 hours.
4. About 15 minutes before the end of the cooking time, cook the frozen pearl onions in a large saucepan according to the package directions. Drain and leave in the colander. In the same saucepan, melt 1 tablespoon of the butter over medium-high heat; add the mushrooms and cook, stirring, until tender and lightly browned, 4 to 5 minutes. Return onions to the pan; remove from the heat and cover to keep warm.
5. Use a slotted spoon to transfer the beef from the braiser to a bowl; cover to keep warm. Remove and discard the bay leaf. Pour the juices and solids from the braiser into a large measuring cup and skim off the fat. You want 2 cups of pan liquid total, including the bacon, onions, and garlic in the liquid. If you have more, boil the liquid in the braiser over medium-high heat until reduced to 2 cups. If you have less, add additional beef broth to make 2 cups, return the liquid to the braiser, and bring to a simmer.
6. In a small bowl, work the remaining 2 tablespoons butter and the flour together to make a paste (a beurre manié). Add the beurre manié bit by bit to the cooking liquid, stirring with a wire whisk to blend away any lumps. Bring to a boil, stirring, and continue to cook and stir for 2 minutes more to thicken. Return the beef to the braiser, add the onions and mushrooms, and heat through.
7. Serve the stew with rice or noodles.
Any-Night Baked Rice
This French-style baked rice is adapted from Pierre Franey's 60-Minute Gourmet Cookbook, and it goes beautifully with just about any braise. PS: If there are hearty appetites at your table, you may want to double the recipe to generously serve six.
Makes 4 to 6 servings.
1/4      cup finely chopped onion
1          clove garlic, minced
1          tablespoon butter
1          cup uncooked long-grain rice
1 1/2  cups homemade or canned low-sodium chicken broth
1/4      teaspoon dried thyme, crushed
Cook and stir the onion and garlic in the hot butter in an ovenproof casserole with a heavy lid until onion is tender but not brown. Add the rice; cook and stir about 1 minute more (grains should start to cook a bit but not brown, and be slick from the butter). Carefully add the chicken stock and the thyme; stir to break up any clumps of rice. Bring to boiling.
Cover the casserole tightly and bake the rice in a 425°F oven for 15 minutes. Remove from oven; allow to stand, covered, for five minutes. Serve immediately or allow to stand, covered, in a warm place for up to 20 minutes more. Stir before serving to plump up a bit.
Wini Moranville is the author of The Bonne Femme Cookbook: Simple, Splendid Food That French Women Cook Every Day, and the co-author of The Braiser Cookbook.
More in Beef Bourguignon, French recipes, Le Creuset Braiser, recipe
---
---
Comments