Recipe for Salmon with Morels from French Chef David Baruthio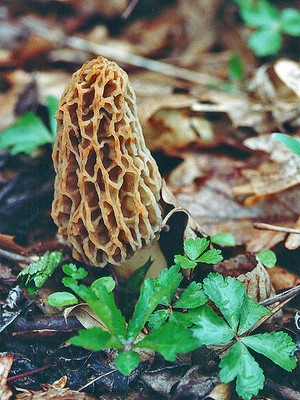 The first time I had morels was as a teenager growing up in Iowa. A neighbor brought us a brown-paper grocery sack full of them. I didn't understand why my mother was so thrilled with the haul. Later that night, dinner was simply creamed morels on toast. I'd never had anything like them in my life. The next day, I asked the neighbor were she had gotten those morels. She just smiled. I learned then that with morels, even the most generous people could suddenly become close to the vest. Yes—I'll share my prize with you in abundance.  No, I won't tell you how I got it. The neighbor moved away; I didn't get the chance to taste morels again until a few years later. Traveling in Strasbourg, France, I spotted a veal chop with a morel-cream sauce on the menu of a memorable restaurant, Au Reynard Prêchant. At the tender age of 23, I found it one of the most lavish things I'd ever eaten. Fast forward to 2010. French chef David Baruthio opens the strikingly modern-French restaurant, Baru 66, in Des Moines, Iowa. When we're introduced, he tells me he's from Strasbourg. "Have you ever heard of the restaurant Au Reynard Prêchant?" I ask. "Yes," he says, "My father used to own it." Recently, I've had the great luck to offer cooking classes with this French chef; earlier this month, we presented this contemporary way with morels, below. And in spite of this classically trained chef's pedigree, it's a simple recipe. The only hard part is getting your hands on the morels. Poached Salmon with Morel Râgout This is the recipe of David Baruthio, the French-born chef-owner of Baru 66 restaurant in Des Moines, Iowa. Baruthio has been nominated for a James Beard Award for Best Chef—Midwest. Makes 4 servings 1 cup dry white wine 1 cup water Juice of 1/2 lemon 1bouquet garni Salt to taste 4 (4- to 6-ounce) pieces salmon filets (about 1-inch thick) Morels (as many as you wish!), cleaned 1 medium-sized carrot, diced 1 small shallot, minced 2 garlic cloves 2 tablespoons butter 1/2 cup dry white wine 1 cup heavy cream Blanched and shocked asparagus tips (optional), for garnish (see below) Chive oil (optional) Place the wine, water, lemon juice, bouquet garni, and salt in a large skillet. Bring to boil; place the salmon filets in the skillet; return the wine to a boil and reduce the heat. Cover and simmer until the salmon is cooked to desired doneness (about 8 minutes for flaky-but-glistening fish, depending on the thickness of your fish). Meanwhile, for the sauce, sauté the morels, carrot, shallot, and garlic in the butter until crisp-tender, but not brown; add the wine and cook, stirring, until the wine has almost evaporated. Add the cream. Bring to boil; reduce heat and simmer until the cream is thickened and reduced to a sauce-like consistency. To serve, divide the sauce among 4 shallow bowls; place 1 piece of fish in each bowl.  Garnish with the asparagus tips and chive oil, if desired. Blanched Asparagus Tips: Remove the tender tips of the asparagus (save the remaining spears for soup). Submerge briefly in boiling water until just tender.  Drain and immediately transfer to an ice-water bath. Drain well. Follow Wini Moranville on
Facebook
for a chance to win a copy of
The Bonne Femme Cookbook: Simple, Splendid Food That French Women Cook Every Day
. To enter, simply "like" her page. Among the next 100 followers, (between the numbers 800 and 900), Wini will randomly pick a winner. Photo credits: Bowl of Morels by mystuart via Flickr Morel in the Woods by TLindenbaum via Flickr
SUBSCRIBE
ALREADY SUBSCRIBED?
BECOME A BONJOUR PARIS MEMBER

Gain full access to our collection of over 5,000 articles and bring the City of Light into your life. Just 60 USD per year.

Find out why you should become a member here.

Sign in

Fill in your credentials below.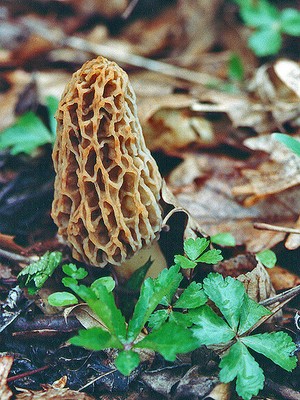 The first time I had morels was as a teenager growing up in Iowa. A neighbor brought us a brown-paper grocery sack full of them. I didn't understand why my mother was so thrilled with the haul. Later that night, dinner was simply creamed morels on toast. I'd never had anything like them in my life.
The next day, I asked the neighbor were she had gotten those morels. She just smiled. I learned then that with morels, even the most generous people could suddenly become close to the vest. Yes—I'll share my prize with you in abundance.  No, I won't tell you how I got it.
The neighbor moved away; I didn't get the chance to taste morels again until a few years later. Traveling in Strasbourg, France, I spotted a veal chop with a morel-cream sauce on the menu of a memorable restaurant, Au Reynard Prêchant.
At the tender age of 23, I found it one of the most lavish things I'd ever eaten.
Fast forward to 2010. French chef David Baruthio opens the strikingly modern-French restaurant, Baru 66, in Des Moines, Iowa. When we're introduced, he tells me he's from Strasbourg.
"Have you ever heard of the restaurant Au Reynard Prêchant?" I ask.
"Yes," he says, "My father used to own it."
Recently, I've had the great luck to offer cooking classes with this French chef; earlier this month, we presented this contemporary way with morels, below.
And in spite of this classically trained chef's pedigree, it's a simple recipe. The only hard part is getting your hands on the morels.
Poached Salmon with Morel Râgout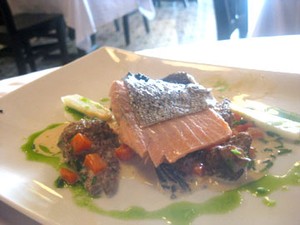 This is the recipe of David Baruthio, the French-born chef-owner of Baru 66 restaurant in Des Moines, Iowa. Baruthio has been nominated for a James Beard Award for Best Chef—Midwest.
Makes 4 servings
1 cup dry white wine
1 cup water
Juice of 1/2 lemon
1bouquet garni
Salt to taste
4 (4- to 6-ounce) pieces salmon filets (about 1-inch thick)
Morels (as many as you wish!), cleaned
1 medium-sized carrot, diced
1 small shallot, minced
2 garlic cloves
2 tablespoons butter
1/2 cup dry white wine
1 cup heavy cream
Blanched and shocked asparagus tips (optional), for garnish (see below)
Chive oil (optional)
Place the wine, water, lemon juice, bouquet garni, and salt in a large skillet. Bring to boil; place the salmon filets in the skillet; return the wine to a boil and reduce the heat. Cover and simmer until the salmon is cooked to desired doneness (about 8 minutes for flaky-but-glistening fish, depending on the thickness of your fish).
Meanwhile, for the sauce, sauté the morels, carrot, shallot, and garlic in the butter until crisp-tender, but not brown; add the wine and cook, stirring, until the wine has almost evaporated. Add the cream. Bring to boil; reduce heat and simmer until the cream is thickened and reduced to a sauce-like consistency.
To serve, divide the sauce among 4 shallow bowls; place 1 piece of fish in each bowl.  Garnish with the asparagus tips and chive oil, if desired.
Blanched Asparagus Tips: Remove the tender tips of the asparagus (save the remaining spears for soup). Submerge briefly in boiling water until just tender.  Drain and immediately transfer to an ice-water bath. Drain well.
Follow Wini Moranville on Facebook for a chance to win a copy of The Bonne Femme Cookbook: Simple, Splendid Food That French Women Cook Every Day. To enter, simply "like" her page. Among the next 100 followers, (between the numbers 800 and 900), Wini will randomly pick a winner.
Photo credits:
Bowl of Morels by mystuart via Flickr
Morel in the Woods by TLindenbaum via Flickr
More in David Baruthio, French recipes, morels, recipe
---
---