How to Make and Decorate Bûche de Noël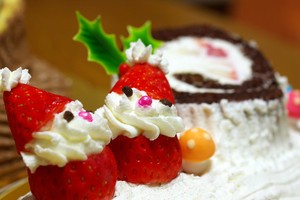 Ah, the lucky French! If they want a bûche de Noël, all they have to do is go to their neighborhood pastry shop. For those of us who are not spending Christmas in France, here's a recipe and a few pointers for success.
The basic cake roll—which is meant to symbolize the warmth of the yule log that traditionally burned throughout the season—is not that difficult to pull off. Just you keep these key tips in mind.
• Use the Right Pan: Don't even try to do this in anything but the pan called for (an 15 x 10 x 1-inch pan, what used to be called a jelly-roll pan). If you use an 12×9-inch pan, you'll be sunk: the cake will be to thick to roll. Don't even try it.
• Grease the Pan Well: Or use parchment paper, lightly greased on the top.
• Roll the Cake While Warm: The minute the cake is done, get it out of the pan and roll it up. Let cool completely, then proceed with filling and decorating.
Below is a never-fail recipe, which I've adapted from a Better Homes and Gardens book that I worked on a few years back. Yes, you can trust it! They test their recipes to perfection every time. PS: If you want to see a few step-by-step photos that can show you how to roll a cake roll, visit this story on cake rolls that I wrote.
Bûche de Noël // Chocolate Yule Log
Makes 10 servings.
4          eggs
1/3      cup all-purpose flour
1/4      cup unsweetened Dutch process cocoa powder
1          teaspoon baking powder
1/4      teaspoon salt
1/2      teaspoon vanilla
1/3      cup granulated sugar
1/2      cup granulated sugar
Whipped Cream Filling (recipe follows)
Chocolate Ganache (recipe follows)
Meringue Mushrooms or other decorating ideas (below)
1. Separate the eggs and allow them to come to room temperature (20 minutes). Line a 15 x 10 x 1-inch pan with lightly greased parchment paper or grease and flour the pan extremely well; set aside. Combine the flour, cocoa powder, baking powder, and salt in a bowl; set aside.
2. Preheat the oven to 350°F. Beat egg yolks and vanilla with an electric mixer on high speed or until thick, about 5 minutes. Gradually add the 1/3 cup granulated sugar, beating on high speed until sugar is almost dissolved.
3. With thoroughly washed and dried beaters, beat the egg whites in a large bowl on medium speed until soft peaks form. Add the 1/2 cup granulated sugar, tablespoon by tablespoon, beating until stiff peaks form. Gently fold in the egg yolk mixture. Sift the flour mixture over all, folding gently just until combined. Spread batter evenly in the prepared pan.
4. Bake for until cake springs back when lightly touched, 12 to 15 minutes. Immediately loosen edges of cake from pan and turn cake out onto a kitchen towel sprinkled with powdered sugar. Remove the parchment paper. Roll up towel and cake into a spiral, starting from one of the cakes short sides. Cool on a wire rack.
5. When cake is cool, unroll; remove the towel and spread with Whipped Cream Filling. Re-roll cake; refrigerate up to 1 hour.
6. About 30 minutes before serving, frost the cake with the Chocolate Ganache; refrigerate 30 minutes to allow ganache to set; if desired, use a serrated bread knife to make patterns in the ganache to resemble a tree log. Decorate with Meringue mushrooms and/or Christmas decorations, if you like.
Whipped Cream Filling: Beat 1 cup heavy whipping cream, 2 tablespoons granulated sugar, and 1 teaspoon vanilla in a chilled mixing bowl until soft peaks form.
Chocolate Ganache: Place 6 ounces chopped semisweet or bittersweet chocolate in a heatproof bowl. Bring 1/2 cup heavy whipping cream to boil in a small saucepan. Pour hot cream over chocolate in bowl; do not stir. Allow to stand for five minutes. Stir until smooth. Let cool about 45 minutes before using to bring to spreading consistency.
How to Decorate a Bûche de Nöel
Meringue mushrooms are classic; a good recipe for these appear on about.com.
However, I've discovered a few other ways to decorate a yule log that are much, much easier. A few ideas:
1. Strawberry Santa Clauses. Check out the photo. Simply split a strawberry in half, fill with whipped cream, and decorate with little candies for the face. Photo by masatsu via Flickr.
2. Small Ornaments: Simply add a few ornaments to the finished log. (Just be sure the kids at your table don't try to put them in their mouths!). Photo by shok via Flickr.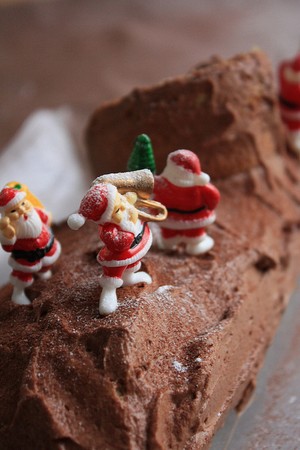 3. Add Some Macaroons: This is almost too easy: Simply stick a few purchased macaroons on top of the log for a whimsical way to simulate mushrooms. PS: I've found the macaroons at Trader Joe's to be quite good for the price (Ladurée, please don't hate me). Photo by yuichi.sakuraba via flickr.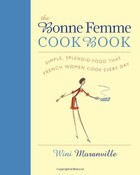 Wini Moranville is the author of The Bonne Femme Cookbook: Simple, Splendid Food That French Women Cook Every Day —a great gift for the France-lover in your life. Follow Wini on Facebook and on her blog at chezbonnefemme.com.
More in buche, Bûche de Noël, French recipes, recipes
---
---