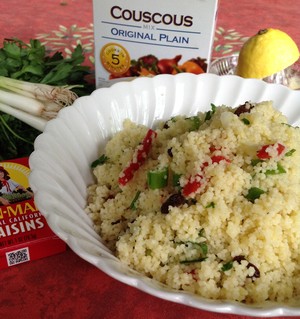 Anyone who has ever had Lebanese-style tabbouleh—or even an American one—has probably raised an eyebrow at what the French label tabbouleh in their delis and supermarkets.  In the U.S., we usually use bulgur as the basis of the dish, while the Lebanese anchor the dish with greens and herbs—the bulgur plays a minor roll.
But in France? The more ubiquitous recipes say non to the bulgur, and instead use fluffy couscous—often made pleasantly rich by being cooked in chicken broth. The salad is often sprinkled with raisins, green onions, fresh herbs, and roasted red peppers, and dressed with a lemony-olive oil dressing. Variations on the theme abound, with pine nuts here, zucchini and/or tomatoes there—whatever's in season.
Yet the basic recipe is incredibly satisfying—even if it's not an authentic tabbouleh in the Lebanese tradition.  I love making a big bowl of it early in the weekend, then serving it with whatever else I happen to have around. Side it with grilled meats tonight. Tomorrow, serve leftovers with some oeufs-mayo, cured meats, olives, and a few hunks of cheeses—and call it lunch.
French Tabbouleh
(Or, more accurately, French Couscous Salad)
Makes 4 servings
1          cup chicken broth
1/3      cup water
5          tablespoons olive oil, divided
1          cup plain quick-cooking couscous
1/2      cup raisins (regular or golden)
1          tablespoon freshly squeezed lemon juice
Salt and freshly ground black pepper
1/2      cup thinly sliced green onions
1/2      cup snipped fresh mint, parsley, or a combination
1/4      cup roasted red pepper, cut into strips.
In a medium saucepan, bring the chicken broth, water, and 1 tablespoon of the olive oil to boil. Stir in couscous. Remove from heat. Stir in raisins; cover and let stand 5 minutes.
Meanwhile, in a serving bowl, stir together the remaining 4 tablespoons olive oil, the lemon juice, and salt and freshly ground black pepper to taste.
Fluff the couscous with a fork. Add the green onions, parsley, and red pepper strips to the couscous; stir gently to combine. Add the couscous mixture to the dressing in the serving bowl; toss gently to coat. Refrigerate for 2 to 24 hours. Stir well before serving.
Wini Moranville is the author of The Bonne Femme Cookbook: Simple, Splendid Food That French Women Cook Every Day. Check out her blog at Chezbonnefemme.com and follow her on Facebook at Chez Bonne Femme.
More in French recipes, recipe, Tabbouleh
---
---
Comments