Cherries Poached in Kir: A Recipe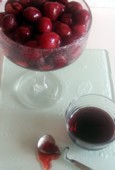 Burgundy has a liquid treasure you may not be aware of: cassis. The liqueur is made from the small berries that grow all over the area and are nicknamed "black pearls". Debra Fioritto's recipe pays homage to cassis and another iconic drink of Burgundy, Kir. Et voila:
CERISES POCHÉES AU KIR ~ CHERRIES POACHED IN "KIR"
(pronounced: suh rees / poh  sheh / oh / keer)
Ingredients:
1 lb. cherries, pits removed
2-2/3 cups white wine
1/3 cup cassis
1 3-inch cinnamon stick
3 whole cloves
1 scant cup superfine sugar
Preparation:
Stir the wine, cassis, cinnamon, cloves and sugar together in a saucepan. Place over med-high heat. Cook, stirring until the sugar is dissolved
Bring the mixture to a boil, reduce the heat and simmer for 5 minutes.
Place the cherries in the mixture and simmer for another 5 minutes. They should be just tender, not mushy.
Remove the cherries with a slotted spoon. Place in a jar or bowl.
Bring the poaching liquid to a boil and reduce by half. This will take about 10-15 minutes. Watch closely so that it does not boil over!
To serve:
Serve the cherries as is or pour the syrup over them and chill. Use as a topping on ice cream, custard, a filling for crêpes or make a clafouti. They are so gooood.
P.S. I don't have a cherry pitter, so I use a paper clip. Just push one of the rounded ends down around the pit, pull up and presto, the pit comes right out.
More in French recipes, recipe, recipes
---
---