Par ici le Grand Paris: Have You Seen the New City Signposts?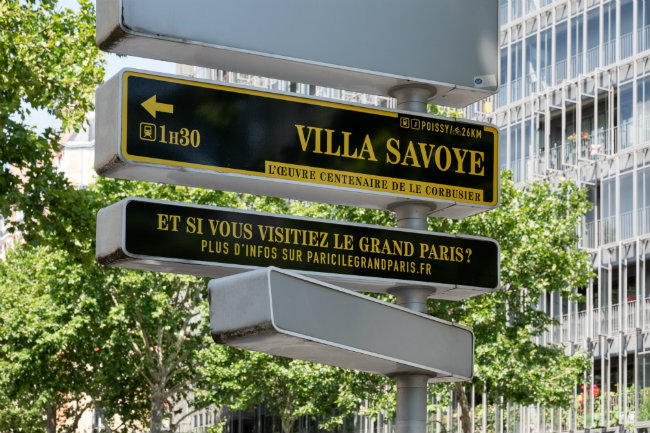 If you've been strolling around Paris lately, you may have noticed some surprising new signposts at famous city landmarks. Elegantly designed in black and gold, these signs direct crowds away from busy tourist traps towards lesser visited alternatives in the Greater Paris region. After all, the surrounding area is jam packed with sites (1200 cultural venues, 300 concert halls, 200 festivals, 300 museums and art centers) that are begging to be explored.
For example, the magnificent Parc de Sceaux— landscaped by the famous designer André Le Nôtre in the 17th century— is described as "8 times" the size of the Jardin du Luxembourg, and just 22 minutes away by RER train. Another example? "Les paysages de Van Gogh en vrai" (Van Gogh's landscapes, in real life), directing fans of Impressionist art outside the Orsay Museum to explore Auvers­-sur­-Oise, the village where the artist lived and died.
The signs will be displayed until October 5, 2019.
The project was the winner of "Faire Paris", an accelerator for innovative architectural and urban projects, and marks the second collaboration between Enlarge your Paris and Magasin généraux. It all started with the 2018 launch of Le Guide des Grands Parisiens, Greater Paris's first ever dedicated guide book.
Lead photo credit : © Pierre l'Excellent
Leave a reply
Your email address will not be published. Required fields are marked *