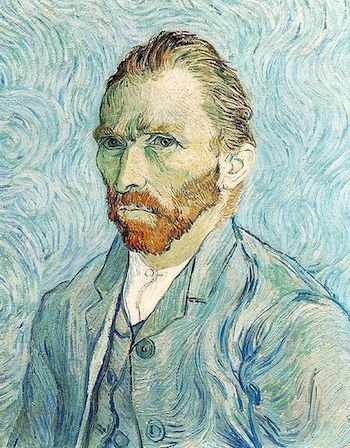 The country village of Auvers-sur-Oise on the river Oise is barely 30 kilometers from Paris, an easy day trip by train to see a town that still today resembles the quiet hamlet that lured nineteenth-century artists from Paris to its sunlit wheat fields, clear skies and charming homes and gardens.
Artist Charles Daubigny arrived in 1860 and never left. Manet, Cézanne, Renoir, and Camille Pissaro—patriarch of Impressionism—all lived there for a time.
Auvers was also home to Dr. Paul Gachet, a physician (and also a painter) who treated several artists for physical and emotional illnesses, often in exchange for paintings. Cézanne and other artists stayed in his guest room.
Vincent's brother, Theo Van Gogh, and friend Pissaro thought the quiet and beauty of Auvers and proximity to the good doctor would permit Vincent Van Gogh to rest, paint and recover from the melancholy that caused him to attempt suicide and, in 1889, to cut off his ear.
At the urging of his brother Theo, the troubled and talented Vincent Van Gogh moved to Auvers.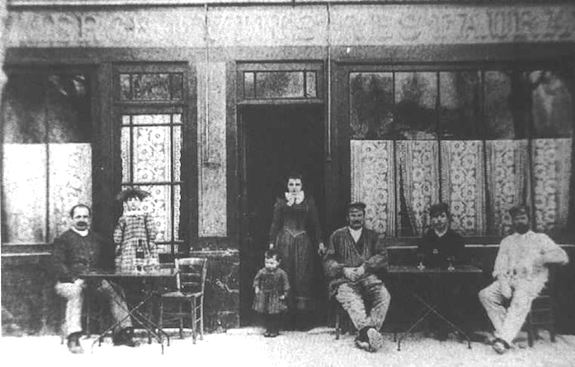 Auberge Ravoux, Van Gogh's last residence for his last 70 days of life
Vincent Van Gogh left Saint Paul-de-Mausole, an asylum in Saint-Rémy-de-Provence, and moved into Auberge Ravoux in Auvers on May 20, 1890, where he rented a tiny seven-square-meter room on the top floor for the sum of 3.50 francs per month. Though there for just last 70 days of his life, in that short time he painted 70 paintings that include some of his best-known works. Van Gogh's iconic painting, Portrait of Dr. Gachet, and Cézanne's depiction of his garden are in the Musée d'Orsay in Paris.
On July 25, 1890, Vincent shot himself in the chest. Although the bullet missed every vital organ, Vincent succumbed to his injuries two days later, dying in Theo's arms. According to David Hazlet's book entitled Van Gogh, Vincent's last words were: "Je voudrais rentrer maintenant." (This book is available at the Auvers Office de Tourisme.)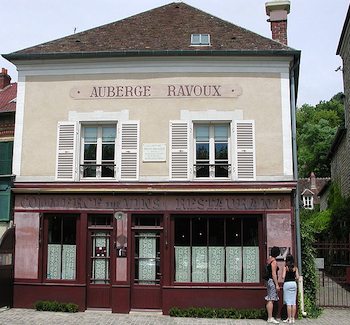 Day trip to Auvers-sur-Oise by rail
Trains to Auvers-sur-Oise leave from Paris Gare du Nord and Gare St. Lazare and return throughout the day; in 2011 the round trip costs about ten euros. The total travel time is a little over an hour, including one connection at Valmondois, Pointoise or St. Ouen. On weekends and holidays from April through October 31, a direct 33-minute express leaves for Auvers from Gare du Nord at 9:56 a.m. and returns at 6:58 p.m.
Visiting Auberge Ravoux
The room where Van Gogh died, #5 at the top of the Auberge's narrow staircase, has been unoccupied since his death.
The restored Auberge Ravoux and surrounding buildings are open to the public. Restoration was completed in 1993 under the direction of Dominique-Charles Janssens, current owner and president of the Institut Van Gogh. The beautiful book Van Gogh's Table at the Auberge Ravoux: Recipes From the Artist's Last Home and Paintings of Cafe Life is filled with color plates, photos and recipes that were a part of Van Gogh's café life. The book explains the restoration process and describes Van Gogh's past residences and relationships with friends and acquaintances.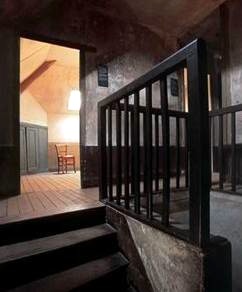 Visitors can take a guided tour to Van Gogh's room and eat in the restaurant where Monsieur Ravoux and his family served meals to Vincent and other boarders in the late nineteenth-century. The menu is pricey (see Practical Information below) but worth a splurge because the chef features primarily locally sourced ingredients and dishes available in the nineteenth-century Van Gogh era, and the decor is nineteenth century.
Entering Vincent's room today—barely two strides from one end to the other—a visitor can feel the painter's sadness and isolation. He dried his canvasses in this room but painted in a room downstairs or outdoors because light only entered through one small skylight window. A glass case on the wall sits barren as the inn's hopeful proprietors search for an original Van Gogh to purchase and display there. Down the hall, visitors can view a video with photos of the Van Gogh era accompanied by quotes from his letters to Theo and others.
View video from Auvers-sur-Oise Tourist Information Office:
Other Auvers-sur-Oise sites to see
Much of historic Auvers consists of historic sites open to visitors who wander past the fields and trees painted by Impressionist painters and stroll down lanes with small houses and lovely gardens before visiting the Hôtel de Ville and, near it, an outdoor statue of Vincent Van Gogh by Ossip Zadkine.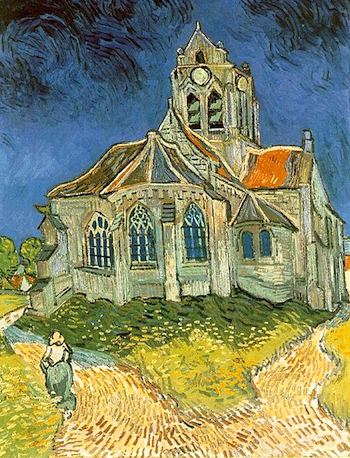 The eleventh-century L'église Notre-Dame d'Auvers is easily recognized by visitors familar with Van Gogh's work. A reproduction of the painting is posted outside of the church and other reproductions are strategically placed around town near the other buildings or scenes depicted in Van Gogh paintings.
Walk down a country lane from the church, past fields of grain to the small cemetery where Vincent and brother Theo are buried side-by-side.
La Maison-Atelier de Daubigny, an official historic monument since 1991, was established by the artist's widow and descendants to showcase the artist's former studio, home and gardens.
Musée Daubigny contains many Daubigny landscape paintings in its permanent collection and hosts temporary exhibitions.
Dr. Gachet's home contains a small art gallery with current works by contemporary artists. You may also tour its lush, multi-leveled gardens. While there, stand on a high patio to view the roofs of the town. A handout about Gachet available at the site explains Gachet was an accomplished artist, a homeopath and expert in emotional diseases. His eclectic and varied interests led him to join a group called La Société des Eclectiques, which only existed from 1872 until 1902 and featured meetings at restaurants to discuss art, poetry, history, and anything else "eclectic" that came up.
Experience the multimedia informational presentation about the Van Gogh era at the Château d'Auvers-sur-Oise and watch the short film at the Office de Tourisme.
At the end, the day-tripper will feel a part of the world that helped create the light and color of Impressionism.
PRACTICAL INFORMATION:
Auvers-sur-Oise Tourism Office has details about sites to visit (hours & months when open, admission, etc.)
Tél: 01 3036 6060
Place de la Mairie, B.P. 40001 – F 95430, Auvers-sur-Oise
Open: March-October, Wednesday through Sunday, 10am-6pm (closed Monday & Tuesday)
Admission: €6 to see Vincent Van Gogh's room & supporting media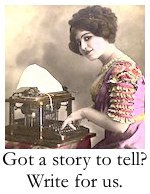 Menu: download
2011 meal costs: €38 for 3-course prix fixe meal; €34 for 3-course meal; €29 for 2-course lunch.
Lunch: Wednesday-Friday.
Dinner: Saturday & Sunday only
Rail to Auvers-sur-Oise: SNCF Transilien schedules
Fare: roundtrip about €10 [2011]
Michele Kurlander is a Chicago corporate lawyer, writer, small business and women's issues advocate who fell in love with France and all things French in 1967 when she first visited France as the chaperone of a younger cousin. Click on her name to view her entire profile.

Subscribe for
FREE

weekly newsletters with subscriber-only content.
BonjourParis has been a leading France travel and French lifestyle site since 1995.
Readers' Favorites: Top 100 Books, imports & more at our Amazon store


Learn more about Van Gogh's life before you go…click on an image for details.
Thank you for using our link to Amazon.com…we appreciate your support of our site.