Parc Marcel Bleustein Blanchet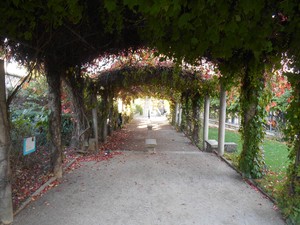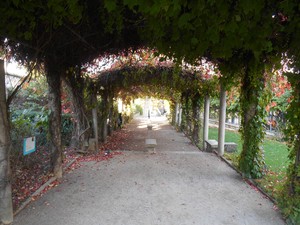 When I arrived in Paris to begin the writing of the Hidden Parks of Paris, I stayed for two nights in the eighteenth arrondissement, on Rue de la Clignancourt. The apartment was in a three-hundred year old building, with a good café and a cobblestone courtyard downstairs. I booked the room on Air BnB, prudent to the expectations a guest will be required to adhere to when staying in a host's apartment in Paris.
The host was named Stephen. He spoke in a soft Australian accent, and when I asked him where he was from he said, France, of course. I thought Australia? I said. My wife is Australian, Stephen responded. I guess I picked it up. Stephen let me check in three hours early. After eating a bowl of his wife's moussaka, Stephen took me to his favorite neighborhood café. It was through a maze of streets that were cast in the deep shadows of Sacre Coeur.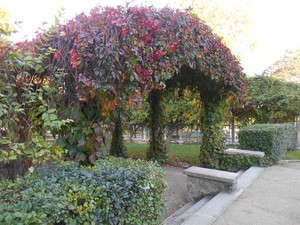 We sat outside at a small round table in the sun and talked about the parks that I planned to cover in my book.  Stephen clicked his red pen and opened a map of Paris. He drew circles around his favorite parks, providing a pithy explanation about each one: this has a good lake; this one, a wide lawn; this one, a theatre; this one, a view of the city.  Stephen was a man of few words, but those words were strong and true and they stayed with me.
Later that day Stephen invited me to have a beer at the café he managed. He introduced me to the neighborhood rummies, his wife, and to the friends who worked with him at the café.  I stayed up past three am, listening to conversations about Sacre Coeur, the areas to avoid, and the parks yet to be discovered.  In all the discussions with the locals at the bar, no one mentioned Parc Marcel Bleustein Blanchet, and so I never ventured to the north-eastern side of Sacre Coeur while trekking up Montmartre in the warm September rain.
Three months had passed when I returned to that café on Rue de la Clignancourt, and back to the chair that I had sat on when it was too cold to sit outside at the tables that lined Rue de la Clignancourt.  Stephen was not working on this afternoon. I ordered a café creme and the barista prepared it for me, and it was just as I had remembered those months ago when Paris was a new city to live and write in. I pulled at my map and wondered about Parc Marcel Bleustein Blanchet. Why have I not been here? I wondered. I paid the bill and asked the barista to say bonjor to Stephen for me. The barista nodded, cleaning sugar and dried cream from the bar top.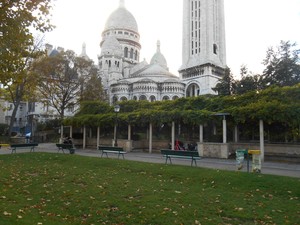 The entrance to Parc Marcel Bleustein Blanchet is located north-east of Sacre Coeur. If you're walking from Rue Lamark, take the long flight of stairs to the top; or you may wind around the back of the basilica until you reach Rue de Chevalier. There is a small gate here with a green kiosk at the park entrance. Sacre Coeur rises above the park walls, so close it seems like you can stretch your fingers into the air and touch the white domes. In the late-afternoon the sun will shine against the basilica, and the shadows of the domes and steeple will fall onto the people that sit on the lawn and benches.
There is a long pergola in the center square, with stone benches under a roof of wisteria and Virginia creeper that act as a roof to block out the sun and rain. To the rear of the park (on Rue de Bonne) there is a staircase that descends to a second courtyard, with a terrace, playground, and rows of benches and trees. There is a healthy mix of tourists and locals who straggle in throughout the day, and also families that visit for an afternoon retreat. At six o'clock the church bells rung, and the sound was so resounding it sent a shiver through my spine. I closed my eyes and felt the shadows grow deeper on my face and thought for a fleeting moment that the bells rung for me. No, I thought. The church bells ring for thee.
Leave a reply
Your email address will not be published. Required fields are marked *