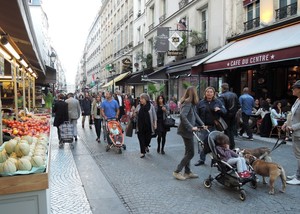 It was a beautiful early-October afternoon.  We were sitting at a table at one of the many outdoor cafés that line Rue Montorgueil, having refreshments.  The level of activity here picks up around this time of day.  People are walking their kids home from school, getting out to stretch their legs, shopping for the evening meal.  Lots of dog walkers.  This had become our favorite time of day, nestled in amongst locals, watching the parade of Parisian humanity pass by.
My wife and I had arrived in Paris just four days ago, but it seemed like we'd been here for much longer.  We'd been to Paris quite a few times, seen the sights, etc., but this time we wanted to do something different.  See, the thing we like most about Paris isn't the museums, the landmarks, the food, or the shopping.  The thing we like the most is just being here.
We decided that this time, instead staying at a hotel, we'd rent an apartment – something we hadn't done before.  We'd be able to buy cheese, fruit, wine, do a little cooking, get to know a neighborhood, and maybe feel just a little bit more like inhabitants and less like tourists, even if only for a short time.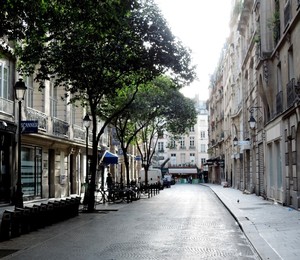 We started preparations on the internet, searching for apartments.  There was no shortage of them.  After a few inquiries, phone calls, and e-mail exchanges, we booked an apartment in an area we'd never heard of in the 2nd arrondissement – the strange-sounding, (at least when I say it) Montorgueil neighborhood.  (I'd classify my french as being pretty-good-for-a-tourist, at least after I've had a few days to warm up, but this word seemed to be beyond the limit of my phonetic capability).
Ultimately, we chose an apartment offered by the management company that was the most professional and responsive.  When we arrived in Paris, we were gratified that the standard was maintained as we were met by a friendly young lady who did a nice job of getting us situated.  The apartment looked exactly as it did in the photos.  It was reasonably equipped, very comfortable, and had fantastic original wood floors that reminded me of those in the painting, The Floor Scrapers, by Gustave Caillebotte.  So far, so good!
The first order of business was to explore the immediate neighborhood.  We set out and came immediately upon Rue Montorgueil – a walk-street lined with café's, shops, boulangeries, fromageries, produce sellers, and more, all bustling with activity.
We walked down Rue Montorgueil and wandered down a few side streets.  We had done our homework to identify restaurants in the neighborhood we'd like to try, and as we walked around, we started seeing names that looked familiar.  I was getting excited.
But enough walking, already.  We were tired and thirsty, so we took our street-side seats at a Rue Montorgueil café.  This became our custom, and apparently the custom of many others in the late afternoon, as tables would invariably fill up.
We had dinner that night in a restaurant that was just a few doors down from our apartment. We had a wonderful meal, the most memorable aspects of which were my spaghetti carbonara, plated with a raw egg still in its three-quarter shell, ready for mixing with pasta and parmesan, and the giggling Chinese girls at the table next to us.
They'd been carrying on for some time, first with hushed giggling, then quiet.  More giggling, then quiet.  And so on.  Eventually it came out that they were reading the menu, trying to pronounce "foie gras."  Could we help them?  Well, we could try.  Pretty soon we all had a serious case of the giggles.  Things settled down until dessert, when they wanted to order mille feuille, (of course!), then it started all over again.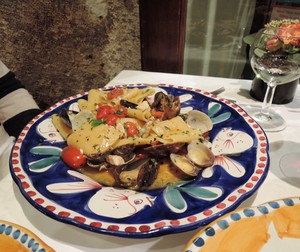 The next day, we had one order of business to attend to.  We generally prefer the more basic Parisian dining spots, but one higher-end restaurant that had been getting a lot of buzz called "Frenchie" had piqued our interest.  Even though there was supposedly a months-long waiting list to get in, we called to see if perhaps they'd had any last-minute cancellations.  It turns out that they had, but "could we be seated early and be out by 9:30?"  "Oh, mais oui!"
After being tourists for a day we once again installed ourselves at one of the Rue Montorgueil cafés.  We stuck up a conversation, partly in french, and partly in english, with the couple sitting next to us.  One of the two had come from Chicago to Paris on vacation twenty years ago, and never went back.  When the conversation turned to food, we told them about our Frenchie reservation, which they could hardly believe.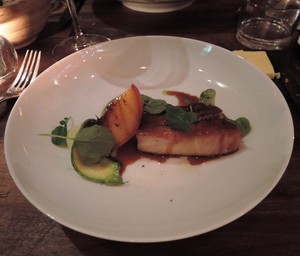 That evening we dined at Frenchie, where we were totally impressed, as much by the ambiance and service as by the incredible food.  It's done in dark woods, sparcely decorated, but not austere.  Lots of candles.  Very comfortable.  Friendly, helpful, knowledgeable servers.  Amazing food so comfortably enjoyed.  What a treat.
Another couple of days went by, walking, exploring, eating, and enjoying ourselves, always settling in for cocktail hour at a café in our newly adopted neighborhood.  A few local faces were starting to become familiar – the boulanger, the produce guy, a server or two – and for at least a few, our faces were becoming familiar to them, too.
On the last evening of our stay, we ran into our "Frenchie" friends we had met the other day.  "Well, how was it?  How was it?" We told them about our exceptional dining experience.  It would have been more difficult to describe to them the experience we've had in such a short time, of melting just a little into the fabric of our newly-adopted neighborhood.  Hmmm… I wonder what other Parisian neighborhoods might be up for temporary adoption?
Favorite Resources
Bonjour Paris, (Of course!)
David Lebovitz's website, http://www.davidlebovitz.com/
Hungry for Paris: The Ultimate Guide to the City's 102 Best Restaurants, by Alexander Lobrano
Our Apartment Management Company: Special Apartments, http://www.specialapartments.com/47_st_sauveur.html
Restaurants we recommend in the Montorgueil area:
Aux Crus de Bourgogne
Frenchie
Les Fines Gueules
Osteria Ruggera
Caldo Freddo for lunch
Photos:
Montorgueil street scene
Seafood pasta at Osteria Ruggera
Foie gras at Frenchie