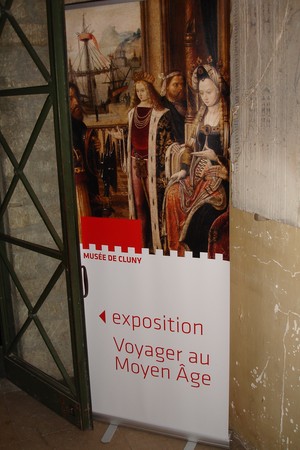 Ask anyone why they travel today and you will get as many reasons as people asked. They are tired; they are bored; they are curious; their mate is driving them crazy; they just need to get away. But during the Middle Ages, people traveled for four main reasons – enrichment, salvation, war, and social visibility – according to the exhibition "Voyager au Moyan Âge" ("Traveling in the Middle Ages"), at the Musée national du Moyen Âge in the Paris 6th (formerly the Musée de Cluny), which runs through February 23.  The exhibition tells its story through four medieval figures – the pilgrim, the knight, the merchant, and the messenger – and the objects they took with them on their travels.
The Middle Ages encompasses the 5th to the 15th centuries – 400 to 1,400 years ago. We're not talking fast and easy travel down the A75 in France or the Autobahn in Germany. Or even the New Jersey Turnpike in the United States. We're talking difficult travel by horse, donkey, cart, boat, or on foot, during which travelers faced dangers such as the weather, the condition of the roads, hunger, disease, and the possibility of assault, not to mention death. So they traveled with images of special saints, especially Saint Christopher, who to this day is the patron saint of travelers. Those who could afford them brought bejeweled reliquaries or rings engraved with prayers and blessings, examples of which are on display in the exhibition.
While the pilgrimage existed long before the Middle Ages, it was during that period that it became a universal phenomenon. The exhibition includes a Pilgrim's Guide to the Holy Land, "in a handy format" that "compiles all of the information a pilgrim needs" to make his or her journey.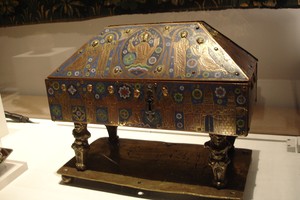 During this period, priests and bishops traveled to give religious adherents extreme unction, to bless homes, or to perform a mass for soldiers. On display are liturgical salt cellars, portable altars, and offering boxes. But perhaps most impressive is the Codex Amiatinus, published in the 8th century, which is the oldest surviving manuscript of the Latin Vulgate Bible. Two thousand calf hides were used in its manufacture, and it is huge – perhaps almost a foot high.
Just as today, during the Middle Ages, being seen was nearly as important as seeing, and the elites made sure they were seen.  Whether king, knight, or lord, they traveled, to maintain their authority and status. The exhibition includes saddles made of wood and leather and ornately decorated with bone, ivory, and horn; and huge chests covered with leather fastening with iron bands that served as both furniture and luggage. Clearly, these belonged to people of wealth, for no medieval peasant would have owned nearly enough to fill one of these supersize pieces.
Finally, merchants and messengers traveled to ply their professions. Increasing trade brought ivory, spices, lapis lazuli, and silk to Europe. New routes were created to facilitate trade, and processes for transferring funds and freight were created. Items merchants carried included scales and their cases, and gold florins, which began to be minted in Florence in 1252 and contained precisely 3.53 grams of 24 carat gold. Also on view are messenger's boxes and knife cases, the size, design, and workmanship of which are exceptional.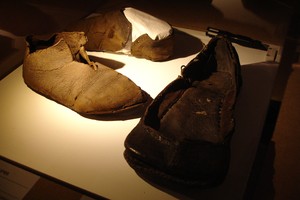 Most medieval travelers went by foot, but shoes were rare, so most people traveled barefoot. Affluent travelers went by horse, their own or rented. Of interest to shoe lovers might be the "Bear Claw" shoe, so called because of its broad toe. It was the height of fashion in men's footwear in the late Middle Ages and appears in contemporaneous paintings of well-off men.
This exhibition is the first undertaken in collaboration with other museums of medieval art. The objects on display are mostly of fine quality, and the workmanship highly refined. Judging from the number of people in attendance, and the line out the door to buy tickets, interest in the Middle Ages is high in Paris, as well it might be. It was during the period that so many of Paris's iconic buildings and institutions were created, including Notre Dame Cathedral, the Louvre Palace, the University of Paris, and the exquisite Sainte-Chapelle. But the exhibition space is small and jam-packed with display cases, which makes viewing the displays a challenge when attendance is high. So go early.
While at the museum, be sure to head upstairs and spend some time with the Lady and the Unicorn tapestries. The details in each tapestry are beautifully rendered. That weavers could have woven such sweetness, coyness, and playfulness into the eyes and smile of the mythical unicorn is part of what makes these great works so charming. You will surely want to take one home – a unicorn, that is. But alas, of course, you cannot.
Musée national du Moyen Âge
6 Place Paul Painlevé, Paris 5th
T: 01 53 73 78 00 (+33 1 53 73 78 00)
Hours: Mon–Sat 9:15 am–5:45pm, closed Tuesdays
Ticket office closes at 5:15pm
Métro: Line 10 Cluny-La Sorbonne and Odéon; Line 4 Odéon and Saint-Michel
Bus: 21, 27, 38, 63, 85, 86, 87
RER line B and line C Saint-Michel – Notre Dame
Parking: Rue de l'École de Médecine, rue Soufflot, and Parc Saint-Michel (entrance via place Saint-André-des-Arts)
Taxis: Rue Soufflot / Place Saint-Michel / Place Maubert
Entrance fee: Full price 8 euros (8.50 euros during temporary exhibitions); reduced price 6 euros (6.50 euros during temporary exhibitions)
Free for European Union nationals under 26 
Free for everybody on the first Sunday of every month
Photo credits:  Diane Stamm