Cathédrale Notre Dame is the most visited landmark in Paris resulting in a vast sea of people flooding the Place du Parvis Notre Dame directly in front of the cathedral. A short walk across the Petit Pont from Île de la Cité, in front of Cathedrale Notre Dame, will bring you to Quai de Montebello and a small square called: Square René-Viviani. This delightful green space is often overlooked and usually void of crowds. This spot of tranquility offers one of the best views of Notre Dame. The square first opened in 1928 and was named after René Viviani who was Prime Minister of France during the first year of World War I.  Monsieur Viviani was born in Sidi Bel Abbès, in French Algeria, and was active in protecting the rights of socialists and trade union workers. He became one of the Socialist Party's most brilliant orators and prominent leaders. The Square is not large, but it provides lush lawns and flowers (in spring and summer). There are walkways and inviting benches for those with tired feet. While taking a break in the Square be sure to note a leaning, somewhat gnarled looking, but still healthy and flowering Robinia Pseudoacacia (a variety of the locust tree). You can't miss this tree since it is supported by concrete pillars. The tree is the oldest living tree in Paris and it is believed to have been planted around 1602 by Jean Robin, making the tree well over 400 years old. Jean Robin was a gardener who introduced this plant species (native to North America and Mexico) to Europe in the 1600's. He was not just any ordinary gardener, but an herbalist for King Henri III, King Henri IV and Louis XII. At one time, the tree is reported to have been 15 meters tall but a shell during World War I shortened the tree's height. Fortunately, this trauma did not impact the tree's vitality so we can continue to marvel at its longevity. Prominently placed is a sculpture decorated with stags' heads and water drops that represent aspects of the legend of St. Julien. In addition, there are infants, some of whom have wings while others appear to be lifeless. Under the Vichy government (the govenment of France that collaborated with Nazi Germany from 1940 till 1944) more than 11,000 infants were deported by the Nazis to Auschwitz because they were Jewish. About one hundred of these children lived in the vicinity of this square in the 5th arrondissement. Unfortunately, the majority of guidebooks fail to mention this special memorial component of the sculpture. The history of the square is unique and evolves around churches and hospitals. Initially, the square was adjoining the 6th-century basilica, Church of St. Julien, and it was used as a cemetery. Then, this parcel of land was built out to include monastic buildings, dormitories and a refectory belonging to the Clunesian priory of St. Julien. The Clunesians were a monastic group that focused on encouraging art and caring for the poor. The next occupant was one of the annexes of the Hôtel-Dieu, which is the ancient Paris hospital on the nearby Île de la Cité. Hôtel-Dieu was founded by Saint Landry in 651 and was the first hospital in the city. It is a true marvel that there can be so much history in such a small area. What an amazing journey to explore the streets and squares of Paris. On your next trip, make sure that you put away some time to visit Square René Viviani and enjoy the beautiful view of Notre Dame without the crowds. TIPS: Location – The Square René Vivian is adjacent to the Church of Saint-Julien-le-Pauvre in the 5th arrondissement of Paris and the official name is Square René-Viviani-Montebello. Métro – Maubert-Mutualité, Cluny-La-Sorbonne (ligne 4 and 10)
Website for Notre Dame
The website is extensive. It is in English and in French and it includes schedules for concerts and services.   Loui Franke is author of
Parisian Postcards: Snapshots of Life in Paris
.
SUBSCRIBE
ALREADY SUBSCRIBED?
BECOME A BONJOUR PARIS MEMBER

Gain full access to our collection of over 5,000 articles and bring the City of Light into your life. Just 60 USD per year.

Find out why you should become a member here.

Sign in

Fill in your credentials below.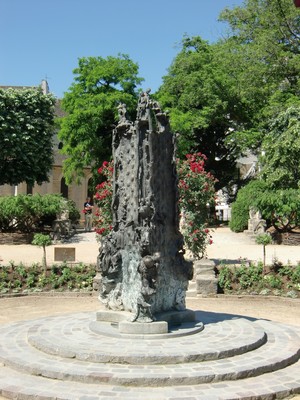 Cathédrale Notre Dame is the most visited landmark in Paris resulting in a vast sea of people flooding the Place du Parvis Notre Dame directly in front of the cathedral. A short walk across the Petit Pont from Île de la Cité, in front of Cathedrale Notre Dame, will bring you to Quai de Montebello and a small square called: Square René-Viviani. This delightful green space is often overlooked and usually void of crowds. This spot of tranquility offers one of the best views of Notre Dame.
The square first opened in 1928 and was named after René Viviani who was Prime Minister of France during the first year of World War I.  Monsieur Viviani was born in Sidi Bel Abbès, in French Algeria, and was active in protecting the rights of socialists and trade union workers. He became one of the Socialist Party's most brilliant orators and prominent leaders.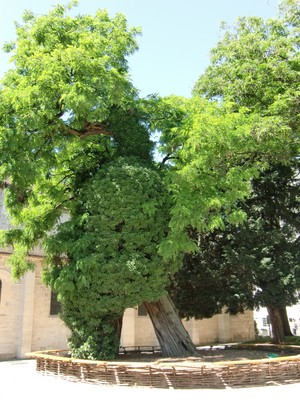 The Square is not large, but it provides lush lawns and flowers (in spring and summer). There are walkways and inviting benches for those with tired feet. While taking a break in the Square be sure to note a leaning, somewhat gnarled looking, but still healthy and flowering Robinia Pseudoacacia (a variety of the locust tree). You can't miss this tree since it is supported by concrete pillars. The tree is the oldest living tree in Paris and it is believed to have been planted around 1602 by Jean Robin, making the tree well over 400 years old. Jean Robin was a gardener who introduced this plant species (native to North America and Mexico) to Europe in the 1600's. He was not just any ordinary gardener, but an herbalist for King Henri III, King Henri IV and Louis XII. At one time, the tree is reported to have been 15 meters tall but a shell during World War I shortened the tree's height. Fortunately, this trauma did not impact the tree's vitality so we can continue to marvel at its longevity.
Prominently placed is a sculpture decorated with stags' heads and water drops that represent aspects of the legend of St. Julien. In addition, there are infants, some of whom have wings while others appear to be lifeless. Under the Vichy government (the govenment of France that collaborated with Nazi Germany from 1940 till 1944) more than 11,000 infants were deported by the Nazis to Auschwitz because they were Jewish. About one hundred of these children lived in the vicinity of this square in the 5th arrondissement. Unfortunately, the majority of guidebooks fail to mention this special memorial component of the sculpture.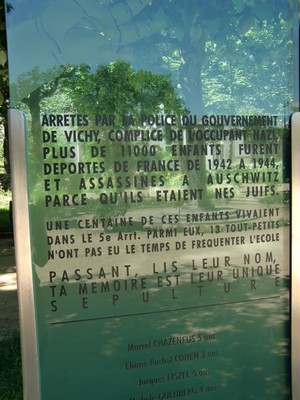 The history of the square is unique and evolves around churches and hospitals. Initially, the square was adjoining the 6th-century basilica, Church of St. Julien, and it was used as a cemetery. Then, this parcel of land was built out to include monastic buildings, dormitories and a refectory belonging to the Clunesian priory of St. Julien. The Clunesians were a monastic group that focused on encouraging art and caring for the poor. The next occupant was one of the annexes of the Hôtel-Dieu, which is the ancient Paris hospital on the nearby Île de la Cité. Hôtel-Dieu was founded by Saint Landry in 651 and was the first hospital in the city.
It is a true marvel that there can be so much history in such a small area. What an amazing journey to explore the streets and squares of Paris. On your next trip, make sure that you put away some time to visit Square René Viviani and enjoy the beautiful view of Notre Dame without the crowds.
TIPS:
Location – The Square René Vivian is adjacent to the Church of Saint-Julien-le-Pauvre in the 5th arrondissement of Paris and the official name is Square René-Viviani-Montebello.
Métro – Maubert-Mutualité, Cluny-La-Sorbonne (ligne 4 and 10)

Website for Notre Dame
The website is extensive. It is in English and in French and it includes schedules for concerts and services.
Loui Franke is author of Parisian Postcards: Snapshots of Life in Paris.
More in landmark, notre dame, Paris, Paris history, Paris sightseeing, Paris tourism, Paris tourist tips
---
---