French Touch: A History of the Classical Guitar in France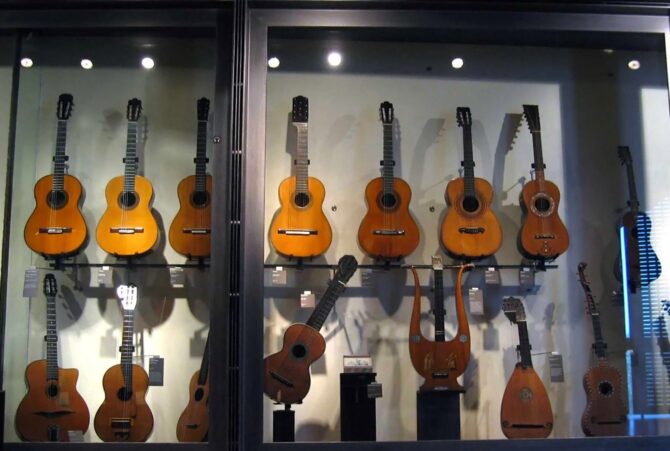 Although classical guitar will always be considered a niche art form within the larger classical music world — never attaining the sort of popularity that violin and piano have long enjoyed — the fact is it has been quietly growing for the last century-plus and has more practitioners spread around the globe today than ever before. True, there are no dominant influential figures to match 20th-century guitar giants such as Andrés Segovia, John Williams, Julian Bream, and Christopher Parkening, all of whom enjoyed robust international record sales. But it is widely agreed that there have never been as many talented virtuosi — particularly young ones — as there are today, in large part because of the ever-expanding network of music schools and conservatories throughout Europe, Asia, the Americas, and Australia. And with each new generation of players coming up, the repertoire for the instrument has continued to expand and evolve, moving farther afield from the Spanish masters, popular classical composers, and various South American styles that seemed to dominate concert programs for decades, to now incorporate everything from The Beatles to Steve Reich to ancient and contemporary Chinese songs, film themes, and both abstract and sonorous new pieces from everywhere. You'd be hard-pressed to name a style of music that hasn't been played on a "classical guitar." 

France has long been an important classical guitar hub, even before the mid-19th century, which is when the "modern" classical guitar, with its six gut (and later) nylon strings and a particular type of internal bracing, emerged from the workshops of Spanish luthier Antonio Torres (1817–1892) and a few of his contemporaries and became widely adapted — thus, the commonly used but unfairly limiting term "Spanish guitar" for the instrument. The precursors to the Torres guitar actually go back many centuries, to stringed instruments in the Middle East, as well as European ancestors such as the lute, the Spanish vihuela, the Baroque guitar, and others that had varying numbers of strings and differing body sizes and shapes.
Many of the guitarists who produced what are now considered to be some of the first exceptional "classical guitar" pieces — as well as guitar-teaching "methods" — were Italian: Francesco Corbetta (1615–1681), Mauro Giuliani (1781–1829), Ferdinando Carulli (1770–1841), and Francesco Molino (1768–1847). But Carulli and Molino both studied in Paris, which was regarded the musical capital of the world, Giuliani played there, and Corbetta lived in France for a number of years later in his life. The influential Spanish guitarist Fernando Sor (1778–1839) also lived in Paris, where he taught one of the  greatest French composer/players from the Romantic era, Napoléon Coste (1805–1883), whose works have been never been played as much as they are today. Another notable French guitarist from the Romantic era was François de Fossa (1775–1849); interestingly, both were military men.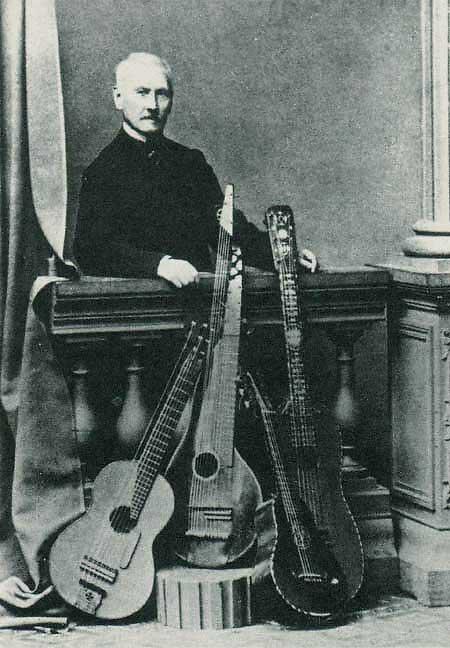 The true modern era of classical guitar begins with Andrés Segovia (1893–1987). Though Spanish through and through, and heavily influenced by the legendary Spanish guitarist/arranger/composer Francisco Tárrega (as well as Tárrega students Emilio Pujol and Miguel Llobet), Segovia also had a Paris connection. The largely self-taught guitarist was already making waves in the music world when he first played at the Conservatoire de Paris in 1915, and by the time he made his formal debut in the city in 1924 for a triumphant concert that was attended by many of the leading lights of the French music world, he was well on his way to becoming an international sensation.
Inspired by Tárrega's example, Segovia took to creating his own guitar transcriptions of classical pieces originally written for other instruments by composers such as J.S. Bach, Felix Mendelssohn, and G.F. Handel, as well as Spaniards Isaac Albéniz and Enrique Granados. But equally important, Segovia also began commissioning new works for the instrument by non-guitarist composers, some of whom were living in or on extended visits to Paris, including Brazilian Heitor Villa-Lobos (who taught at the Paris Conservatory in the late 1920s), Mexican Manuel Ponce, and Polish pianist Alexandre Tansman. Segovia's impact on the classical guitar world is truly incalculable, and still being felt today. Indeed, it's fair to say that over time his enormous worldwide success and lengthy career influenced many music schools to offer guitar instruction and degree programs. France alone boasts dozens today.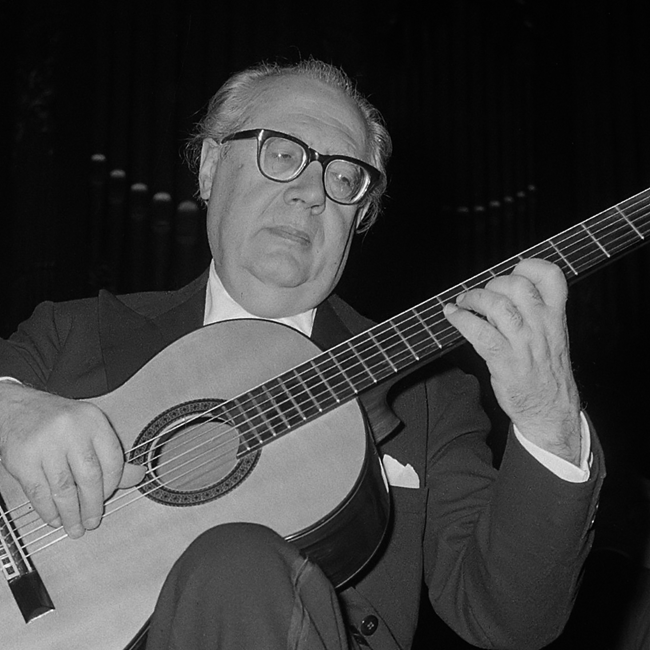 Through the years, arrangements of works by numerous French composers have found their way into the popular guitar repertoire, including Baroque keyboard pieces by François Couperin and Jean-Philippe Rameau and piano and orchestral music by Georges Bizet, Erik Satie, Camille Saint-Saëns, Maurice Ravel, Claude Debussy, and Francis Poulenc (to name just a few). The late Roland Dyens (1955–2016) was probably the best-known French guitarist/composer (and teacher) of the current era; he also contributed brilliant guitar arrangements of jazz standards by the likes of Dizzy Gillespie, Thelonious Monk, and Antônio Carlos Jobim.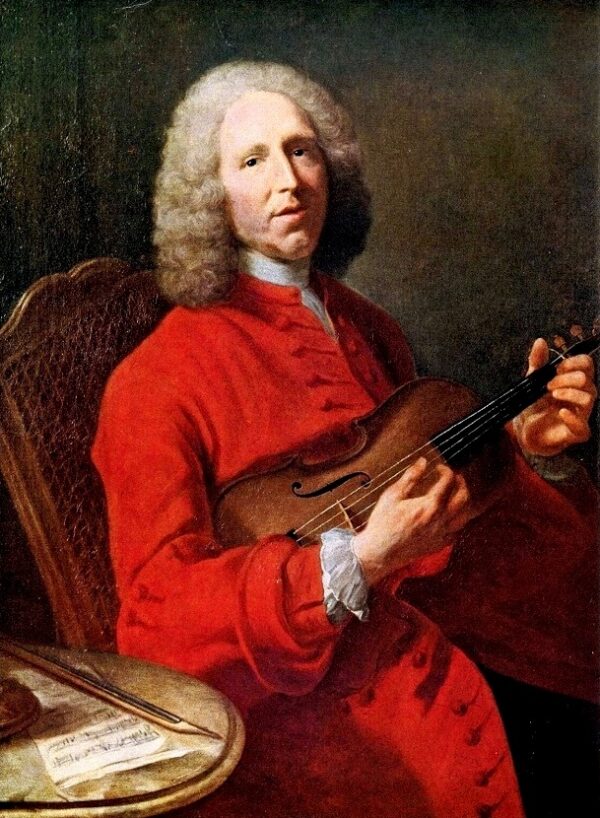 I would also be remiss not to mention the Frenchwoman who some considered the greatest guitarist of the 20th century, Ida Presti (1924–1967). Presti, whose birth name was Yvette Montagnon, was a child prodigy who grew up in a suburb of Paris, gave her first concert at the age of 10, and made her first recordings at age 13. She performed the French premiere of what remains the most famous guitar concerto of all time — Joaquín Rodrigo's Concierto de Aranjuez — and later formed a much-loved guitar duo with her second husband, Alexandre Lagoya. Alas, Presti died of an internal hemorrhage the age of 42 while the duo was touring America in 1967. Lagoya carried on as a highly respected solo performer, composer, and teacher until his death in 1999. 
Today, France is blessed with an extraordinary number of superb guitarists, many of whom have established reputations far beyond the country's borders. What follows is a selection of 10 videos featuring some of my favorite contemporary French classical guitarists. During my tenure as the editor of Classical Guitar magazine from 2015 through 2020, I had the opportunity to see a number of these musicians perform in concert, review some of their albums, and interview a couple of them. In choosing the videos, I've made an effort to show some of the range of classical guitar repertoire, with pieces spanning the Baroque era to the 21st century. I hope this will encourage you to further investigate this passion-filled, stylistically diverse, and often overlooked musical genre!
Chrôros No. 1 by Heitor Villa-Lobos 
A native of Marseille, Solal attended the Conservatoire there as a teen, later adding to her studies in Paris, Cologne, and Montreal. She's toured in more than 30 countries and has taught extensively in Cordoba and Seville, Spain. She's made three solo albums, the most recent of which is a marvelous tribute to Heitor Villa-Lobos called Tuhu, filled with the sounds of Brazilian music. Along with fellow French guitarist/composer Boris Gaquere, she also performs occasionally as Crazy Nails, which hilariously parodies the seriousness of the classical guitar world. 
Variations on Themes from Mozart's "The Magic Flute" by Fernando Sor
Winner of the prestigious Guitar Foundation of America (GFA) International Concert Artist Competition in 2012 and also a respected composer, Viloteau is another world traveler who has lived in Paris, Barcelona, London, Montreal, and a few U.S. cities, including San Francisco and Baltimore (Maryland), where he is on the faculty of the Peabody Institute of the Johns Hopkins University. He is the author of a guitar technique book called In the Black Box and has made several albums, the most recent 2022's Suites, featuring works by Sergio Assad, Mario Castelnuovo-Tedesco and others.
Oulan Bator  by Mathias Duplessy 
Originally from Échirolles (near Grenoble), Jouve was a prodigy who played his first concerto with orchestra at age 10 and later studied at the Ecole Normale de Musique and the Conservatoire National Supérieur de Musique et de Danse in Paris. He made his first European tour at age 16, and at 24 (in 2003) won the GFA competition. Through the years he's become known as a champion of new solo guitar and chamber works featuring guitar. Indeed his best-known album, Cavalcade (2015) consists entirely of pieces by French composer Matthias Duplessy. The Duplessy piece featured here is a riveting portrait of Mongolia's capital city. 
The Name of Life (from "Spirited Away") by Joe Hisaishi
Born in Bordeaux and educated at the Conservatoire there, and also in Paris, Thibault Cauvin is arguably the most successful contemporary French guitarist. Yet another prodigy, he came up through the traditional route of competitions and recitals, but once he became a concert artist, he developed into a sort of world guitar ambassador, playing over 1,500 concerts in more than 120 countries — and in many unusual places, from a ruined temple in Ecuador to Beijing's Forbidden City to the Acropolium in Carthage, Tunisia. Along the way he also collaborated with a wide range of musicians from different cultures. He has recorded eight albums for Sony Music; his 2023 entry is simply called Bach. In the video he plays a lyrical tune from his 2021 FILMS album. 
Hymne a l'amour by Edith Piaf/Marguerite Monnot 
A wonderfully lyrical player, Petit-D'Heilly is perhaps the least widely known guitarist in this list, but is no less impressive. Originally from Paris, where she attended the Ecole Normal de Musique and established her career, for many years now now she has been based in the picturesque lakeside town of Gérardmer, in the eastern Voges region, teaching and playing both solo concerts and in a number of small ensembles, including the Barrios Mangore Quartet (dedicated to playing Latin and South American music; her specialty) and the guitar-cello-piano Trio Gershwin. She is currently director of the Ecole de Musique Intercommunale in Neufchâteau, also in the Voges. This instrumental version of the 1949 Piaf classic was arranged  by Roland Dyens.  
Asturias (Leyenda) by Isaac Albéniz 
Winner of the Guitar Foundation of America competition in 2015 at the age of 21, Garcia hails from Toulouse, born to a French mother and a father with Spanish heritage. He, too, attended the Conservatoire National Supérieur de Musique in Paris, and was very successful in numerous guitar competitions on his way to his career as a concert and recording artist. The track included here reflects the Spanish side of Garcia's roots: "Asturias" — originally written for piano — is among the most famous guitar pieces ever, having been popularized by Andrés Segovia, and recorded countless times since. Garcia's version appears on his eclectic first album, Leyendas (2016).
Concerto No. 1 in D major by Antonio Vivaldi- J.S. Bach
No survey of the classical guitar landscape is complete without a nod to Bach. This piece began life as a concerto for two violins by Antonio Vivaldi (1678–1741), which his contemporary, J.S. Bach (1685–1750), adapted to the organ. This much-played guitar transcription based on the Bach arrangement is by Judicaël Perroy, who is certainly among the most important French guitarists today. Another Parisian, he started playing at 7, attended conservatories in and around the city, and won many prizes (including the GFA in 1997) during his rise into the ranks of top guitarists. Now, as a teacher at conservatories from France to California, he has shepherded many younger players to their own competition successes. His recordings of works by Villa-Lobos, Ponce, Bach, and others are greatly admired. 
Claire de Lune by Claude Debussy 
One of three guitarists under 30 on this list (Thibaut Garcia and Raphaël Feuillâtre are the others), N'Tsai comes from Marseille, where he studied at the local conservatory before heading to Paris to study with Jérémy Jouve, Judicael Perroy, Tania Chagnot, and others. He's performed all over Europe, in Japan and Thailand, and closer to home undertook an unusual tour of his native Provence in which he walked from village to village, giving concerts along the way. He also occasionally plays a program of French music in a duo with Ukrainian soprano Olga Vojnovic. This guitar arrangement of Debussy's "Claire de Lune" is by the highly regarded French guitarist/composer Francis Kleynjans.
Les Cyclopes by Jean-Philippe Rameau 
The most recent French winner of the Guitar Foundation of America's contest (2018), Feuillâtre has also won Spain's prestigious José Tomas competition. He's from southern Brittany and studied guitar locally in Cholet (his hometown) and Nantes, before heading to the Paris Conservatoire and private studies with Judicaël Perroy and others. Like many top guitarists, he enjoys making his own transcriptions of some of the pieces he plays. However, this arrangement of a Rameau keyboard work from the early 18th century was made by one of Feuillâtre's main teachers in Paris, Michel Grizard. It appears on the guitarist's amazing 2023 Deutsche Grammophon album Visages Baroques. 
Danse Macabre by Camille Saint-Saëns  
Of course classical guitar is not all solo players. There are guitar duets, trio, quartets (like this one), and rare is the guitarist who doesn't play in some sort of chamber music situation, whether it's with one other player (flute and guitar is a popular combo) or in a small ensemble with several instruments. Quatuor Éclisses brings together four bona fide guitar virtuosi, all with impressive education credentials and broad experience playing solo and with other instruments: Gabriel Bianco, Arkaïtz Chambonnet, Pierre Lelièvre, and Benjamin Valette. Their group chemistry is palpable — four musicians playing as one mesmerizing unit, with an eclectic repertoire of challenging pieces old and new. Watch them tackle Saint-Saëns' famous orchestral tone poem "Danse Macabre" from 1875. 
Lead photo credit : Guitars from the Cité de la Musique in Paris (which houses almost 200 classical guitars). Photo credit: Pline / Wikimedia commons
More in Guitar, history, music
---
---