News from the Louvre, the World's Most Visited Museum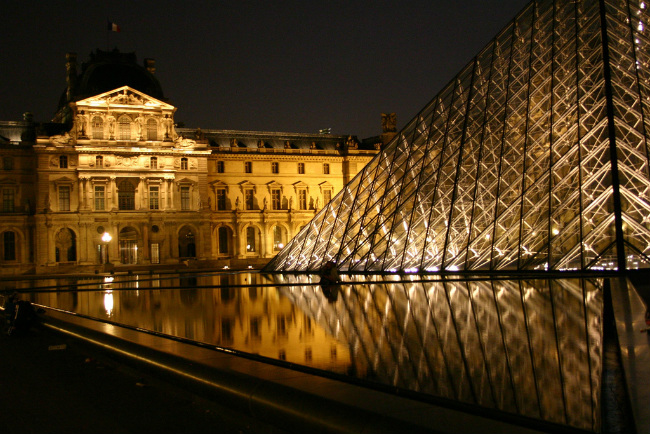 Did you know that the Louvre is the most popular museum on the planet? This colossal culture icon— home to some of the world's most famous works of art (bonjour, Mona Lisa!)— welcomed 8.1 million visitors in 2017. This is a record-breaking number, and it's particularly good news after a dip in visitor numbers following a few difficult years post-terrorist attacks. (The Louvre, along with other popular Paris monuments, suffered a severe decrease before a big tourism rebound last year.)
Formerly a royal palace, the museum has hosted some buzzworthy recent exhibitions including "Vermeer and the Masters of Genre Painting" and a Delacroix blockbuster.
In other news, the Louvre served as the gorgeous set for Beyoncé and Jay-Z's latest music video— a marvelous tour through art history, filmed at night. The video has proved so popular that the Louvre has created a guided art tour entirely devoted to it. As reported by Mashable, the tour "retraces the steps the power couple took when creating their visual masterpiece." Specifically, it showcases 17 oeuvres that play a starring role in the video, including The Winged Victory of Samothrace, The Raft of the Medusa, The Coronation of Napoleon, the ceiling of the Galerie d'Apollon, and, bien sûr, the Mona Lisa. The tour last 90 minutes, and is offered on Wednesdays, Thursdays, Saturdays, and Sundays.
Need some tips on visiting the world's most visited museum? Check out our article, 10 Things You Must See in the Louvre, written by Daisy de Plume of ThatMuse, a company running themed treasure hunts at the museum.
The Louvre is open every day, except Tuesdays, from 9 am to 6 pm with a late night until 9:45 pm on Wednesdays. The full price ticket is 15 euros. Website.
Photo credit : The Louvre museum by Denis McLaughlin/ Flickr
Leave a reply
Your email address will not be published. Required fields are marked *