Madeleine Church Offers Delicious Surprises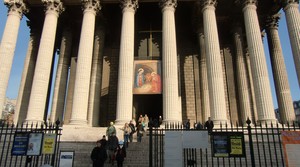 If you are looking for one of the most fashionable churches for a wedding, search no further because Église Sainte-Marie-Madeleine (Madeleine Church) in Paris will meet your needs. It all starts with those amazing steps that lead up to the entrance. Gazing at the grandness of this entrance, it is easy to see why La Madeleine has continued to be the church that the Parisian elite have flocked to for weddings and, alternatively, for funerals.
One of the most memorable funerals was Chopin's in 1849 when Mozart's Requiem was sung. Special permission had to be granted to include the female singers who remained hidden behind black velvet curtains. In fact, the funeral was delayed approximately two weeks while permission was obtained to allow women to participate in a manner that was deemed acceptable by the clergy.
The history of this church goes back to the beginning of the 12th century and takes so many twists and turns along the way that it could easily be mistaken for a plot in a movie script. Historians believe that the building was first conceived as a Roman temple in honor of Napoleon's armies in 1806. It is built in the neoclassical style after the Maison Carrée at Nîmes—one of the best preserved Roman temples. There are 52 Corinthian columns embracing La Madeleine and each column reaches a height of 20 meters. The interior of the church is fashioned after the Roman baths.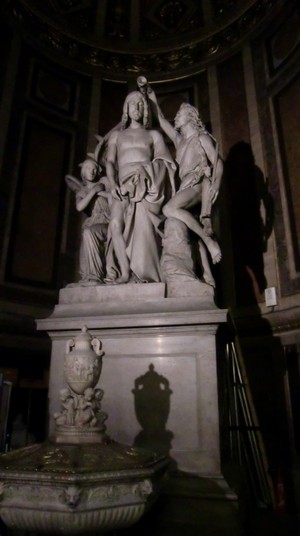 After the fall of Napoleon, King Louis XVIII declared that the building would become a church and it was rededicated to Mary Magdalene.
This is the modern "official" history of the church. However, as you will soon discover, often the less told story is not any less interesting and is filled with surprises! In the 1100s' the Jews of Paris synagogue sat in the exact location of today's Madeleine Church. During the time of Philip II of France and Bishop Maurice de Sully (most notably associated with the Cathedral of Notre Dame de Paris) this synagogue was confiscated and then consecrated to Mary Magdalene in 1182. In 1757, a new design for a church was commissioned to be built on the site and construction began shortly afterward but was abandoned in 1764. In 1777, parts of this construction were razed and the project was restarted but quickly came to a halt with the start of the French Revolution. Finally, with the coming of Napoleon and his grandiose plans, the lovely Église Sainte-Marie-Madeleine was built.
Today, the church is a parish of the Archdiocese of Paris. It is a completely functioning Catholic parish of the Benedictine order with masses and other religious services celebrated daily. Of the 600,000 visitors each year, many climb the grand staircase to pay tribute to the shrines housing the relics of Saint Mary Magdalene.
There is another delicious twist to this tale. Very few people realize that there is a small restaurant in the basement of the Madeleine with an entrance on its flower market side. Here in the basement is La Foyer de la Madeleine—open for lunch Monday to Friday, 11:45 a.m. to 2:00 p.m., except in August and the week between Christmas and New Year's Day.
Its green front door is inviting and when you enter you are warmly greeted by volunteers. In fact, everyone is a volunteer except for the kitchen staff. Their sometimes grandmotherly attention can be rather charming. There is a five euro fee to become a member and this membership is good for one year. The cost for a three-course French meal is eight euro, which consists of a small starter, a plat or main dish, nice crusty peasant bread and a dessert or cheese plate. Not only is it a steal, but also quite a unique experience. At the far end of the restaurant is a small coffee bar where you can buy an espresso and lounge at tables or sit at the bar. Wine is also available for purchase.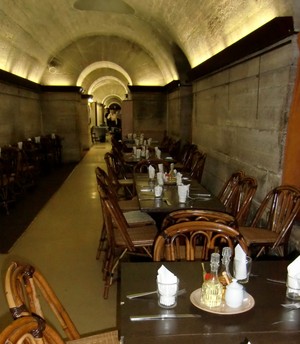 The food is simple and nicely prepared. It is basic good cooking served in a pleasant atmosphere that is reminiscent of home. The church does not advertise but as you might guess it has developed a large group of regulars. If you go late, be prepared that they may run out of some selections. Aim to be there by noon. On the plus side, most of the volunteers, who are also their wait staff, are very accommodating and are known to put aside your preferred dessert choice so that you will not miss out when selections get low.
The dining area consists of a long corridor with vaulted ceilings. It looks exactly as you might expect the basement of a cathedral to look. The tables line each side of the corridor and if you are alone you may be asked to join another table "family style." A great way to meet someone unexpected. The atmosphere here is extremely hospitable and undeniably a unique dining experience.
Église Sainte-Marie-Madeleine offers lots of history, good camaraderie, an opportunity to practice your French, plus a hidden kitchen.
Practical Information
14, rue Suréne, Paris 8th
Email: [email protected]
Métro: #8, 12 & 14 Madeleine
La Foyer de la Madeleine tél: 01 4742 3984
Restaurant open Monday-Friday, 11:45am-2:00pm Closed August and between Christmas and New Year's Day
Loui Franke is a Paris resident and the author of Parisian Postcards. Please click on her name to learn more about her and to see other stories by Loui published by BonjourParis.
Subscribe for free
weekly newsletters with subscriber-only content.
BonjourParis has been a leading online France travel and French lifestyle site since 1995.
Top 100 France-themed books & more: Readers' Favorites.
Leave a reply
Your email address will not be published. Required fields are marked *