Kids in Paris: Explore the Tropical Aquarium at the Palais de la Porte Dorée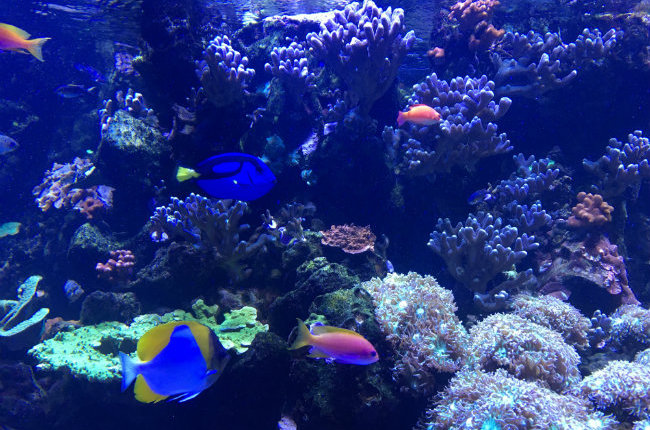 Traveling with kids to Paris? One of our favorite hang-outs is the small tropical aquarium that's housed in the basement of the Palais de la Porte Dorée. The building itself was constructed for the Exposition coloniale in 1931, and boasts an extraordinary Art Deco facade; the bas-reliefs by sculptor Alfred Janniot are vivid depictions of ships, oceans, diverse peoples and wildlife. Today this palais is home to the national immigration museum (see this article for more details), along with the intimate tropical aquarium.
When it was founded in 1931, the aquarium's goal was to highlight the commercial potential for aquatic species— quite a different context from today! Now its mission is to protect the astonishing biodiversity found around the world, in the face of global warming, pollution, deforestation, urban development along waterways, and other threats. The aquarium is home to 15,000 animals representing 750 different species in 84 different aquarium tanks.
Once you've purchased your tickets (the small entry fee is just 5 euros for an adult, 3.5 euros for a child, or 7 euros with the temporary exhibition) and stashed your jackets in the vestiare, head downstairs to discover a remarkable tropical world. Diverse habitats are recreated— from brackish mangroves to the freshwater depths of Lake Victoria, the largest lake in Africa and the source of the White Nile. Each tank provides detailed explanations of the species and the destination. For example, Lake Victoria — which has sustained millions of people on its shores historically— has witnessed the destruction of its biodiversity because of the introduction of Nile perch in the 1950s— a "Darwin's nightmare" which killed native species.
A highlight is spying on the albino alligators that occupy a verdant, plant-filled pool. Not to mention the toothy piranhas!
It's worth returning to see the fascinating temporary exhibitions. Running now through August 18, 2019, "Aqua: L'eau de haut en bas" is a fun, hands-on immersion into the water cycle. And also the "little" water cycle in Paris— how drinking water arrives in our taps and waste water is treated.
Children also learn about water's biological importance: two thirds of the human body is composed of water— the equivalent of 40 liters for someone weighing 60 kilograms. (And every day we eliminate at least two liters!) What's more, discover the historic relationship between water and mankind— and how today it is no longer a natural resource, but a commodity with the threat of "water wars" looming large.
293 avenue Daumesnil, 12th. Metro: Porte Doree. www.aquarium-tropical.fr
Lead photo credit : The tropical aquarium at the Palais de la Porte Dorée. Photo: Bonjour Paris
---
---