Fabulous Food and Paris Views at the New Café de l'Homme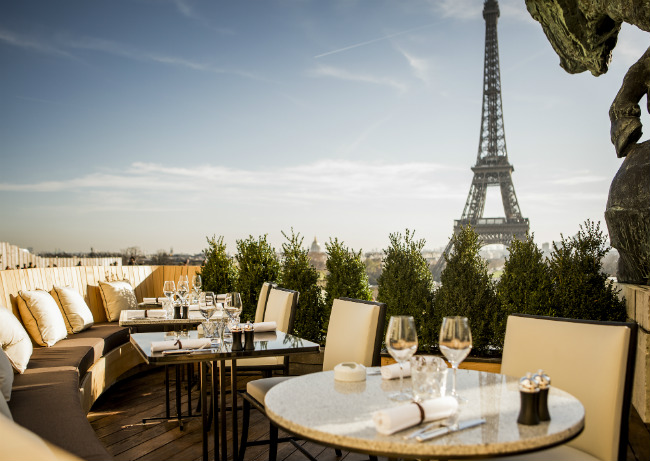 Beyond the massive statue of Hercules taming a bison (Albert Pommier, 1937), the Eiffel Tower rises above the fountains of the Jardins du Trocadéro. It's almost close enough to reach out and touch. In the distance, you can make out the gilded dome of Invalides and the unmistakable outline of Notre Dame cathedral. From the Palais de Chaillot—the grand, neoclassical building erected for the 1937 Universal Exhibition—all of Paris is at your feet.
You'd be hard-pressed to find a prettier Paris view than what's on offer at the newly reimagined Café de l'Homme. But it's not just the outside vistas that are captivating. A gorgeous new redesign by interior architects Gilles et Boissier has transformed the restaurant with chic décor channeling 1930s Art Deco. All of it was custom-designed especially for the space: marble tables, Arabic-style latticework in wood and marble, banquettes designed with a sumptuous, green plant motif.
The restaurant officially opened in December, two months after the grand debut of the Musée de l'Homme. (We can't recommend this museum highly enough.) After a six-year renovation project, the Museum of Mankind presents a thought-provoking, interactive approach to humanity's evolution and future. You could linger for an entire morning or afternoon here, book-ending your experience with a great meal at the Café de l'Homme.
Managed by Christophe Bonnat and Coco Coupérie-Eiffel (the great-great-granddaughter of Mr. Gustave Eiffel himself), this contemporary brasserie also boasts an outside terrace with exceptional views.
To develop the menu, Michelin-starred chef Frédéric Vardon worked in collaboration with Executive Chef Mickaël Foubert. You'll find classic French cuisine with an international influence; there's a real focus on artisanal seasonal products representing French terroir. For a starter, you might choose the Oeufs gros en meurette, the sautéed shrimp in a Thai bouillon, Duck "pâté en croute," or the Tataki tuna served with yuzu and wasabi. Mains include scallops, wild sea bass, and filet mignon.
It's also possible to enjoy Afternoon Tea (or a sinfully rich hot chocolate), and brasserie-style items like a club sandwich, beef tartare, Caesar salad, and a croque monsieur. In the evenings, indulge in creative cocktails like L'Homme Américain– made with Noilly Prat, orange, lemon, and Martini Prosecco.
For dessert, don't miss the Café de l'Homme cheesecake served with dried clementine, lemon and bergamot marmalade, or the "Souvenirs d'enfance"—featuring two petits pots (chocolate cream, coffee, or vanilla) plus madeleines. Bon appétit!
Café de l'Homme, 17 place du Trocadéro, 75016 Paris. Métro: Trocadéro (6, 9). Tel: +33 (0)1 44 05 30 15. Web: http://www.cafedelhomme.com. Main courses from 22€. Brasserie-style items, like the Caesar Salad, cost 15€. Open every day from 12 noon to 2 am.
Lead photo credit : The view from the terrace at Café de l'Homme/ ©Pierre Monetta
Leave a reply
Your email address will not be published. Required fields are marked *
Comments