Deyrolle: A Natural Curiosity in Paris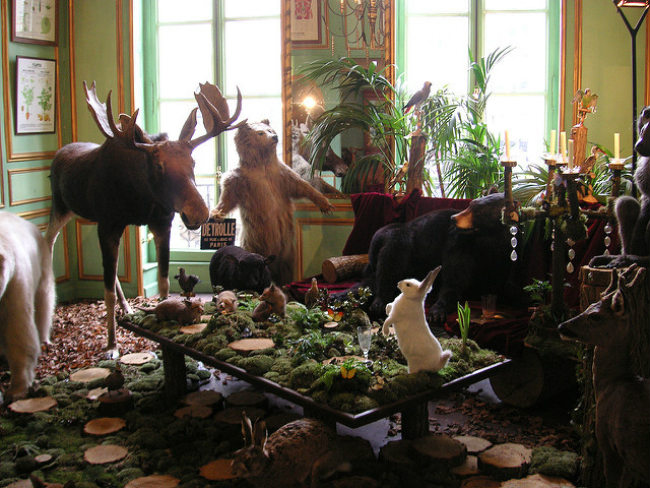 I was first introduced to the renowned institution Deyrolle in Adam Gopnik's book Paris to the Moon and added this unusual menagerie of taxidermied animals to my bucket list. While en vacances in Paris, I wanted to experience Deyrolle with my family as Gopnik had done with his young son. They had no idea what was in store for them – neither did I.
A duo of gazelles, decked out in incongruous gardening aprons, stood silently greeting us at Deyrolle's front entrance at 46 Rue du Bac. Adjusting their outfits was a gerçure informing us about his line of gardening clothes. "Bah!" Disappointed, I thought, "Something cutesy is going on here." Later I realized that the fellow I had practically dismissed was Prince Louis Albert de Broglie. A member of an aristocratic French family, de Broglie gave up a lucrative banking career to develop a national tomato conservatory at his family chateau. His friends mocked him, calling him the Prince Jardinier, or gardener prince. De Broglie also created his Prince Jardinier label of garden implements and an eponymous line of long-lasting gardening clothes, examples of which were displayed on the stuffed gazelles. De Broglie first visited Deyrolle as a delighted child of five and bought the fading 1831 establishment outright in 2001.
After ascending to the second floor, we found ourselves staring, mouths agape, at the scene in front of us. Housed in a series of high-ceilinged, high-windowed rooms were stuffed animals of every sort: lions, leopards, geese, monkeys. A miniature donkey; a giant water buffalo and a polar bear. Birds were posed in full-flight or perched on branches under glass. Dogs slept eternally in the aisles. Talented taxidermists had reconstructed a virtual Noah's Ark since de Broglie took the reigns of the shop in its eleventh-hour. A worker had just received an order of shiny beetles from the tropics and was gently unwrapping them. Drawer after drawer were filled with a multitude of butterflies, scarabs and respectfully folded birds.
Instead of macabre, I found Deyrolle was more like an intriguing 19th century cabinet de curiosités than a taxidermist. The animal specimens are for sale or rented as props for films, advertising and magazine articles. No animals are ever killed for Deyrolle to mount; the species come from zoos, circuses or animal parks where they've succumbed under natural circumstances.
Books, botanical and zoological charts were for sale but other charts draping the rooms looked like they had been there since 1881, the year the store moved to its present location. Some of the charts can be seen in Matilde's bedroom in Jean-Pierre Jeunet's wonderful epic A Very Long Engagement. The interior of Deyrolle can be seen in Woody Allen's Midnight in Paris as Gil pitches an idea to a flummoxed Luis Buñuel at a Surrealist wedding reception.
For generations people have been visiting Deyrolle and have a special place for it in their hearts. The second floor had been severely damaged in a fire in 2008, but the only remaining evidence was a charred peacock perched like a phoenix rising from the ashes to commemorate Deyrolle's rebirth.
Deyrolle is part of France's cultural heritage. The history of this almost 200-year-old business is far from over as long as artists, naturalists and the merely curious continue to be intrigued by it.
Deyrolle: 46 rue du Bac – 75007 Paris
Opening Hours: Tuesday, Wednesday, Thursday and Friday from 1:30 pm- 6:30 pm. Saturdays from 10:30 am- 12:30 pm, 1:30 pm- 6:30 pm.
Image Credits: Deyrolle by saragoldsmith/Flickr, Deyrolles Stuffed Animals & Cabinets by Bixentro/Flickr, Deyrolles, Tiger by Bixentro/Flickr, Deyrolle, Stuffed Lion  by Bixentro/Flickr
Photo credit : Deyrolle by saragoldsmith/Flickr
Leave a reply
Your email address will not be published. Required fields are marked *
Comments