Berthe Morisot at the Musée Marmottan Monet in Paris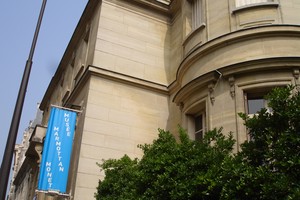 The Musée Marmottan Monet in Paris is holding the first major retrospective of painter Berthe Morisot's work in half a century. Originally scheduled to run from March 8 through July 1, the exhibition has been extended through July 29.
The exhibition includes 150 paintings, pastels, watercolors, and drawings from museums and private collections around the world and covers Morisot's entire career as a painter, salon hostess, wife, mother, and muse to Edouard Manet. It shows the evolution of her art from a darker to lighter palette and from an Impressionist to an almost abstract style. It is especially fitting that the Marmottan host this exhibition; the museum has the largest holdings of art by Morisot.
Morisot, who was the grand niece of French artist Jean-Honoré Fragonard, came from a bourgeois French family. Her mother, by providing her daughters, Bertha and Edma, with drawing lessons, unwittingly gave the world a painter who was to became one of the leaders of the Impressionist movement – this, despite the fact that women were not yet admitted as students to the École des Beaux Arts.
Morisot was born in 1841 in Bourges, France, and started drawing lessons in 1857. The artist Jean-Baptiste-Camille Corot introduced her to painting outdoors, and one of the earliest paintings in the exhibition, "Le Vue de Tivoli" (1863), is Morisot's copy of a Corot painting. Only six years later, she made her salon debut. By 1868, she was Edouard Manet's favorite model, and by 1871 her work was recognized by Monet and Degas. As her mother marveled, "Here she is acclaimed an artist by these great men."
In 1872, Morisot exhibited at the Salon, the official art exhibition of the Académie des Beaux-Arts in Paris, and at the time considered the greatest art event in the Western world.
In 1874, Morisot stayed with the Manet family in Normandy, during which Manet's younger brother, Eugène, courted Morisot. It was while painting "Bateau en construction" that summer that Eugène told her how he felt about her. They were married that year. For Morisot, it was a marriage of convenience; she was dissatisfied with all previous suitors, and Eugène was to devote himself to her career.
Also in 1874, Morisot was the only woman to take part in the first Impressionist exhibition, held at the gallery of Paris photographer Nadar, and in 1875, works by Morisot, Renoir, Monet, and Sisley were sold at a Paris auction house. Morisot's pieces achieved the highest price – 480 francs.
Among the paintings from the 1870s included in the exhibition are "Eugène Manet à l'Ile de Wight" (1875), painted with the colors and light most often associated with Impressionism; and "Jeune femme en gris étendue" (1879), in which the brushwork is so free that the gray, silver, and white of the figure's dress, arm, and leg blend into abstraction into the settee.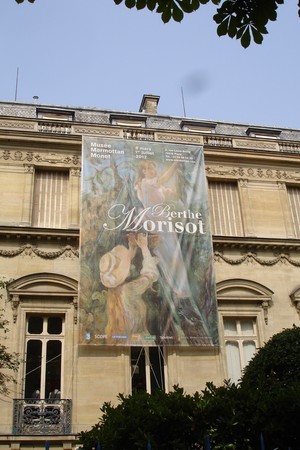 During 1888–91, Morisot exhibited in Paris and New York, and in 1894 her work entered the collection of the Musée de Luxembourg. Paintings from this period include three intimate works – "Nu de dos" (1885), "Devant la psyché" (1890), and "Sortant du lit" (1888), in which a half-naked woman is turned toward the viewer, her upper torso reflected in the mirror. There is the restrained but effective use of red in her hands, ear, and back, and the brushwork is free yet controlled. Touches of red are also used in the other two paintings.
In contrast to these small, intimate paintings are the three versions of "Le cerisier" (1891) – one smaller version and two much larger versions – considered to be Morisot's most ambitious works. The paintings depict two women picking cherries and are thought to demonstrate her growing interest in decorative painting.
Details of the decoration of Morisot's apartment can be seen in "Julie au violon" (1893). Julie, born in 1878, was Morisot's only child and favorite model, and Morisot painted her often. In this painting, a quite tall Julie is facing the viewer while playing the violin in a room decorated with a swan's neck chaise longue; a blue and white Chinese bowl, which was a gift of Edouard Manet; and Manet's painting of Morisot reclining, which appears at the beginning of the exhibition.
The exhibition concludes with a series of aquarelles displayed behind glass in a dimly lit room. What is most outstanding about these pieces is their lightness of touch. Included here are the above-mentioned "Bateau en construction" (1874); "La port de Nice" (1882), which Morisot painted from a boat; "Le Jardin à Bougival" (1884), in especially lovely hues of green, blue, yellow, and touches of red; and the totally abstract "Passage de Normandie" (1888).
In 1894, Morisot's work entered the collection of the Musée de Luxembourg. She died the next year, at age 54, after contracting a lung infection, and was buried in the Manet family vault in Passy Cemetery.
Berthe Morisot began life as the middle-class child of middle-class parents. She had the good fortune to have both artistic talent and to be the muse of Edouard Manet, and an intimate friend of Degas, Monet, and Renoir. She was integral to the circle of the most accomplished Impressionist painters, and she established a reputation as "a leading avante-garde painter" and "as the ultimate incarnation of Impressionism." This exhibition clearly proves why that reputation is deserved.
Musée Marmottan Monet
Tel: 01 44 96 50 33
2, rue Louis Boilly, Paris 16th
Metro: La Muette
RER C: Boulainvilliers
Bus: 32, 63 22, 52, PC
Open: Tues–Sun 10am–6pm
Thurs open until 8:00pm
Entrance fee: 10 euros
Reduced fee: 5 euros
Groups of 15 or more: 6 euros
Call for group reservations of 15 or more
Tickets can be purchased at FNAC and Ticketnet.fr
Combined tickets for the museum and Giverny:
Adults 16 euros; Students 9 euros; handicapped 4 euros
Email
And While You're There…
The Musée Marmottan Monet is housed in the former residence of Paul Marmottan, who bequeathed his significant art collection and his two town houses to the French Academy of Fine Arts in 1932. While the Berthe Morisot exhibit alone makes a visit to the museum worthwhile, the museum holds other treasures, as well.
On your way to the exhibition, take a leisurely walk through the first-floor rooms. In the dining room are hung paintings by Duren, Gauguin, Monet, Pissarro, Renoir, and Sisley. Note, especially, Urban Impressionist Gustave Caillebotte's "rue de Paris, Temps de Pluie" (1877), which is a smaller version of the one in the Chicago Institute of Art collection; the huge mirrored vermeil centerpiece on the dining-room table; the Greek-themed architectural detail of the room; and the huge chandelier over the table. The proportions are right and the room harmonious.
In a little passageway off the dining room, note the vitrine on the left, where are displayed one of Monet's palettes, pipes, plumed fountain pens, and coupe-papiers (letter openers), among other items, and in a much larger space on the first floor, view the display of Monet paintings.
On the second floor are the Daniel Wildenstein Illuminations, some decorated with such a delicate hand that the pen or brush seemed barely to touch the parchment. Donated to the museum in 1980, they include French, Italian, English, and Flemish illuminations from the Middle Ages and Renaissance, all displayed in a specially designed room.
Also upstairs be sure to view the collection of Empire Period furniture, paintings, and art objects. These include the Lit de Napoléon (Napoleon's Bed, 1806), presented by an anonymous donor; the bed is decorated with gilded urns on two posts and carved heads with elaborate headdresses on the other two. A portrait of Napoleon, clad in a high-collared red jacket, still youthful and with a day's shadow on his face, hangs over the bed. A huge Empire Period desk dominates one room. It would have been fit for Napoleon, but, unfortunately, there was no identifying information with details of its provenance.
There is also a wall of 30 small portraits of various men and women, all painted by Louis-Léopold Boilly (1761–1845), for whom the street on which the museum is located is named.

Subscribe for
FREE

weekly newsletters.
BonjourParis has been a leading France travel and French lifestyle site since 1995.
Readers' Favorites: Top 100 Books, imports & more at our Amazon store
We update our daily selections, including the newest available with an Amazon.com pre-release discount of 30% or more. Find them by starting here at the back of the Travel section, then work backwards page by page in sections that interest you.
Current favorites, including bestselling Roger&Gallet unisex fragrance Extra Vieielle Jean-Marie Farina….please click on an image for details.
Click on this banner to link to Amazon.com & your purchases support our site….merci!
Leave a reply
Your email address will not be published. Required fields are marked *