Antibes – A Taste of Medieval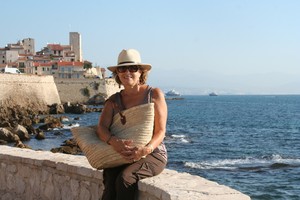 I fell in love with France in 1967 when I was just 21 years old. My best friend and I backpacked through Europe, tattered Eurail passes guaranteeing our transportation: a rite of passage for many Canadians in those days. If anything, I'm even more enamored with France today. Although I've been fortunate to visit many other countries and experience the excitement of their history, cultures, cuisines and photo ops (I'm an incurable shutterbug), France holds the key to my heart. Fortunately, my husband feels the same. Whether it was tracking down my uncle's WW2 burial place in Normandy, wandering the streets of Paris, doing a 2-month home exchange in the middle of a private vineyard in the Var, hiking through the Luberon, skiing in Chamonix, or exploring the Provence-Alpes-Côte D'Azur, nothing has ever disappointed me. No matter how much time we spend in France, there is always still so much of this diversely beautiful country for us to experience. However, no matter what new region we visit, we always make time for the Côte D'Azur. It's difficult to adequately put into words the magic this coastal area and the villages that dot the hillsides beyond hold for us. In 2011, my husband and I planned an extended stay in Antibes, a once fortified medieval town that had attracted us like a magnet in previous visits to the coast. Halfway between Nice and Cannes, it was first settled in 5 BC. We made the discovery when we lived near Biot, a few years earlier, and we realized Antibes had answered all our criteria for the "perfect spot". We wanted to be on the sea in a picturesque, historic area, in or near la vieille ville, and close to the train station. Whenever we had spent time in Antibes, we had a sense that the old town was still very much alive and not simply a gallery of boutiques for tourists. Although we have enjoyed seven highly successful home exchanges through the years, finding one for five months would be almost impossible so we looked for a rental online and got lucky. Very lucky, in fact. On the edge of the old town, we were just down the street from the station, with a wraparound view over the harbor and the remaining 15th C ramparts, past the 500-year-old Fort Carré and across Baie Des Anges to Nice and the hills and mountains beyond. It was more than we had hoped for. From May through September, Antibes became our home. It felt natural to slip into the rhythm of our surroundings. Everything was within easy access by foot. If we wanted to go along the coast we simply took the train. From time to time we rented a car to venture further afield. Working on my next novel, which is partially set in Antibes, my routine was soon established. I would write from 6:30 to 8 a.m., inspired by the sunrise over the magnificent Med. Then I would place camera, dictionary and notebook into my panier and stroll the cobbled lanes, enjoying the sights and sounds of the village coming to life. My camera shutter worked overtime. After lingering in the market to choose our daily rations, I would pop into my favorite tabac to collect the Nice-Matin. My husband knew to find me at 10:30, dictionary in hand, sipping a thé au citron at the small café off Place Nationale, reading the paper and watching the village activities. Joie! Truly, I could wax on about this inviting and atmospheric town but the word count is building for this article. Here are a few of my favorite spots that may not be as well known as the daily Provençal market, the cathedral and the Musée Picasso: La Chapelle de Saint-Bernardin – As are many other buildings here, this 16th C chapel is built on Roman ruins. The doors breathed history to me as I often pressed my fingertips to the rich wood. The year 1581 is carved into them. After suffering a terrible plague, the survivors had these doors carved to give thanks to God for its end. Place du Sanfranier – In the heart of the old town is the small free commune that keeps ancient fêtes and traditions alive. Here, Nikos Kazantzakis wrote Zorba the Greek (he lived at no. 8 rue du Bas-Castellet), and this quiet spot is dedicated to him. Plage La Gravette – Nestled in the ramparts, overlooked by the castle where Picasso briefly lived and worked, this intimate cove tends to attract locals rather than tourists. I hesitate to use the word "picturesque" when referring to Antibes, but, everywhere you look this word applies. Plan a visit! Patricia Sands lives in Toronto, Canada, when she isn't somewhere else. Happy to confess she is a travel fanatic, she can pack a bag in a flash and be ready to go anywhere… particularly if it's the south of France. Beginning with a Kodak Brownie camera at the age of six, she has told stories all her life through photography. Her award-winning debut novel The Bridge Club was a finalist in the Foreword Reviews 2010 Book of The Year (general fiction), 2011 Next Generation Indie Book Awards (First Novel) and 2012 Indie Excellence Book Awards. Her next novel, The Promise of Provence, will be published in March 2013. She has recently been invited to co-lead a women's
12-day tour of the south of France
in October 2013. Dreams do come true! Website:
http://www.patriciasandsauthor.com
Blog:
http://www.patriciasands.wordpress.com
SUBSCRIBE
ALREADY SUBSCRIBED?
BECOME A BONJOUR PARIS MEMBER

Gain full access to our collection of over 5,000 articles and bring the City of Light into your life. Just 60 USD per year.

Find out why you should become a member here.

Sign in

Fill in your credentials below.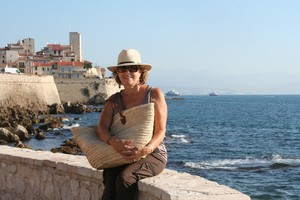 I fell in love with France in 1967 when I was just 21 years old. My best friend and I backpacked through Europe, tattered Eurail passes guaranteeing our transportation: a rite of passage for many Canadians in those days.
If anything, I'm even more enamored with France today. Although I've been fortunate to visit many other countries and experience the excitement of their history, cultures, cuisines and photo ops (I'm an incurable shutterbug), France holds the key to my heart.
Fortunately, my husband feels the same.
Whether it was tracking down my uncle's WW2 burial place in Normandy, wandering the streets of Paris, doing a 2-month home exchange in the middle of a private vineyard in the Var, hiking through the Luberon, skiing in Chamonix, or exploring the Provence-Alpes-Côte D'Azur, nothing has ever disappointed me.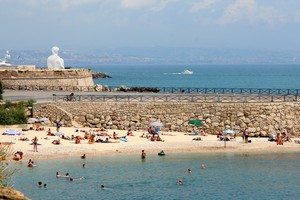 No matter how much time we spend in France, there is always still so much of this diversely beautiful country for us to experience. However, no matter what new region we visit, we always make time for the Côte D'Azur. It's difficult to adequately put into words the magic this coastal area and the villages that dot the hillsides beyond hold for us.
In 2011, my husband and I planned an extended stay in Antibes, a once fortified medieval town that had attracted us like a magnet in previous visits to the coast. Halfway between Nice and Cannes, it was first settled in 5 BC. We made the discovery when we lived near Biot, a few years earlier, and we realized Antibes had answered all our criteria for the "perfect spot". We wanted to be on the sea in a picturesque, historic area, in or near la vieille ville, and close to the train station. Whenever we had spent time in Antibes, we had a sense that the old town was still very much alive and not simply a gallery of boutiques for tourists.
Although we have enjoyed seven highly successful home exchanges through the years, finding one for five months would be almost impossible so we looked for a rental online and got lucky. Very lucky, in fact. On the edge of the old town, we were just down the street from the station, with a wraparound view over the harbor and the remaining 15th C ramparts, past the 500-year-old Fort Carré and across Baie Des Anges to Nice and the hills and mountains beyond. It was more than we had hoped for.
From May through September, Antibes became our home. It felt natural to slip into the rhythm of our surroundings. Everything was within easy access by foot. If we wanted to go along the coast we simply took the train. From time to time we rented a car to venture further afield.
Working on my next novel, which is partially set in Antibes, my routine was soon established. I would write from 6:30 to 8 a.m., inspired by the sunrise over the magnificent Med. Then I would place camera, dictionary and notebook into my panier and stroll the cobbled lanes, enjoying the sights and sounds of the village coming to life.
My camera shutter worked overtime. After lingering in the market to choose our daily rations, I would pop into my favorite tabac to collect the Nice-Matin. My husband knew to find me at 10:30, dictionary in hand, sipping a thé au citron at the small café off Place Nationale, reading the paper and watching the village activities. Joie!
Truly, I could wax on about this inviting and atmospheric town but the word count is building for this article. Here are a few of my favorite spots that may not be as well known as the daily Provençal market, the cathedral and the Musée Picasso: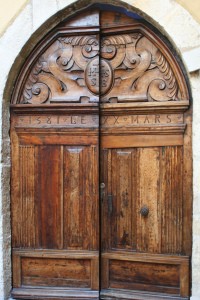 La Chapelle de Saint-Bernardin – As are many other buildings here, this 16th C chapel is built on Roman ruins. The doors breathed history to me as I often pressed my fingertips to the rich wood. The year 1581 is carved into them. After suffering a terrible plague, the survivors had these doors carved to give thanks to God for its end.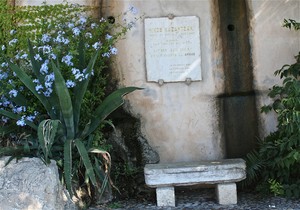 Place du Sanfranier – In the heart of the old town is the small free commune that keeps ancient fêtes and traditions alive. Here, Nikos Kazantzakis wrote Zorba the Greek (he lived at no. 8 rue du Bas-Castellet), and this quiet spot is dedicated to him.
Plage La Gravette – Nestled in the ramparts, overlooked by the castle where Picasso briefly lived and worked, this intimate cove tends to attract locals rather than tourists.
I hesitate to use the word "picturesque" when referring to Antibes, but, everywhere you look this word applies. Plan a visit!
Patricia Sands lives in Toronto, Canada, when she isn't somewhere else. Happy to confess she is a travel fanatic, she can pack a bag in a flash and be ready to go anywhere… particularly if it's the south of France. Beginning with a Kodak Brownie camera at the age of six, she has told stories all her life through photography. Her award-winning debut novel The Bridge Club was a finalist in the Foreword Reviews 2010 Book of The Year (general fiction), 2011 Next Generation Indie Book Awards (First Novel) and 2012 Indie Excellence Book Awards. Her next novel, The Promise of Provence, will be published in March 2013. She has recently been invited to co-lead a women's 12-day tour of the south of France in October 2013. Dreams do come true!
Website: http://www.patriciasandsauthor.com
Blog: http://www.patriciasands.wordpress.com
More in antibes, Cote d'Azur, Eurail, French tourism, Place du Sanfranier, Plage La Gravette
---
---