Modern Love in the City of Light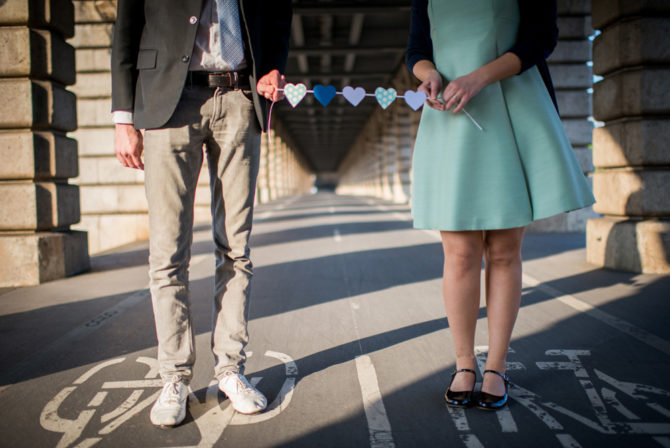 As an expatriate slowly creeping towards a decade-long commitment to living in Paris, I tend to both muse upon and begrudge the city for sometimes being behind with the times. At best, savoring Paris for its old-fashioned charm that reads like a postcard; at worst, shamefully resenting the city for lacking conveniences such as proper late-night food delivery. But one element of modern life that the French have kept their thumbs on the pulse is online dating websites. At this time in my Parisian life, the city and the promise of love I had ascribed it with both seemed to fail me, which resulted in an "on the brink of turning 30" existential crisis that I admit to indulging in. Rather than complain about what went wrong, I decided one day to focus on what could go right and joined an online dating website for fun. Meeting someone online no longer coalesces with the tacky stigma that it had, say, a decade ago. And with the salient force life seems to be moving forward with, thanks to the advancement of technology where I sometimes worry that our attention span is depleting with the introduction of every new App, organic dating has become as uncommon as receiving a phone call on your landline. With the search results of my vague "Dating site France" providing an endless stream of choices and Tinder thankfully not invented yet, I carefully considered each site. Would Gleeden be the portal to my Parisian dating adventures? I asked myself perusing through the site. After learning that I would need to be married, as the site caters to committed couples seeking adulterine action and adventure, I quickly crossed it off my list. What about Cougar Rencontre? Without looking at the actual site, I was certain my age disqualified me as a cougar but promised to keep it mind should I be in the same situation in another ten years. There was OkCupid but if the site was anything like its American counterpart, I insisted on a pass. After all, this was the site that set me up with the real life Napoleon Dynamite (no, not actor Jon Heder) who demanded that I present a valid piece of identification before proceeding on our date, so I had reservations that the French version of the site would supply better results. It was then that I stumbled upon a cheeky pink website that called itself Adopte Un Mec (Adopt a Guy) where the eligible bachelors were handled like products that were placed into shopping carts to be symbolically purchased. Resolving that it took a special kind of guy with an admirable sense of humor to subject himself to being placed on a virtual conveyor belt, I signed up; I had to meet these guys. The site lived up to its hype, as métro stations at the time were rife with advertisements promoting the selection of hipster hotties that were available. Shortly after signing up, I was in my own virtual bachelorette party, shimmy dancing in my seat, hooting and hollering at my screen as men that specified my "needs" automatically populated in my suggestion box. It all felt so deliciously tawdry. After several weeks of dates that ranged from decent to simply sleazy, I met Aurélien, a bachelor who seemed more interested in developing a friendship over a midnight romp at the Tuileries. We met in front of the Pompidou Center on a sunny afternoon in July where the first thing I noticed was the warmth of the sun reflecting off of the grand esplanade that lies before the museum, stained his cheeks and made him look like he was blushing. He asked if I wanted to go to a café for lunch. I asked him if it was okay to just take a walk to see where the day would take us. He said, "Bien sûr." We threaded through the 3rd and 4th Arrondisements, crossed over the Seine to explore the 6th and the 5th where he shared his enthusiasm and knowledge of street art and Parisian architecture, teaching me more about the city than I had learned in the two years I had already been there. That afternoon walk was the first of several that lead to dates involving food, rides on his ice blue Vespa, a picnic at Parc des Buttes-Chaumont and the beginning of something special. Unlike past relationships I'd had in France, Aurélien did not pressure me to explain why I was in Paris or try to mold me into someone other people would be impressed with. He took me as-is, uncertainties and all, and let me breathe through the final months of my twenties. Four packed years after that first meeting, we've since moved to a starter home in the 12th, had a wedding in France, a wedding in New York, filmed a quirky episode of Househunter's International and are expecting a baby in the fall. It's been a rainbow of events that launched the day I decided to put my existential crisis on hold and go shopping for a man in Paris. Maybe this city is more ahead of the times than I've given it credit for…
SUBSCRIBE
ALREADY SUBSCRIBED?
BECOME A BONJOUR PARIS MEMBER

Gain full access to our collection of over 5,000 articles and bring the City of Light into your life. Just 60 USD per year.

Find out why you should become a member here.

Sign in

Fill in your credentials below.
As an expatriate slowly creeping towards a decade-long commitment to living in Paris, I tend to both muse upon and begrudge the city for sometimes being behind with the times. At best, savoring Paris for its old-fashioned charm that reads like a postcard; at worst, shamefully resenting the city for lacking conveniences such as proper late-night food delivery. But one element of modern life that the French have kept their thumbs on the pulse is online dating websites.
At this time in my Parisian life, the city and the promise of love I had ascribed it with both seemed to fail me, which resulted in an "on the brink of turning 30" existential crisis that I admit to indulging in. Rather than complain about what went wrong, I decided one day to focus on what could go right and joined an online dating website for fun.
Meeting someone online no longer coalesces with the tacky stigma that it had, say, a decade ago. And with the salient force life seems to be moving forward with, thanks to the advancement of technology where I sometimes worry that our attention span is depleting with the introduction of every new App, organic dating has become as uncommon as receiving a phone call on your landline.
With the search results of my vague "Dating site France" providing an endless stream of choices and Tinder thankfully not invented yet, I carefully considered each site. Would Gleeden be the portal to my Parisian dating adventures? I asked myself perusing through the site. After learning that I would need to be married, as the site caters to committed couples seeking adulterine action and adventure, I quickly crossed it off my list. What about Cougar Rencontre? Without looking at the actual site, I was certain my age disqualified me as a cougar but promised to keep it mind should I be in the same situation in another ten years. There was OkCupid but if the site was anything like its American counterpart, I insisted on a pass. After all, this was the site that set me up with the real life Napoleon Dynamite (no, not actor Jon Heder) who demanded that I present a valid piece of identification before proceeding on our date, so I had reservations that the French version of the site would supply better results.
It was then that I stumbled upon a cheeky pink website that called itself Adopte Un Mec (Adopt a Guy) where the eligible bachelors were handled like products that were placed into shopping carts to be symbolically purchased. Resolving that it took a special kind of guy with an admirable sense of humor to subject himself to being placed on a virtual conveyor belt, I signed up; I had to meet these guys. The site lived up to its hype, as métro stations at the time were rife with advertisements promoting the selection of hipster hotties that were available. Shortly after signing up, I was in my own virtual bachelorette party, shimmy dancing in my seat, hooting and hollering at my screen as men that specified my "needs" automatically populated in my suggestion box. It all felt so deliciously tawdry.
After several weeks of dates that ranged from decent to simply sleazy, I met Aurélien, a bachelor who seemed more interested in developing a friendship over a midnight romp at the Tuileries. We met in front of the Pompidou Center on a sunny afternoon in July where the first thing I noticed was the warmth of the sun reflecting off of the grand esplanade that lies before the museum, stained his cheeks and made him look like he was blushing. He asked if I wanted to go to a café for lunch. I asked him if it was okay to just take a walk to see where the day would take us. He said, "Bien sûr."
We threaded through the 3rd and 4th Arrondisements, crossed over the Seine to explore the 6th and the 5th where he shared his enthusiasm and knowledge of street art and Parisian architecture, teaching me more about the city than I had learned in the two years I had already been there. That afternoon walk was the first of several that lead to dates involving food, rides on his ice blue Vespa, a picnic at Parc des Buttes-Chaumont and the beginning of something special. Unlike past relationships I'd had in France, Aurélien did not pressure me to explain why I was in Paris or try to mold me into someone other people would be impressed with. He took me as-is, uncertainties and all, and let me breathe through the final months of my twenties.
Four packed years after that first meeting, we've since moved to a starter home in the 12th, had a wedding in France, a wedding in New York, filmed a quirky episode of Househunter's International and are expecting a baby in the fall. It's been a rainbow of events that launched the day I decided to put my existential crisis on hold and go shopping for a man in Paris. Maybe this city is more ahead of the times than I've given it credit for…
Lead photo credit : photo courtesy of Pictours Paris (www.pictoursparis.com)
---
---
Comments