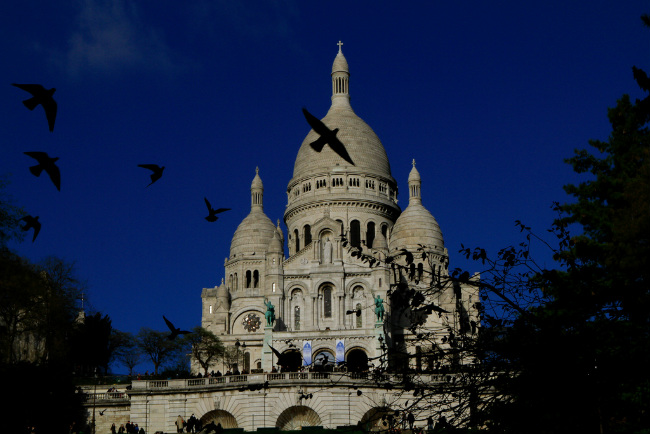 The Bonjour Paris editorial team requested reader submissions with memories from first trips to Paris. We were overwhelmed with wonderful responses, which we are publishing in a special series. (Read other installments here.) Below, Ron Saranchuk shares details of his 70th birthday trip in September 2016.
On a refreshingly cool September autumn morning in Paris, with blue skies overhead, I stood outside Charles de Gaulle airport waiting for the shuttle to deliver me to my hotel in Montmartre… the morning of my 70th birthday.
Riding though the streets of Paris, it didn't take long to see that navigating through the city streets was best left to my shuttle driver! The streets were hardly grid-logical. And, it became obvious that the Paris buildings adapted to a haphazard 'quartier' pattern, not so readily recognizable to the outsider. My destination was Montmartre– translated as the "mountain of the martyr" (Saint Denis of 250 A.D., the Christian bishop of Paris). It was the place socialites, artists, entertainers, musicians, painters, and writers from the world over congregated. And to this day, les artistes continuent à arriver. Montmartre exudes a village-like charm, and a bustling energy – and yes, it is a designated historic area. It is the artistic capital of Paris. I felt I was in a magical place, far away from the city center, but in reality, this distance is bridged within minutes by the very efficient, speedy, and affordable Paris Metro.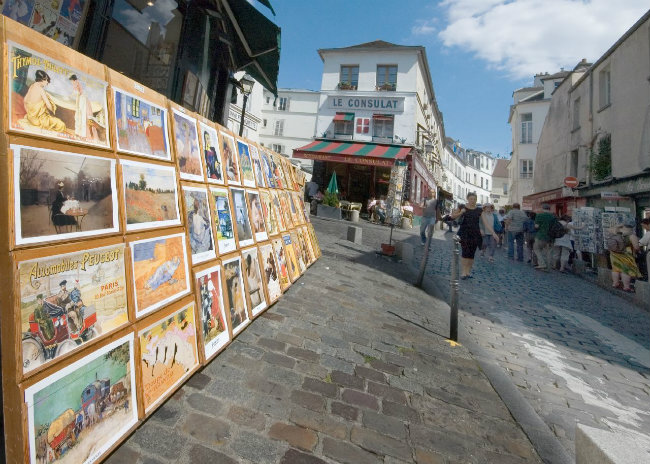 Arising early and excited on my first morning, I started walking. The streets were busy with shoppers and tourists. Occasionally I met groups of tourists being guided to Sacré-Coeur. I had the good fortune to walk by the Moulin de la Galette. Built in 1717, I gazed at the site that provided the inspiration, and setting for Renoir's famous painting Le Bal du Moulin de la Galette. Past the numerous cafes, art shops, bakeries, chocolatiers, and sidewalk painters, I came to a crowd, quiet, and noticeably entranced in the sounds of a young chanteuse who was singing the hauntingly sorrowful and patriotic songs of Edith Piaf. Yes, I was very impressed with the talent of the chanteuse, but I was just as impressed by the tearful reverence of her enamored audience – young and old alike.
Climbing up the steps to Sacré-Coeur, the enormous structure stood out not just because of its size, but also because of the striking whiteness of the stone used in its construction. Once entering, I was amidst its majestic beauty, high-domed ceilings, paintings, and sculptures. The devoutness of the people praying in the pews added to an overwhelming sense of awe, peace, and mercy. Outside, the panoramic view of Paris was stunning.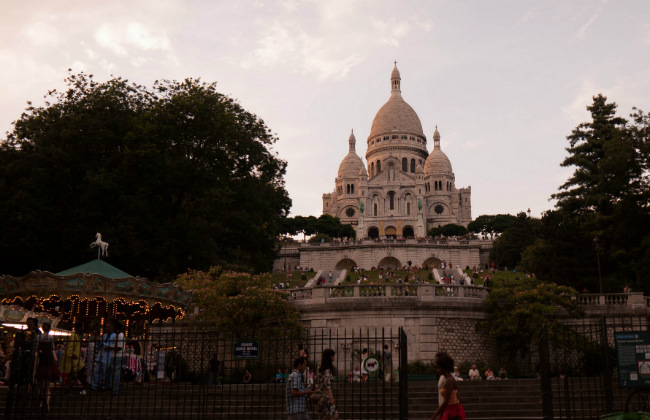 Later I took the Paris Metro to l'Arc de Triomphe. Approaching l'Arc, still a good 300 feet away, a powerful sense of solemnity suddenly took hold of me. The arch was designed by French architect Jean Chalgrin, and completed in 1833. Built to pay homage to all the fallen soldiers, throughout the years, who have given their lives fighting for France, the Unknown Soldier is buried at the bottom of l'Arc. Its eternal flame has been aglow since 1923 –so moving for First Lady Jacqueline Kennedy that she placed a similar flame on the tomb of her late husband in Arlington National Cemetery. After walking up the winding steps to the roof of the arch, I was totally taken aback by the majestic and geometric precision of the Paris city plan. Twelve major avenues radiated away from l'Arc in precise pie-shaped fashion – as if the pie was sliced by a surgeon's scalpel! Little wonder to anyone that such a majestic and resonating edifice was chosen as the terminus of the world-renowned Tour de France bicycle race. Before I climbed down the steps of l'Arc, it was heartening to see that its meaning and background were not lost on a group of young students sitting together on the roof eagerly sketching their own interpretations of this truly awesome structure. As I was shielding myself from the cool September wind, and eating an orange to recoup some depleted energy, I just wasn't ready to leave l'Arc. A few moments later, an elderly French-speaking couple, visiting l'Arc from their home two hours away from Paris, had noticed my Royal Canadian Air Force shoulder bag, and approached me. We spoke, entirely in French, for nearly a half-hour. Après que nous avons séparé, je me suis senti si enchanté…je pourrais parler en français avec d'autres dans la rue!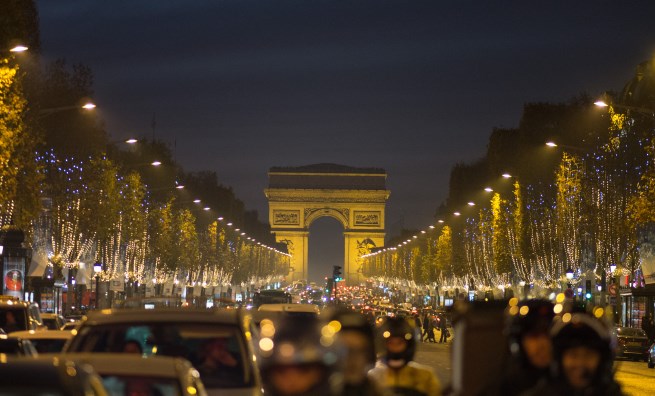 As much as I wanted to keep walking…up the Champs-Elysées, my legs were turning rubbery. I knew I had to walk down this famous Paris street – thank God my spirit took over because I was immediately in awe of the high-end stores. My whole experience on les Champs-Elysées can be summed up with my visit to a Cartier store. After gazing in the window at the striking watches displayed, I entered this esteemed treasure trove wearing my Winnipeg Blue Bombers sweatshirt, track-pants and runners (thanks to the goodwill and amusement of the person at the door!) Inside I spotted an absolutely gorgeous watch, priced at a little over 25,000 Euros. Mesmerized by its beauty, I stood looking at it for an unusually long time. I just couldn't take my eyes off it. Sometime during this moment, fate exhibited its mysterious presence. A young 30-something female approached with her casually but classy-dressed husband, and asked a few questions about this very watch. After what seemed a short time, with total calm and ease (and with utmost neutrality from her attending husband), the young customer coolly said "I will take that". The salesperson replied: "Would you like the trim on the dial to be in yellow rather than white gold"? The young customer replied: "In white gold…I like it as it is". I reverberated with a deafening, internal "WOW"!
Et puis… on to the Eiffel Tower, a huge cultural icon of Paris. The size and height of this engineering marvel truly astounded. I was intrigued not just by its height, but also by my brain's nagging question: "How do the four legs support massive structure"? For over an hour I stood at its base trying to figure out how the four arching, sprawling arm-like legs were able to hold up this enormous wonder, La Tour Eiffel served as the gateway for the massive number of people from across the world who attended the 1889 World's Fair – it should be of no surprise that ever since, La Tour has been one of the most visited monuments in the world.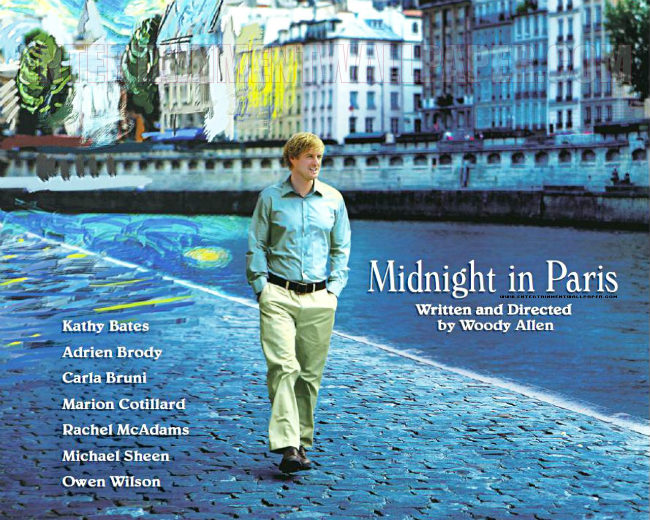 During the next few days, I devoted my time to les musées de Paris – le Louvre, l'Orsay et l'Orangerie. Never before have I witnessed such breathtaking displays of artistic beauty and creativity. While at the Louvre, I saw the Madonna (amidst the hordes of competing viewers), but ironically I found myself much more captivated by the many Roman and Greek statues in the hallways of the museum. I was especially captivated by Hippocrates, the Greek physician regarded as the 'father of modern medicine', and reputed author of the Hippocratic Oath. His ethical principles designed to guide medical practice as well as his revolutionary assertion that disease is not caused by gods or spirits but rather by natural causes – thus helping to place science at the core of medicine – remains with us today. At l'Orangerie, I found Monet's Giverny garden paintings much easier on my senses. His Water Lilies (1896 – 1926) flowed from ceiling to floor right around the second-floor circular room in l'Orangerie. He wanted his lilies to serve as a "haven of peaceful meditation" (perfect respite from le Louvre.) Renoir's Bal du Moulin de la Galette (1876), Cezanne's Les Arbres et Maison (1885), and Van Gogh's The Church at Auvers (1890) are all masterpieces not easily walked away from.
But perhaps most of all, I cherished meeting students from le Lycée Jules-Ferry – situated right across the street from my hotel in Montmartre. On my 10:30 am departures, I usually took time to converse with these students. I was so invigorated by my belief that these students would eventually manage the affairs of our nations with good hearts and minds. So, each morning, it was with renewed spirit that I set out to experience the wonders of Paris!
I think I've come down with what Woody Allen, in his movie Midnight in Paris, described as "Paris nostalgia"!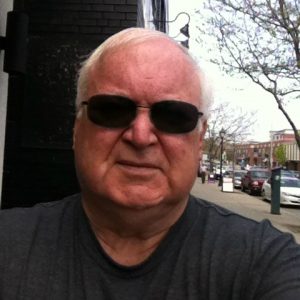 Ron Saranchuk lives in Mississauga, and has recently retired from a career in teaching, curriculum development, and evaluating educational programs and institutions. Ron has written provincial curriculum materials, e.g., Tuning In to Health, and Canadian Studies curricula for Manitoba Education, two graduate school theses, and numerous programmatic and evaluation reports for post-secondary educational institutions. He is currently focusing on writing a book dealing with the process of accreditation as a support in enhancing the quality of service we provide others.