Edith Piaf, The Tragic Tale of Paris' Little Sparrow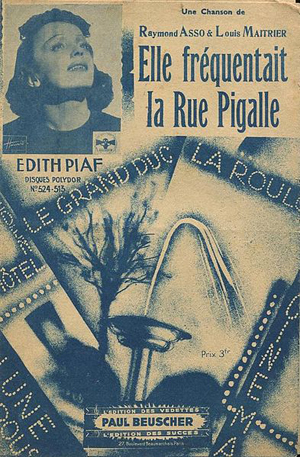 There are many great artists who produce art that is simply a creation, a manipulation of perception…something far away and outside of their personal experience. No artist could be further from this than Edith Piaf, known by her contemporaries as the "little sparrow of Paris." Piaf's music is very much a reflection of her personal life, which was bursting with tragedy and with love. Her art and her person were so deeply intertwined that it is no wonder that her voice, wrought with heartache, brought tears to audiences around the world. The legend goes that Edith Giovanna Gassion was born literally on the street, at 72 rue de Belleville. Whether this is true or not, it certainly seems fitting for her early life. Born to a 17 year old Italian café singer and an Algerian acrobat, her parents chose their rough bohemian lifestyle over caring for their young infant. Soon after her birth, Edith's father took her to live with his mother who was the madam of a brothel in Normandy. Spending her very early years growing up in a bordello shaped and skewed the way Edith would later view love and life, stating in her autobiography, "this upbringing had not made me very sentimental…" The next turn in her short life, however, would inject something close to sentiment: faith. At the age of three she was stricken with an eye disease which left her blind. The prostitutes of the brothel along with her grandmother pulled their funds together so that they would be able to take the young child on a pilgrimage to Lisieux to pray to Saint Therese. Soon after the pilgrimage, Edith's vision was restored. From that time forward she would pray to Sainte Therese on a daily basis. When she was a young adolescent, Edith's father took her away from her home at the brothel so she could join him on the road where he performed as an acrobat. It was during this time, that she first began to sing and discovered that she too had a talent. Around 14 or 15, sick of life in the circus, Edith left her father's keep to support herself singing for her meals on the streets of Pigalle. It was here that she met a young delivery boy named Louis Dupont, with whom she would have a daughter named Marcelle. Following in the steps of her mother, Edith avoided a relationship with her child while working the rough streets of Paris.  Marcelle would only live to reach the age of two, dying of meningitis. In 1935 Louis Leplee discovered Edith singing on the streets. Owning a popular night club on Champs Elysees, Louis convinced the young and very nervous young girl to perform. Due to her stage fright and diminutive stature, it was Louis who gave her the name, La Mome Piaf or Little Sparrow. During her time under Leplee's guidance, Edith's career took off rapidly. All of Paris embraced the little street waif who sang with the bravado and heart of lion until, yet again, tragedy struck Edith's life. Leplee was murdered in his home in 1936 and to the shock of Edith, she was questioned as a suspect. Her circle of friends included many seedy characters and through association, Edith's reputation was far from pristine. Thankfully, Edith's career was not damaged significantly after the death of her mentor and her fame skyrocketed forward. During the initial years of her singing career she was blessed with huge audiences and became a beloved figure of France. However, during the Nazi occupation of Paris, Edith's life took a number of strange turns. Performing frequently for the German troops, many Parisians saw Edith Piaf as a traitor only concerned with her self-importance and fame. There are claims though that she was actually working undercover for the French Resistance, helping prisoners and Jews escape. Like much of her life though, these claims are hidden in myth and mystery. Though many of her ballads were about deep, passionate love, Edith seemed to encounter it only once in her life. Former middle weight boxing champion, Marcel Cerdan and herself had a brief but fiery and intense affair. While on tour in American, Edith called Marcel and pleaded with him to come and be with her as soon as possible. Obeying her wishes Marcel boarded a plane, but he was not destined to reach poor Edith. The plane crashed killing everyone onboard. Many of her close friends state that this was a dramatic turning point for The Little Sparrow. With the loss of her true love she quickly spiraled into a dark depression fueled by drugs and alcohol. While she did go on to remarry and her career continued with much success, Edith's life never seemed to fully recuperate from the loss of Marcel. After a series of serious car accidents, her health and addiction to morphine grew so out of control that the fairly young woman was barely able to perform. She states in her memoirs how often she would perform under the influence of morphine and how she would inject herself through her skirt and stockings. Like all that had come before, the end of The Little Sparrow's life was conflicted and drawn out. Traveling to the south of France with her latest husband Theo Lamboukas, a man nearly 20 years her junior, they had hoped that the seaside and fair weather would reinvigorate the ailing singer. After battling liver cancer, alcoholism and drug addiction, Edith Piaf died at the age of 47. During her last moments, with her friends surrounding her, she asked them to pray to Sainte Rita, patron saint of lost causes. She is buried next to her young daughter Marcelle in Père Lachaise cemetery in Paris. The story of Edith Piaf is sad, yes, but the ethereal quality of the tale makes it all the more uplifting. The tale of a sad street urchin turned worldwide phenomenon is so inspirational that it captures the world to this day. To paraphrase Oscar…
SUBSCRIBE
ALREADY SUBSCRIBED?
BECOME A BONJOUR PARIS MEMBER

Gain full access to our collection of over 5,000 articles and bring the City of Light into your life. Just 60 USD per year.

Find out why you should become a member here.

Sign in

Fill in your credentials below.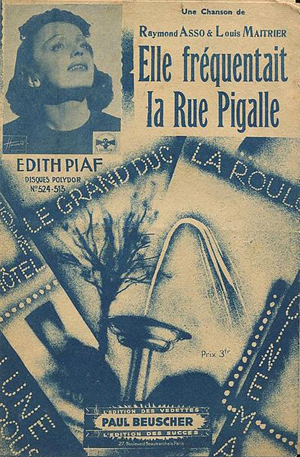 There are many great artists who produce art that is simply a creation, a manipulation of perception…something far away and outside of their personal experience. No artist could be further from this than Edith Piaf, known by her contemporaries as the "little sparrow of Paris." Piaf's music is very much a reflection of her personal life, which was bursting with tragedy and with love. Her art and her person were so deeply intertwined that it is no wonder that her voice, wrought with heartache, brought tears to audiences around the world.
The legend goes that Edith Giovanna Gassion was born literally on the street, at 72 rue de Belleville. Whether this is true or not, it certainly seems fitting for her early life. Born to a 17 year old Italian café singer and an Algerian acrobat, her parents chose their rough bohemian lifestyle over caring for their young infant.
Soon after her birth, Edith's father took her to live with his mother who was the madam of a brothel in Normandy. Spending her very early years growing up in a bordello shaped and skewed the way Edith would later view love and life, stating in her autobiography, "this upbringing had not made me very sentimental…"
The next turn in her short life, however, would inject something close to sentiment: faith. At the age of three she was stricken with an eye disease which left her blind. The prostitutes of the brothel along with her grandmother pulled their funds together so that they would be able to take the young child on a pilgrimage to Lisieux to pray to Saint Therese. Soon after the pilgrimage, Edith's vision was restored. From that time forward she would pray to Sainte Therese on a daily basis.
When she was a young adolescent, Edith's father took her away from her home at the brothel so she could join him on the road where he performed as an acrobat. It was during this time, that she first began to sing and discovered that she too had a talent.
Around 14 or 15, sick of life in the circus, Edith left her father's keep to support herself singing for her meals on the streets of Pigalle. It was here that she met a young delivery boy named Louis Dupont, with whom she would have a daughter named Marcelle. Following in the steps of her mother, Edith avoided a relationship with her child while working the rough streets of Paris.  Marcelle would only live to reach the age of two, dying of meningitis.
In 1935 Louis Leplee discovered Edith singing on the streets. Owning a popular night club on Champs Elysees, Louis convinced the young and very nervous young girl to perform. Due to her stage fright and diminutive stature, it was Louis who gave her the name, La Mome Piaf or Little Sparrow.
During her time under Leplee's guidance, Edith's career took off rapidly. All of Paris embraced the little street waif who sang with the bravado and heart of lion until, yet again, tragedy struck Edith's life.
Leplee was murdered in his home in 1936 and to the shock of Edith, she was questioned as a suspect. Her circle of friends included many seedy characters and through association, Edith's reputation was far from pristine.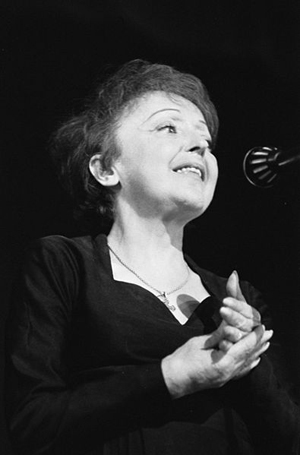 Thankfully, Edith's career was not damaged significantly after the death of her mentor and her fame skyrocketed forward.
During the initial years of her singing career she was blessed with huge audiences and became a beloved figure of France. However, during the Nazi occupation of Paris, Edith's life took a number of strange turns. Performing frequently for the German troops, many Parisians saw Edith Piaf as a traitor only concerned with her self-importance and fame. There are claims though that she was actually working undercover for the French Resistance, helping prisoners and Jews escape. Like much of her life though, these claims are hidden in myth and mystery.
Though many of her ballads were about deep, passionate love, Edith seemed to encounter it only once in her life. Former middle weight boxing champion, Marcel Cerdan and herself had a brief but fiery and intense affair.
While on tour in American, Edith called Marcel and pleaded with him to come and be with her as soon as possible. Obeying her wishes Marcel boarded a plane, but he was not destined to reach poor Edith. The plane crashed killing everyone onboard.
Many of her close friends state that this was a dramatic turning point for The Little Sparrow. With the loss of her true love she quickly spiraled into a dark depression fueled by drugs and alcohol.
While she did go on to remarry and her career continued with much success, Edith's life never seemed to fully recuperate from the loss of Marcel. After a series of serious car accidents, her health and addiction to morphine grew so out of control that the fairly young woman was barely able to perform. She states in her memoirs how often she would perform under the influence of morphine and how she would inject herself through her skirt and stockings.
Like all that had come before, the end of The Little Sparrow's life was conflicted and drawn out. Traveling to the south of France with her latest husband Theo Lamboukas, a man nearly 20 years her junior, they had hoped that the seaside and fair weather would reinvigorate the ailing singer.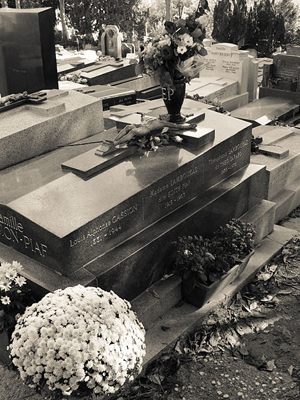 After battling liver cancer, alcoholism and drug addiction, Edith Piaf died at the age of 47. During her last moments, with her friends surrounding her, she asked them to pray to Sainte Rita, patron saint of lost causes.
She is buried next to her young daughter Marcelle in Père Lachaise cemetery in Paris.
The story of Edith Piaf is sad, yes, but the ethereal quality of the tale makes it all the more uplifting. The tale of a sad street urchin turned worldwide phenomenon is so inspirational that it captures the world to this day. To paraphrase Oscar Wilde: When a person has been through such abuse; they have touched the stars.
Her voice, her songs, and her life will forever be etched into the hearts of Parisians and lovers throughout the world thanks to the message she gave—that no matter how much tragedy you experience, love can heal all.
image 1 by Heurtelions (Own work) [CC-BY-SA-3.0], via Wikimedia Commons
photo 2 by Nationaal Archief, Den Haag, Rijksfotoarchief: Fotocollectie Algemeen Nederlands Fotopersbureau (ANEFO), 1945-1989 – negatiefstroken zwart/wit, nummer toegang 2.24.01.05, bestanddeelnummer 914-6440 (Nationaal Archief) [CC-BY-SA-3.0-nl], via Wikimedia Commons
photo 3 by Unuplusunu (Own work) [CC-BY-SA-3.0], via Wikimedia Commons
More in Edith Piaf, Little Sparrow
---
---