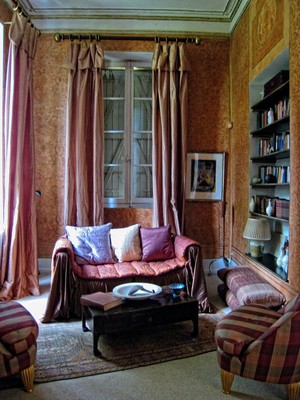 The rural style of the French countryside has captivated imaginations for hundreds of years.  While Provence seems to epitomize French country style, the architecture and landscapes of France, itself, is so varied that each department has its own contribution to make. French country style can be simple and elegant. It can be as charming as a cottage, as rustic as a farmhouse or as sophisticated as a chateau.  Current design trends can work comfortably with the natural resources each region has to offer.
French country style is never contrived nor pretentious like the popular shabby chic look which is overly stylized.  It is eclectic, yet cohesive and can be incorporated into almost any decor.  Above all, French country style respects the past.  If old furnishings serve a practical purpose they are still used.  There is not the modern mania for throwing out of the old and replacing it with the new.  The French are masters at recycling and repurposing and have been doing so for decades.
There are a few simple guidelines when translating French country style to your home. You can incorporate the colors, fabrics, patterns, furniture and accessories into your home easily with a lot of warmth and a little bit of wit.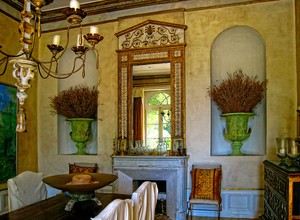 Color – The French, particularly in the countryside use the saturated hues of nature.  The view from an open window on a sunny, summer morning is your palette. Shades of Burgandy wines, rusty Mediterranean terracottas, segue to golds and yellow, sage greensand pastel varieties of cornflower blues and lavender mauves.  These colors are often offset by pale neutrals, faded grays, woodsy taupes and creamy whites.
Fabrics – Bright Indienne cottons with paisley designs have become iconic and used primarily in Provence while subtler versions are seen the rest of the southwest of France.  Toile, which simply means fabric with pastoral scenes, botanical prints, stripes and plaids coexist happily alongside vintage lace curtains, hemps, linens and wools.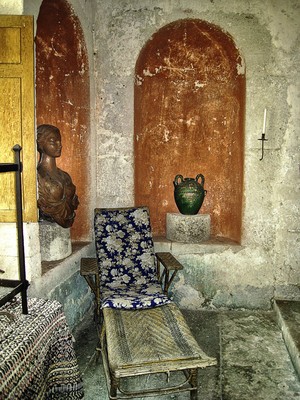 Accessories and furniture – Flea market and antique finds from old wooden armoires to rusty iron garden furniture used sparingly, but with ease, will add just the right accent to your overall design.  Decorative figurines, ornate mirrors, chandeliers, ceramic pitchers, birdcages and a smattering of faience pottery will complete your tableau.
Themes – Red roosters, sunflowers, grapes, checkered cafe curtains, ceramic fruit and copper pots, again used sparingly unless you're an avid collector, will bring your rooms together.
French country style can transform your home.  It's about creating spaces that are comfortable and inviting for yourself, your family and your friends.  It's about using linen napkins, buying the best preserves made with whole fruit,. It's a crusty loaf of bread or a hot buttered croissant and a cup of strong, dark coffee. It's a vase full of fresh flowers and a window box of geraniums and petunias.  French country style is a lovely state of mind.