Parisians in Profile: Octavia Horgan, Shakespeare & Company Bookseller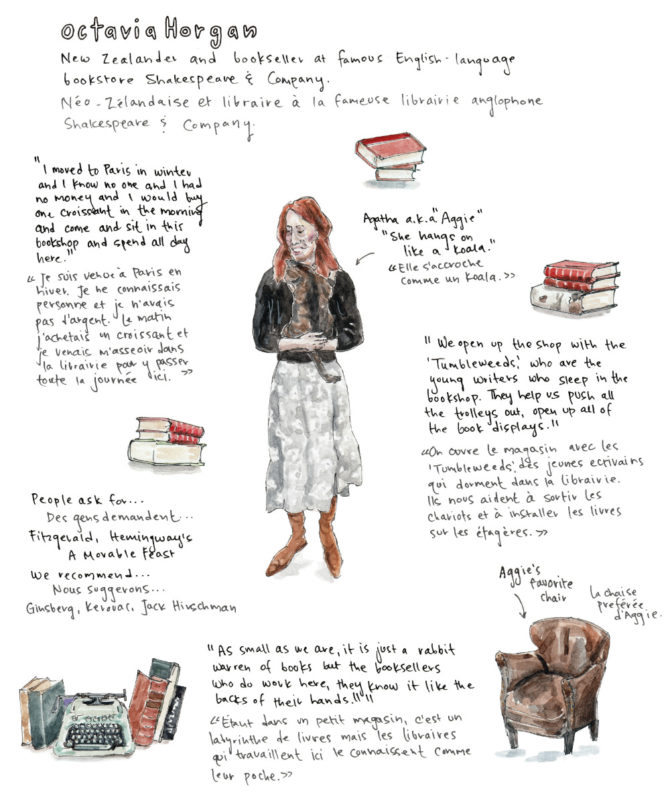 This is the third in an exclusive series of illustrated "Parisians in Profile" about Parisians from all walks of life, created by journalist Emma Jacobs. Here we feature Octavia Horgan, a bookseller at the iconic Shakespeare & Company bookstore near Notre Dame cathedral. A beloved cultural institution and pilgrimage spot, Shakespeare & Company is still known to let young writers, known as "Tumbleweeds", sleep overnight in the shop. Just next to this famous independent bookstore, the new café has become a popular spot for coffee, tea, and fresh-squeezed juices, as well as organic (mostly vegetarian) food. Address: 37 rue de la Bûcherie, 75005 Paris.
Quotes have been lightly edited for length and clarity.
If you have suggestions of people you'd like to see featured in future installments, please leave them in the comments section below.
Photo credit : "Parisians in Profile: Octavia Horgan, Bookseller at Shakespeare & Company" by Emma Jacobs
Leave a reply
Your email address will not be published. Required fields are marked *
Comments