My Paris: Interview with Maître d'Hôtel Denis Courtiade
Working with elegance, grace and oodles of savoir-faire, Denis Courtiade is the director of the gastronomic restaurant at the Plaza Athenée, where the majestic kitchens are now headed by chef Jean Imbert. Courtiade is the reference for the perfect mâitre d'hotel, twice awarded the title of "World's Best Mâitre d'Hotel." He began his career at L'Auberge des Templiers, Val de Loire, and you remember his warm welcome at La Ferme de Mougins, Le Juana; Le Carlton, Cannes; and l'Allodis, Meribel. He is the author of Pour Vous Servir and founder of Ô Service, promoting tomorrow's talent. Not to mention that he's a Chevalier de l'Ordre des Arts et des Lettres! His mission statement? Savoir, être, transmettre.
Where were you born?
Suresnes, a suburb, just outside Paris. My family are restaurateurs: Grandfather Gaston, Uncles Alain and Jacques, and dear Papa who ran the restaurant Les Etoiles on the Avenue Carnot in the 17th.
What are you most proud of in terms of your own achievement?
I think it's the creation of Ô Service. I'm the founder and president. It's an important platform for the hospitality industry supporting and encouraging young talents of tomorrow.
What is your hidden talent?
Many consider it a default but I consider it a fine quality – my sensitivity. I'd also add my empathy and determination.
If you could share a glass with a Parisian, past or present, who would it be?
Claude Terrail, Monsieur Hospitality, immediately comes to mind! The man with the blue cornflower in the lapel of his perfect bespoke suit embodies a heritage of which we are the ambassadors. So, yes, sharing a flute of champagne (Brut Rosé de Krug) with Monsieur Terrail in the legendary cellars of La Tour d'Argent would be a glorious and elegant moment.
A local person you admire?
Omar Sy, the actor. He's a client at the restaurant, always appreciative, and has the best laugh of anyone in town!
How do you relax in Paris?
With a boat trip on the Seine. Imagine a mini-cruise, admiring the handsome buildings from a different angle. Ile de la Cité, the Eiffel Tower, Notre Dame, Musée d'Orsay. Napoleon said, "Le Havre, Rouen, and Paris are single towns; the Seine is their High Street."
One thing every Parisian should own?
A bicycle – but make sure it has an anti-theft system!
You can't live without?
My Honda Forza 125 scooter. I zip around Paris without stressing that I'll be late.
Favorite lunch spot?
Brasserie La Lorraine on the Place des Ternes. The freshest seafood and fish are cooked to perfection by chef Gérard Delaunay, served by Joaquim Braz and his team.
Best address for coffee or drinks in Paris?
Le Café Joyeaux, 144 Champs Elysées, for sentimental reasons.
Where do you buy clothes?
In Le Marais district-  great for atmosphere, style and a melting pot of design.
Where do you buy produce / groceries?
Simple! The excellent farmer's market on Avenue de Versailles, Porte de Saint Cloud, where I live.
Your favorite 'hood?
La Butte Montmartre. Here's the Paris of yesterday: the view over the city, the cobblestone streets, the accordionist playing on Place du Tertre. It's the perfect spot for a plate of French cheese, bonne baguette, and a glass or two of Côte de Rhône. Cheers!
Something amusing?
A rowing boat with my chérie on one of the Bois de Boulogne lakes. Romantic and fun.
What's the "touristy" thing you'd secretly love to do in Paris, but haven't?
The Crazy Horse or perhaps the cabaret chez Michou.
The most "touristy" thing you've done in Paris?
Climbed to the top of the Eiffel Tower then, on the way down, stopping at the Jules Verne Restaurant and dining chez mon ami, le chef Fréderic Anton.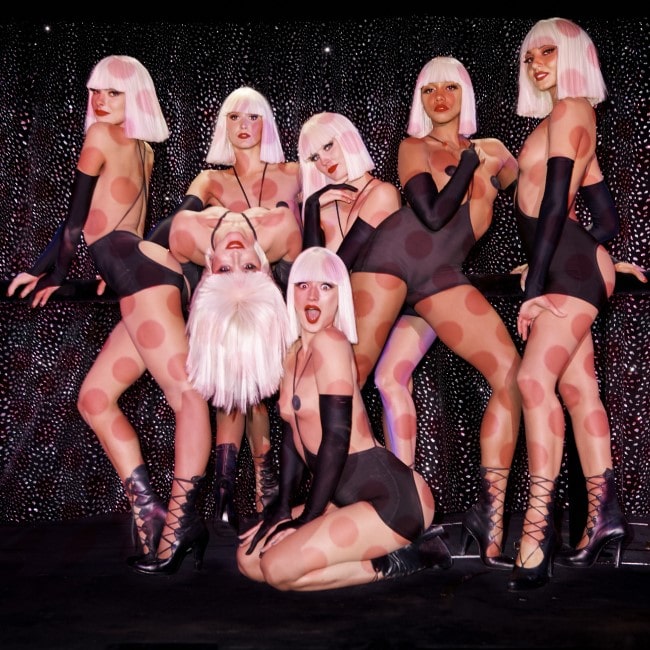 Best "Life Lesson"?
La Tolerance…. learned from Xavier, my lifetime best friend.
Three words to live by?
Benevolence, conviviality, curiosity, pleasure. Whoops, that's four!
One thing you wish Parisians would stop moaning about?
They are too quick to criticize their city, although it is "the place to be." And will be even more so with the Olympic Games 2024!
You have €25 left – how to spend it?
Order a beautiful bouquet of flowers for my Colombe chérie.
Favorite book?
Pour Vous Servir, my book!
Favorite film of all time?
Le Grand Bleu…but also Avatar. These two films are so special combining dreams, escape, adventure and la vie.
Favorite city to visit (outside Paris)?
Cannes, for a well earned rest.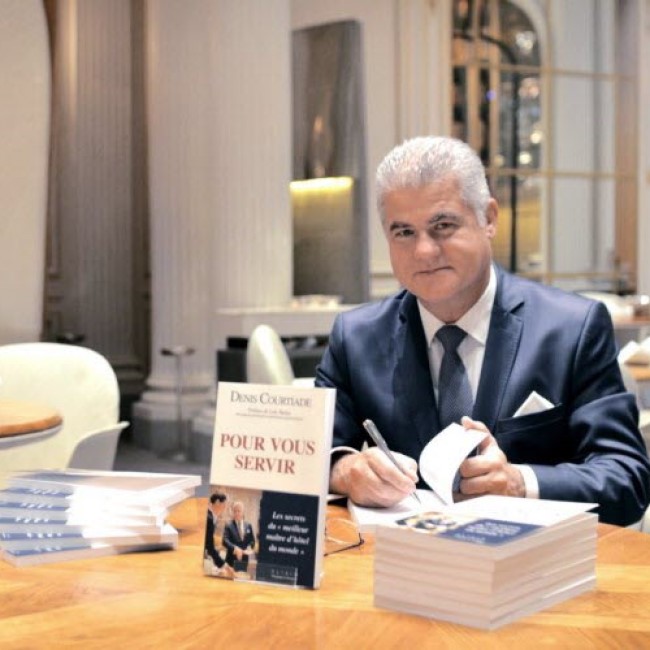 An annual event such as a festival, gala, or exhibition you look forward to each year?
Two professional trade events – a must in the hospitality industry.
Le Sirha de Lyon and Equip Hotel, Paris.
A special place to discover with a guest in Paris?
C'est évident, my dear… I'll invite my Colombe chérie up to the rooftop of l'Hôtel Plaza Athénée on avenue Montaigne. With a bottle of chilled champagne, we'll admire the belle Eiffel Tower sparkling (until 1am in the morning) in the velvet night. My Paris – c'est magnifique!
For more information about Monsieur Courtiade, visit his official website.
Lead photo credit : Denis Courtiade, director of the gastronomic restaurant at the Plaza Athenée
---
---