My Paris: Artist and CEO Frédéric Lemonnier Shares Top Addresses
I met Frédéric Lemonnier many years ago when he arrived chez moi, with his team, one bright morning, to install my TV. All went seamlessly and it was comforting that the equipe spoke perfect English. We kept in touch and, recently, Fred called to ask how I was surviving lockdown. "Very well," I told him, thanks in part to being able to channel hop, both in English and French, via my Philips TV. "How are you coping?" I enquired. "Of course I continue to work via
CitySat
helping English-speaking expats create personalized TV systems with mainly US and UK TV channels," he told me. "But I've had an "epiphany," he revealed. "I've taken up painting! Rediscovered my teenage hobby!" I was curious, especially after checking the vibrant Saatchi Art website and falling in love with Fred's work – which seemed to come straight from the beating heart/brush of a true artist with love and passion. He agreed to answer a few questions. (Discover Lemonnier's abstract works via
his website.)
Photo credit © Frederic Lemonnier How old are you? I am 47. How are you surviving "le confinement"? The confinement was not so difficult for myself as I rediscovered a teenage hobby: pictorial art. Who are the artists that inspired you to paint? Mainly the Expressionists like Munch and Kandinsky. Which of your paintings were inspired by Paris? I take inspiration from Paris architecture, light, colors and people which, seen through my eyes, become abstract or figurative and expressionist. Your favorite Paris art gallery? There are several very interesting contemporary art galleries in the 6th arrondissement. One is
Gallery Loft
(3bis rue des Beaux Arts), situated in a small wooded courtyard with modern statues and plants. Fascinating to discover emerging artists here. Your favorite work of art in Paris? Definitely
La Fontaine Stravinsky
between Centre Pompidou and the Church Saint Merri. Favorite walk?
The Marais
– for the unique boutiques, the Musée Picasso, my favorite sheet music shop and for the hip and happening restaurants and bars. Photo credit © Frederic Lemonnier
SUBSCRIBE
ALREADY SUBSCRIBED?
BECOME A BONJOUR PARIS MEMBER

Gain full access to our collection of over 5,000 articles and bring the City of Light into your life. Just 60 USD per year.

Find out why you should become a member here.

Sign in

Fill in your credentials below.
I met Frédéric Lemonnier many years ago when he arrived chez moi, with his team, one bright morning, to install my TV. All went seamlessly and it was comforting that the equipe spoke perfect English.
We kept in touch and, recently, Fred called to ask how I was surviving lockdown. "Very well," I told him, thanks in part to being able to channel hop, both in English and French, via my Philips TV. "How are you coping?" I enquired. "Of course I continue to work via CitySat helping English-speaking expats create personalized TV systems with mainly US and UK TV channels," he told me. "But I've had an "epiphany," he revealed. "I've taken up painting! Rediscovered my teenage hobby!"
I was curious, especially after checking the vibrant Saatchi Art website and falling in love with Fred's work – which seemed to come straight from the beating heart/brush of a true artist with love and passion. He agreed to answer a few questions. (Discover Lemonnier's abstract works via his website.)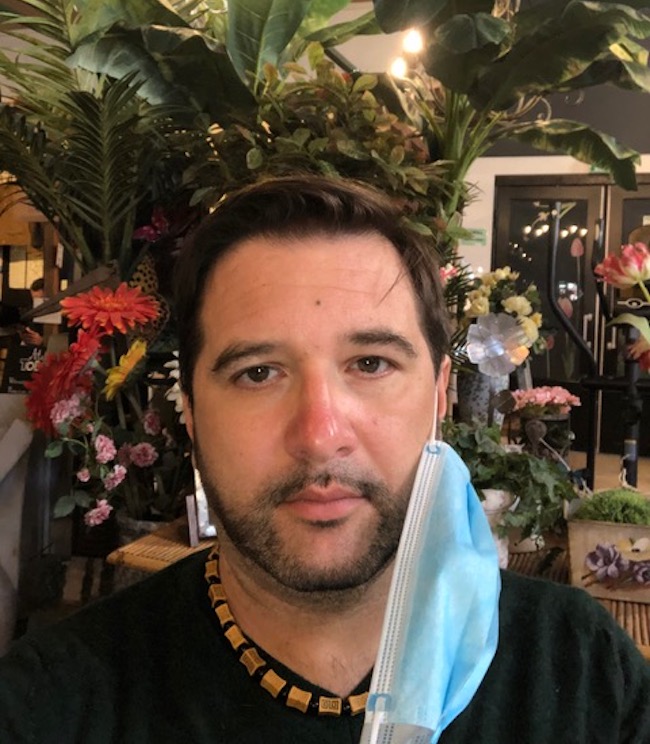 How old are you?
I am 47.
How are you surviving "le confinement"?
The confinement was not so difficult for myself as I rediscovered a teenage hobby: pictorial art.
Who are the artists that inspired you to paint?
Mainly the Expressionists like Munch and Kandinsky.
Which of your paintings were inspired by Paris?
I take inspiration from Paris architecture, light, colors and people which, seen through my eyes, become abstract or figurative and expressionist.
Your favorite Paris art gallery?
There are several very interesting contemporary art galleries in the 6th arrondissement. One is Gallery Loft (3bis rue des Beaux Arts), situated in a small wooded courtyard with modern statues and plants. Fascinating to discover emerging artists here.
Your favorite work of art in Paris?
Definitely La Fontaine Stravinsky between Centre Pompidou and the Church Saint Merri.
Favorite walk?
The Marais – for the unique boutiques, the Musée Picasso, my favorite sheet music shop and for the hip and happening restaurants and bars.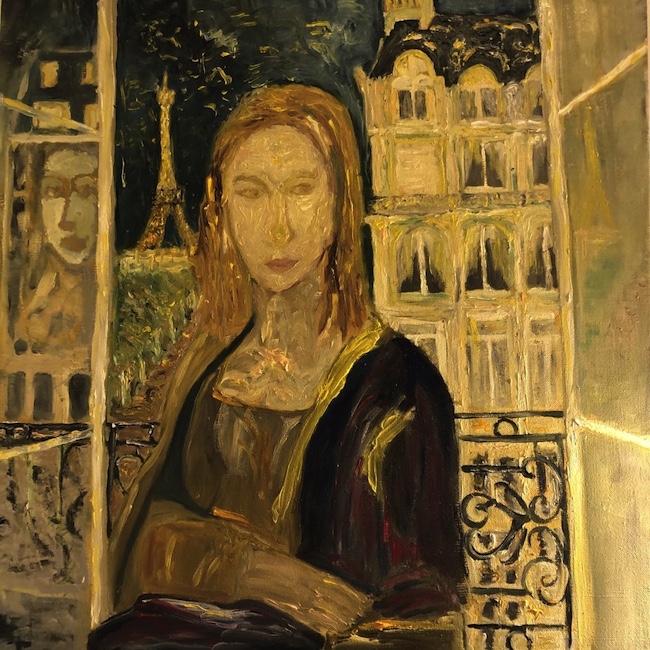 Favorite park?
The Buttes Chaumont where I jog, enjoy picnics with friends or simply wander under the canopy of trees such as the magnificent Cedars of Lebanon. There are three restaurants (Pavillon du Lac, Pavillon Puebla, and Rosa Bonheur), two reception halls, two Guignol theaters, and two waffle stands! The park has four Wi-fi zones as part of a citywide wireless Internet-access plan.
Favorite museum?
Musée d'Orsay – especially for Gustave Caillebotte's paintings – and particularly Les Raboteurs de Parquet (1875). I could stand in front of this all day!
Favorite bar?
Forum Café – a small and amusing brasserie in the 6th arrondissement.
Favorite restaurant?
Les Philosophes!  Not a Michelin star restaurant – but I have the best convivial dinners with friends here. We eat French onion soup, duck confit, beef bourguignon, tarte tatin and excellent wines.
Favorite hotel?
The Hotel Andrea combining modern design in an atmospheric old building.
Favorite street market?
Boulevard Saint Michel, rue Saint André des Arts
Tell me a Paris secret?
The final residence of the soprano Maria Callas was at 36, avenue Georges Mandel in the 16th – the median of this avenue is now called "Allée Maria Callas".
What are you working on at present?
For an association I created during the Pandemic, Au Périgée des Arts, showcasing emerging artists between Paris and Compiègne [the preferred place of leisure of Napoleon the 3rd]. We have a "big project" for a Paris exhibition (when the government permits) with an association helping distressed English-speaking people in France.
Favorite spot to show visitors on a first-time visit to Paris?
Le Marais: from the Bibliothèque Forney with its impressive medieval castle to the Village Saint Paul.
Need to Know
Saatchi Art is the world's leading online gallery, created to enable global art aficionados to discover art and artists via an enormous selection of paintings, drawings, sculptures and photography in a wide range of prices. It also provides artists with an expertly curated showcase to exhibit their works. "Saatchi Art redefines the buying and selling experience, making it welcoming and accessible for artists and collectors alike," explains Fred. "It's also a platform for artists to sell their works in a multitude of mediums, like painting, collage, photography, drawing, sculpture, printmaking, mixed media, limited edition prints, installation and open edition prints." And what about prices? "From, say, €150- €1000 for the biggest (1m50/1m). It depends on the dimension and the medium used (acrylic or oil or both) and if it's a linen or cotton canvas," he explains.
Explore Frédéric Lemonnier's work at Saatchi Art here.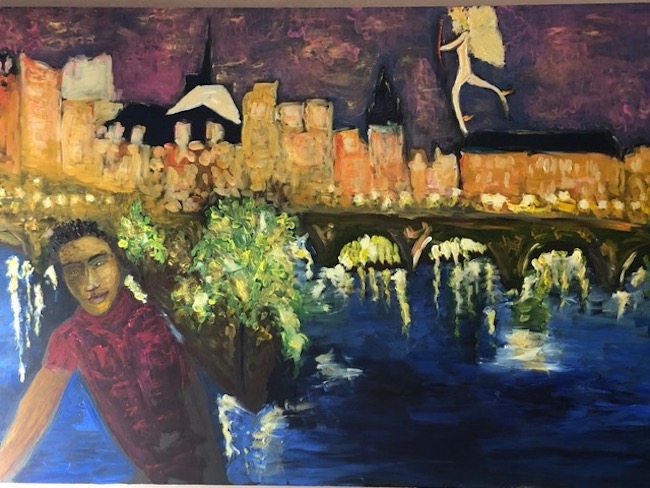 Lead photo credit : Photo credit © Frederic Lemonnier
More in abstract art, art galleries in Paris
---
---