A Chat about the Paris Real Estate Market with Realtor François Madet
For as long as I have known real estate broker François Madet, whose office is just around the corner from my apartment in Paris, he has been unfailingly affable, and he was no less so when I stopped by the other day to talk about the real estate market in the City of Light. Monsieur Madet – a trim man with a trim white beard and observant, kindly eyes – has been a real estate broker for 20 years and has had his current office at 4, rue Frédéric Sauton in the 5th arrondissement for 16 of those years. He chose it for the usual reason – location, location, location; it's practically in the shadow of
Notre Dame Cathedral
, on a short street that runs between the Quai de Montebello and Boulevard Saint-Germain, just where Place Maubert is situated. And as a practical matter, it's not far from where he lives. The office of real estate agent François Madet in the 5th arrondissement. Photo credit © Diane Stamm Monsieur Madet's office, with its solid stone walls, has a casual, cosy feel, made all the more so by the warm yellow glow of his desk lamp. Sleigh bells gently jingle when the front door opens, making it feel it might be – enchantingly – a previous century. Monsieur Madet's English is quite good, so that is what we speak. I wanted to ask Monsieur Madet what effect the COVID-19 pandemic has had on the real estate market in Paris. By way of background, the coronavirus reached France in January 2020, and as cases climbed, President Emmanuel Macron declared the first lockdown in March. It was extended twice and was finally lifted in May. But as the number of cases soared – they reached a record 26,896 new infections on October 10 – President Macron ordered a second lockdown, to begin on October 28. Restrictions have been partially lifted, although restaurants and cafes will probably not reopen until January 20. Empty storefront in the 5th arrondissement. Photo credit © Diane Stamm According to Monsieur Madet, during the first lockdown, there was no sales activity at all, as would be expected. People weren't supposed to leave their homes except for specific purposes prescribed by the government, none of which involved buying a new place to live. But, as Monsieur Madet explained, when the first restrictions ended, "both buying and selling activity was strong," and he had more transactions than usual. From June to August, sales were better than during the same period last year, and in fact between May 11, when the first lockdown ended, and October 28, when the second lockdown went into effect, activity was quite good. Significantly, neither sales nor rental prices have declined. In fact, they have remained stable. I asked Monsieur Madet if reports of families leaving the city for the country are true, and he confirms they are. But he says that people are also downsizing and keeping a smaller apartment in the city, even as they purchase an apartment or house outside of Paris. So people are not abandoning Paris completely. But if people have small children, for example, they are looking for places with yards where children can have more room to run free, and in a possibly less COVID-risky area. An eviction notice on a storefront in the 5th arrondissement. Photo credit © Diane Stamm
SUBSCRIBE
ALREADY SUBSCRIBED?
BECOME A BONJOUR PARIS MEMBER

Gain full access to our collection of over 5,000 articles and bring the City of Light into your life. Just 60 USD per year.

Find out why you should become a member here.

Sign in

Fill in your credentials below.
For as long as I have known real estate broker François Madet, whose office is just around the corner from my apartment in Paris, he has been unfailingly affable, and he was no less so when I stopped by the other day to talk about the real estate market in the City of Light.
Monsieur Madet – a trim man with a trim white beard and observant, kindly eyes – has been a real estate broker for 20 years and has had his current office at 4, rue Frédéric Sauton in the 5th arrondissement for 16 of those years. He chose it for the usual reason – location, location, location; it's practically in the shadow of Notre Dame Cathedral, on a short street that runs between the Quai de Montebello and Boulevard Saint-Germain, just where Place Maubert is situated. And as a practical matter, it's not far from where he lives.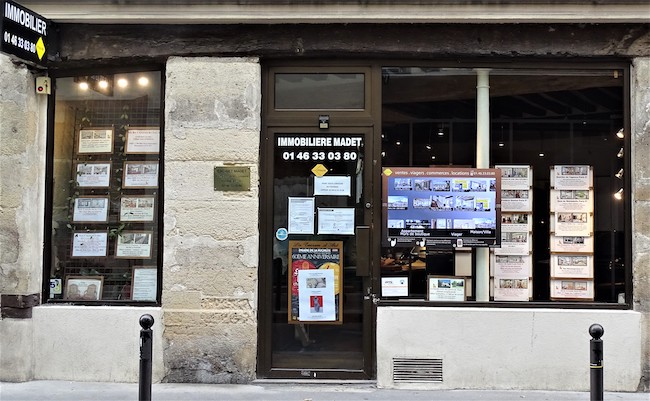 Monsieur Madet's office, with its solid stone walls, has a casual, cosy feel, made all the more so by the warm yellow glow of his desk lamp. Sleigh bells gently jingle when the front door opens, making it feel it might be – enchantingly – a previous century. Monsieur Madet's English is quite good, so that is what we speak.
I wanted to ask Monsieur Madet what effect the COVID-19 pandemic has had on the real estate market in Paris.
By way of background, the coronavirus reached France in January 2020, and as cases climbed, President Emmanuel Macron declared the first lockdown in March. It was extended twice and was finally lifted in May. But as the number of cases soared – they reached a record 26,896 new infections on October 10 – President Macron ordered a second lockdown, to begin on October 28. Restrictions have been partially lifted, although restaurants and cafes will probably not reopen until January 20.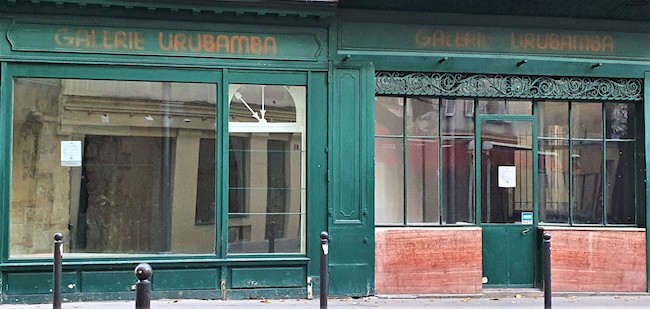 According to Monsieur Madet, during the first lockdown, there was no sales activity at all, as would be expected. People weren't supposed to leave their homes except for specific purposes prescribed by the government, none of which involved buying a new place to live. But, as Monsieur Madet explained, when the first restrictions ended, "both buying and selling activity was strong," and he had more transactions than usual. From June to August, sales were better than during the same period last year, and in fact between May 11, when the first lockdown ended, and October 28, when the second lockdown went into effect, activity was quite good.
Significantly, neither sales nor rental prices have declined. In fact, they have remained stable.
I asked Monsieur Madet if reports of families leaving the city for the country are true, and he confirms they are. But he says that people are also downsizing and keeping a smaller apartment in the city, even as they purchase an apartment or house outside of Paris. So people are not abandoning Paris completely. But if people have small children, for example, they are looking for places with yards where children can have more room to run free, and in a possibly less COVID-risky area.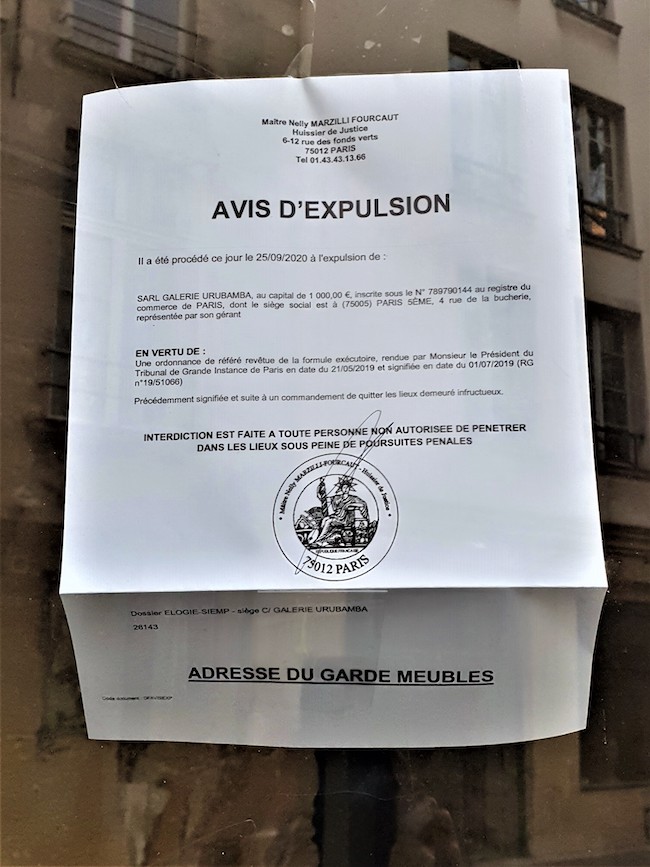 While sales picked up after the first lockdown, it's too soon to know what the market will be like after the second one. However, Monsieur Madet is also the rental agent for nearby apartments and commercial properties in the area, and on rue Frédéric Sauton alone, there are several empty storefronts, something increasingly common all over Paris.
According to Monsieur Madet, it's more difficult to find renters now, for both apartments and commercial space. And as is the case where there is rent control, rents can vary wildly. For example, there are two small commercial spaces across the street from his office, both of which are 35 square meters (377 square feet). One has been rented for quite a while at a monthly rent of 1,200 euros ($1,445). The next renter of the empty but almost identical space next door will have to pay 1,800 euros ($2,168) a month. When these commercial spaces will find renters depends on the market, and on whether entrepreneurs with creative ideas for businesses that will be able to thrive in the as-yet undefined post-COVID world feel they can take a chance and establish new enterprises.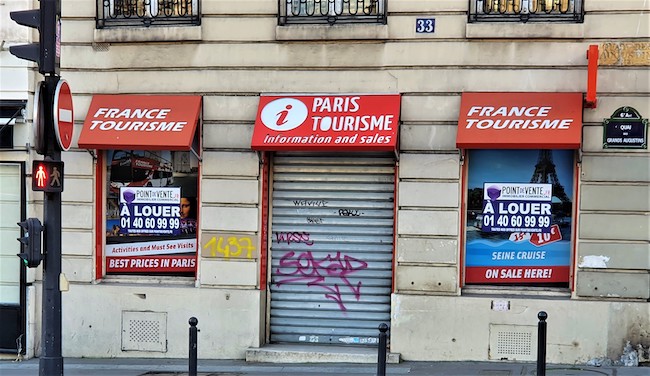 An exacerbating factor for both the sales and rental markets is the almost complete lack of American and Chinese tourists. Many apartment sales were made to wealthy Chinese who already live in France, but they have fallen off. And travel restrictions have made sales and rentals to American and Chinese tourists almost impossible.
Mortgage interest rates are low compared to U.S. rates. For example, the current rate of interest is 0.6 percent for a 10-year mortgage, and 1.0 percent for a 20-year mortgage. The sale price of a commercial property is calculated by multiplying the monthly rent by 12 (months), and then multiplying that figure by 20, a factor determined by the interest rates banks charge. If interest rates go up, the factor goes down. Six years ago, it was 17, and nine years ago, it was 15. The market determines the interest rate.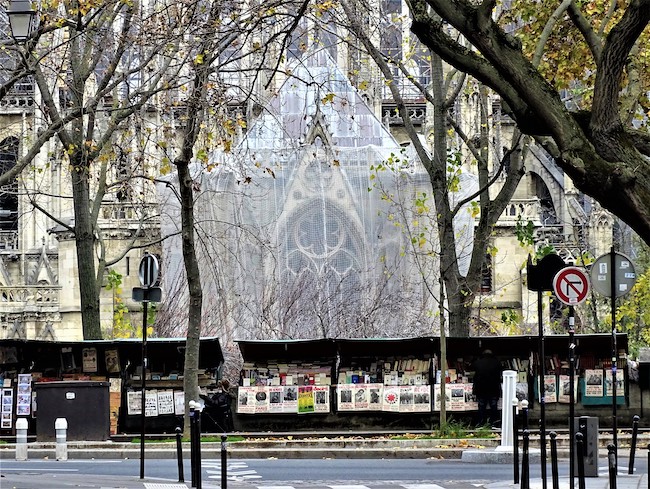 Monsieur Madet currently has several apartments for sale, the smallest of which is 54 square meters with a sale price of 780,000 euro ($936,582), a midsize one of 76 square meters with a sale price of 1,300,000 euros ($1,560,971), and the largest one of 100 square meters with a sale price of 1,700,000 euros ($2,042,287), prices that will either knock your socks off, and not in a good way, if you're from, say, the U.S. Midwest, or entice you with their reasonableness, if you're from, say, London or Dubai.
I ask if the quartier – in the very heart of Paris and which includes the Pantheon, Sainte-Chapelle, and the Sorbonne – has a special desirability. "Yes," Monsieur Madet replies, "but everywhere in Paris is interesting to buy."
"Do you think, psychologically, COVID has changed how people think?" I ask. Monsieur Madet explains that, "After the first restrictions in March, sales were up, and the market was active. People were optimistic after the first confinement ended. But with the second confinement in October and November, it seems different, as people wonder what will happen."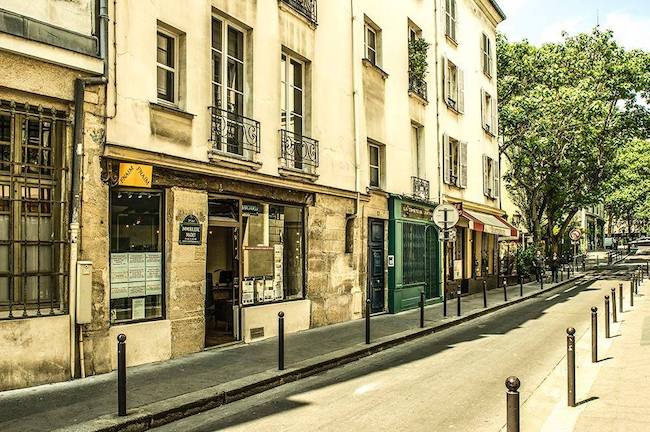 He tells me that the "gamechanger will be the vaccine." If it's successful and widely available and accepted, it will be the most important factor in getting life back to normal. "If the vaccine is successful, and Americans and Chinese return to Paris, January is perhaps too early, but people will think the market will be back."
But his views are tentative. "I feel the market could go down – that's my feeling. My reason says it should go up, but my feeling is it will go down. My reason is against my feeling."
In other words, to quote Pascal, "The heart has its reasons, which reason does not know."
Only time will tell what will happen in the wake of the COVID-19 pandemic – in real estate, as in all things.
_____
Contact information for Monsieur Madet:
François Madet
Immobilière Madet
4, rue Frédéric Sauton
75005 Paris
Tel: +33 (0)1 46 33 03 80
[email protected]
Lead photo credit : Real estate agent François Madet in his office in Paris. Photo credit © Diane Stamm
More in Immobilier, Paris property, real estate in Paris
---
---