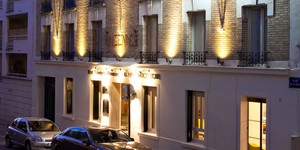 Frequent travelers to Paris may be intrigued to try out the new tramway (T3b) that runs the periphery direction south departing from Porte de Vincennes, skirting past Bois de Vincennes, Porte d'Italie and then halting just past one of its last stops which is the Porte de Versailles where any number of the city's large-scale expos take place, such as Salon du Chocolat and Paris Marathon Runners' Expo.
Le Best Western Premier 61 Paris Nation Hotel is located at 61, rue de la Voûte and is just 3 minutes walking from Porte de Vincennes, the end line of this new tramway – as well as Metro Line 1. Its complete and total renovation has incorporated into it all things "60's."
Spearheaded by the the architectural firm Axel Schoenert Architectes Associés, this newly retro-chicified 4-star hotel has 48 rooms, one equipped for limited mobility, a bright, welcoming lobby, a breakfast room looking out onto the atrium and a sitting lounge adjacent to the lobby.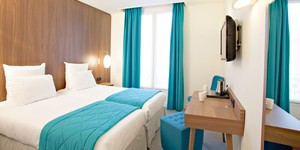 Theme behind the iconic Brigitte Bardot, Serge Gainsbourg and other 60's era photos is "Happy '61." The sleek color- scheme of saffron yellow, emerald green, storm grey, azure blue and orange paradise are offset with noble-wood furniture and paneling. For example, glass-shower stalls' interior paneling is all wood (or faux wood veneer to be precise) and a Business Class room is equipped with a single-serving-size fold up wooden table conveniently placed just in front of the sitting chair which folds down against the wall for more spaciousness, or up for ease of in-room, pre-dinner aperitif while watching CNN, BBC, France2 news…or a past episode of MadMen on the flatscreen TV.
This limited edition "Happy '61!" furniture line, specially conceived of for le Best Western Premier 61 Paris Nation Hotel, was first presented last year at "Now! leOff 2012" which took place during Paris Design Week at the very trendy Cité de la Mode et du Design. Each of the hotel rooms has either the saffron yellow or azure blue motif along with the in-room amenities of coffee service, mini bar, hair dryer, flat screen tv with international channels – WiFi is complimentary. The one person/one suitcase sized elevator that services the 5 floor boutique hotel is worth the wait, at least when going up.
Things to do around this corner of Paris: Walk to Bois de Vincennes and watch the families rowing the little boats around the lake; visit Père-Lachaise cemetery (most visited Paris monument after the Eiffel Tower); walk the two blocks to where you can pick up the Promenade Plantée, a delightful pedestrian and bike path that goes all the way to Bastille and is all tree-lined and garden-filled; take the tram to Porte de Versailles just for the fun of window-sightseeing for the cost of a Metro ticket (€1.80); or trek on over to the Cinémathèque Française at the nearby Bercy Village where you'll also find a selection of shops and choice of restaurants. And since the hotel has only recently opened, officially May 2013, it's worth your time to call and/or check online to see if they are offering any specials during your dates of travel.
Best Western Premier 61 Paris Nation Hotel
61, rue de la Voûte 75012
+33 (0) 1 43 45 41 38
Email
Hôtel Armoni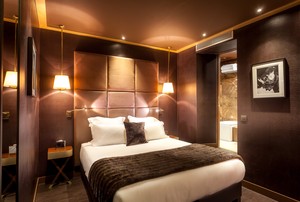 The Elegancia Hotel Group is pretty much batting a hundred at this point. Meaning these inspired hoteliers seem to always get it right in their string of niche-market oriented, design boutique Parisian hotels.
Hotel Armoni, their latest addition, doesn't disappoint. Following two of the newest Parisian hotel trends, the conception for this boutique hotel is more as a privileged self-standing "hotel particulier" which translates as "mansion," in fact.
For this 3-star hotel which offers a 4-star stay-experience, the group chose muted dark colors of chocolate with discreet mauve accents in the lobby and downstairs salon which serve to instantly envelope you in its subdued charm as you enter the premises from this small cul-de-sac street just off the main corner known as Porte de Champerret in the 17th arrondissement, otherwise referred to as the Arc de Triomphe and Palais des Congrès district.
Celebrated French designer Oscar Ono chose caramel gold offsets for the rooms with all-white "Italian" bathrooms and quality faux-fur throws for the luxurious, oversized beds. Each room comes equipped with an Apple Mac Mini, a great little gadget that provides TV, computer, Internet and music, all facilitated by the complimentary WiFi. The lounge area below provides guests with fax and printer services. The room-service menu is available on your TV screen, furnished by your Mac Mini, and is open from 5:30 p.m. to 1 a.m.
Two additional service-oriented features you'll find at the Hotel Armoni are its Honesty Bar which is located in the downstairs lounge. It's open 24/7 and you can help yourself to Taittinger Champagne (Brut and Rosé), Alain Millat juices, coffee, tea, soft drinks. Just let the staff know what you consumed upon checkout. Light snacks are provided complimentary by the hotel. The other feature that can be used whether you are a guest or not is their sleek, 40-seat conference room. It comes outfitted with a projector, a screen, a flatscreen tv as well as fax and printer. With the hotel's close proximity to the Palais des Congrès, it's a service and feature well-worth keeping in mind.
One last note… and this one is for the Businesswoman Traveler… the Hotel Armoni has developed a menu of services and amenities just with us in mind. Ask about these tailor-made treats (hint L'Occitane Bath Amenities) when you make your reservations and at check-in. They're also open to suggestions and are eager to make this subdued and chic newest boutique hotel from the Elegancia Hotels Group the go-to Parisian address for the Business Woman on-the-go.
Hôtel Armoni
7, Villa Berthier, 75017
+33 (0) 1 42 12 44 00
More in 61 Paris Nation, Hotel Armoni, Paris hotels
---
---