Hotel Buzz in Paris: A Floating Hotel on the Seine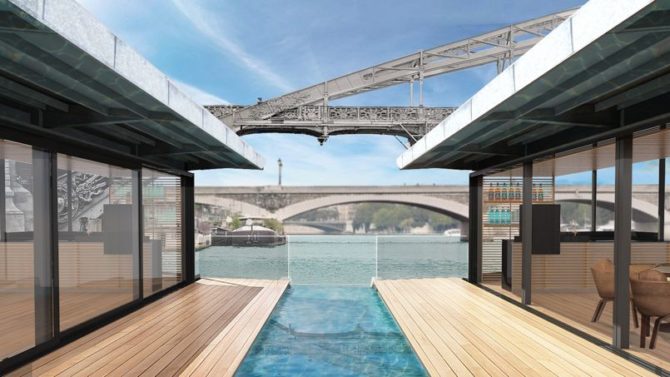 The talk of the town in Paris these days? The City of Light may soon add a floating hotel to its roster of impressive accommodations. As reported by The Telegraph, a catamaran is being converted into a three-star hotel called OffParisSeine.
Anchored off the Pont Charles de Gaulle on the quai d'Austerlitz, the floating hotel will boast 54 rooms, 4 suites, a swimming pool and a sprawling terrace where guests can watch the boat traffic ply the waters of the Seine. There are already a number of house boats on the river, but this is the first floating hotel of its kind. The project is estimated to cost €11 million.
The Local reports that the boat-hotel is being built in Normandy, to be towed down the river next year in time to welcome guests in the spring. Rooms will cost between €160 and €450 per night.
Off-Paris Seine will be managed by Elegancia Hotels, which has a collection of design-driven boutique hotels across the capital. For more information, visit the hotel's Twitter page: https://twitter.com/OffParisSeine
Lead photo credit : courtesy of Off Paris Seine
Leave a reply
Your email address will not be published. Required fields are marked *