Two Women of History: Marie Antoinette and Carlota, Empress of Mexico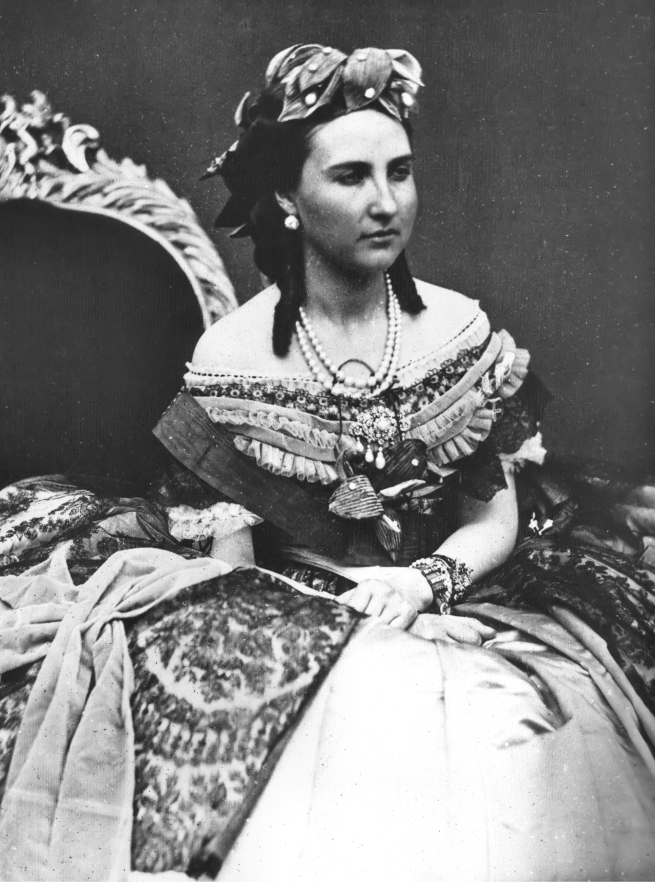 Sometimes we are drawn to a place because of what we hear about those who lived there. This week we celebrate Women's Day and, with travel in mind, I thought of the great women who brought world attention to the place where they lived. There are the obvious like Madame Curie, Golda Meir, Eva Peron, Laura Secord or Florence Nightingale. There are many and we each have our own reason for who we would highlight. I asked myself this a few days ago and by process of elimination I came up with my special twosome.
They are Carlotta, Empress of Mexico and Marie Antoinette who was drawn into the events of the French Revolution. In both cases, these women lost their lives because of the events and their personalities.
Marie Antoinette was an Austrian teenager. She became Queen of France when she married Louis XVI. Even though she came from a royal family of great wealth, one can imagine the state of mind this young girl might have been in to arrive at Versailles, one of the most opulent and grand residences in the world. Surrounded with such attention and power she began to take part in the politics of the court by manipulation and schemes. By the time she was arrested and sent to the Conciergerie in Paris, the peasants were putting pressure on the revolutionary government to execute her. This beautiful young woman whose life consisted of exaggerated excesses and a degree of arrogance was placed in a tiny room that opened onto a miniature garden. Yet, she refused to exercise or eat. She was in deep mourning and deteriorating health. It is said that she suffered from T.B, and possibly uterine cancer.
Now she was simply 'prisoner # 280'.
In a nation of poverty and depression it is no wonder that this woman of frivolous spending and an indulgent, excessive life style was tried, found guilty after two days and guillotined in the Place De La Concorde.
She may have been a tragic victim of the Revolution but she represented all that was wrong with France at that time.
Today we visit the places where Marie and Louis lived and died.
Versailles is just outside of Paris. Also interesting are Grand Trianon and Petit Trianon on the grounds. There is a bus #171 from Paris to Versailles.
The Conciergerie is in Paris on the Seine River near Notre Dame Cathedral on Ile de la Cite. A brief tour of the building includes a small museum and the apartment cell of Marie. It's a far cry from Versailles. It served as a prison from 1391-1914. It is well worth visiting.
1 quai de Horloge. Open 10-5 daily except holidays. Admission charge
Both King and Queen were exhumed and later brought to the Basilica St Denis, north of Paris. This is also a place worth visiting. It is at, 1 rue de la Legion d'Honneur and is open daily except Christmas and New Years.
Carlotta: Empress of Mexico
The saga of Maximilian and Carlotta, Emperor and Empress of Mexico can carry you off to any foreign places. First, Maximilian was a brother of Franz Joseph (Austro-Hungarian Empire), born in Vienna, a beautiful, inviting city. His wife Carlota was the daughter of Leopold of Saxe-Coburg-Gotha in what was then one of the Germanic states.
With Napoleon III, the nephew of Napoleon the Emperor of France, a new head of state for Mexico enabled France to get the large sums of money Mexico owed. Napoleon offered Maximilian the throne.
Maximilian was now caught in the middle of France's misadventure in Mexico. It didn't take long before the French appointee realized the impossible situation. He had also angered the Mexicans by ordering the execution of Juarez' captured soldiers who fought the French. Rather than have his honor questioned he stayed in Mexico. His home was a palace in Mexico City's Chapultapec Park. His autocratic air and extravagant banquets and Royal balls did nothing to aid the situation except to cause resentment. His wife decided to leave. She returned to face the French Emperor and plead her husband's case.
He refused to help so Carlota traveled to Rome to submit her request to the Pope. Nothing helped and Carlotta did not trust Eugenie, Napoleon III's wife thinking she might try to poison her.
She struggled valiantly but failed to save her husband. During this time Maximilian went to Queretaro to meet Benito Juarez's army. He was captured and tried. Appeals for clemency failed.
He was executed by a seven man firing squad at the top of a hill in
The end came for Maximilian on June 1867. His last words were, "Long live Mexico! Long live independence!
His wife lived until 1927 but after the horrifying news of her husband's death her mental condition suffered and she was declared insane.
Recently, in San Miguel, I was shown the home that the Austrian Emperor and his wife had stayed in.
It is at the north end of Park Juarez, one of the most beautiful areas of the city. It is now a hotel restaurant with beautiful foliage and gardens. It is open for viewing.
I suggest that you visit Chapultapec Park in Mexico City and the castle they once lived in. More insight into their misadventure will lead you to other interesting sites in Mexico and other interesting women.
Note: Napoleon III's reign ended in 1871 when France was humiliated during the Franco-Prussian War. The heads of the Germanic states swore their allegiance to Wilhelm of Prussia who was crowned Kaiser Wilhelm I. To add to the insult of defeat it all took place in The Hall of Mirrors at Versailles. The first time a German flag was hoisted, it was at Versailles. (Another reason to visit this historical site).
Photo credit : Charlotte of Belgium
Leave a reply
Your email address will not be published. Required fields are marked *