Paris Churches and Organ Concerts: A Personal Discovery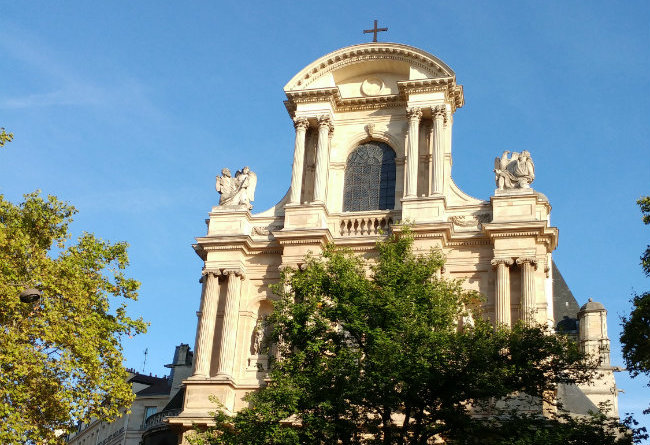 An interesting fact about Paris church organs: I read recently that out of the 150 churches and 50 convents in Paris in 1789, 130 of them vanished as a result of the "tsunami" that was the Revolution, in the period from 1789-1860. While in 1789 there were approximately 100 large organs and 30-40 smaller ones, in 1795 only 36 were left – and at this time there are only 24 organs dating at least partly to the pre-Revolution period. Of those 24, only three are in French Classical style, five in what they called Neo-Classical style, seven rebuilt in the 19th century, and nine rebuilt in the 20th century.
I have discovered a source of calm and solace in visiting Paris churches. They have become places to enter for a short vacation from the streets and from my daily life– where I love to sit and meditate or contemplate in beautiful and spiritual surroundings, breathing slowly and, sometimes when the timing is right, also be surrounded by the grandeur and majesty of music from the organ above me. For practicing Christians, they are also places where you can join Paris residents in worshipping, and for those who are not Christian, as in my case, attending a mass in Paris can nevertheless be a beautiful experience.
They also have fascinating histories if you take the time to find out.
Many articles have been written about all the churches in Paris, and the beautiful organ music that can be heard in their halls. The most well-known, of course, are Notre Dame de Paris (a symbol of French Gothic architecture on L'île de la Cité), Saint Sulpice (featuring artwork by Delacroix and a role in the DaVinci Code movie), and Sacré-Cœur (perched high on Montmartre).
All three are large and impressive, boasting huge pipe organs that can be heard during services and also at scheduled concerts (listed on their web pages and numerous travel sites). They are also visited by substantial crowds of tourists. Travel writer Rick Steves believes that the sound of the Saint Sulpice organ is the most spectacular anywhere, and its organist is well known.
However, I do not intend to write about these – because what I love about Paris is the fact that I can wander the neighborhoods and find so many lesser known churches and quietly attend services and experience the joy and surprise of hearing spectacular, though relatively unpublicized, organ music; of observing beautiful architecture and glass windows not listed in every guide book; of learning a little more about Paris history; and finding calm places in which to indulge in quiet contemplation.
During such wanderings, I even found in one church a moving liturgy done by sisters and brothers in four part harmony – and all these wonders are in churches not clogged with tourists or listed in every brochure, but often as historic and beautiful as those that are.
Walking around Paris as a "flâneur," as I have been doing for years, you will discover such churches as St Julien le Pauvre, St-Germain-des-Prés, St Severin, St Etienne du Mont, St Gervais et St Protais, St Germain L'Auxerrois, Eglise Des Saints Archanges, and St Eustache.
Here I will provide details about the three that I love most.
Saint-Gervais-Saint-Protais (located on Place St-Gervais in the 4th arrondissement just behind the Hotel de Ville)
I first discovered this church a number of years ago when I almost passed it by en route to the Centre Pompidou with some friends but took one look and sent the others on alone so I could remain to contemplate its grandeur in solitude.
There is something about St Gervais that has often led this non-practicing agnostic Jew to return and walk in from the heat of the day to breathe quietly, light a candle and restore my equilibrium. Could it be its almost white buttresses meeting in arches so distant above me, its lovely stained glass (restored along with the chapel interiors in the 19th century by the city of Paris), the imposing St. Gervais organ (the oldest in Paris, having survived more than 400 years), its feel of calm and antiquity, its location on a quiet park-like plaza in the Marais, or its almost total lack of tourists?
This church was built on the site of one of Paris' first parish churches, which existed in the 7th century to honor Christian martyrs Saints Gervasius and Protasius from Milan, and was attended by fishermen because of its closeness to the river. Construction of the current building was begun in 1494 and the first stone of the facade was placed by King Louis XIII in 1616.
It was in 2001 when I first discovered the beauty of not only the edifice, but also of the four part harmony in which the nuns and monks sing their daily services. That day, as I sat, I noticed young men and women in robes of white entering the church singly and in groups until the center was filled with them. After some minutes of silent prayer, they began to sing. It was unexpected and beautifully melodic and moving. I later picked up literature and discovered that St. Gervais has been home to the monastic community of Jerusalem since 1975, and that three times a day, Tuesday through Saturday, the monks and nuns pray their liturgy in a Roman rite of "four voices". (I also found the Order's website where you can purchase CDs of the music, and listen to samples.) Also, at 11:00 a.m on Sunday, and each evening at 6:00 p.m., the wonderful Couperon's organ is played. It is called the Couperon's Organ because from the appointment of Louis Couperin in 1653 until Gervais-Francois Couperin's death in 1826, members of that famous musical family succeeded one another to play the St. Gervais organ.
According to their literature, the Brothers and Sisters of Jerusalem are city dwellers by choice and rule, living their monastic lives not in isolated cloisters but in the heart of cities where they rent their own housing, earn wages through part-time work, and use places and times of silence without walled cloisters. As part of their monastic vocation, they strive to put prayer in the city by creating an oasis in the center of an urban environment (even timing their formal prayers to coincide with the hours when others leave for work, take lunch breaks, and return home at day's end) – a "place of silence and prayer which is also a place of welcome and sharing." Somehow, I had sensed some of this simply by walking through the church doors that first time.
An interesting piece of history involving the Church is that the Kaiser Wilhelm Geschutz (known as the "Paris Gun"), a huge German weapon capable of firing shells from as far as 131 km from Paris, fired a shell on Good Friday, March 29, 1918, that hit the roof of St. Gervais in the front between the flying buttresses, creating a huge gap in the wall, dropping tons of masonry onto worshippers, and killing almost 100 people. I understand that one of the windows on the south side of the Church is a memorial to those who died that day.
Also, the church is built over a 6th century sanctuary dedicated to St. Gervais and St. Protais, martyrs killed by the Emperor Nero whose relics were found in Milan, and the current structure was rebuilt in the 16th and 17th centuries. During the French Revolution, the tombs were desecrated and the Church became a youth temple.
Since St. Gervais heard testimony to decide cases under an elm tree, there has always been an elm in front of the Church, often over the years used by Parisians as a meeting place.. The present one was planted in 1914.
Here is a video I took recently of part of the St Gervais services, including the singing and organ music.
Saint-Séverin (located in the 5th arrondissement on 2 Rue des Prêtres Saint-Séverin)
I discovered this church years ago when I liked to spend time with friends at George Whitman's Shakespeare and Company on rue de la Bucherie, and from time to time visited a jazz club on rue de la Huchette just across rue St Jacques, and I stayed at a small hotel just a few blocks away. At that time, I considered that part of the fifth arrondissement as my 'quartier' – much as I now consider the Mouffetard area to be.
You can see the imposing presence of Notre Dame just across the quay from Shakespeare and Company's front door and library windows on the first floor, where I would sometimes sit, and I would often also sit in the little park just on the other side of rue St Julien le Pauvre – called Square Rene Viviani – and gaze at the beauty of Notre Dame seen in its most pristine aspect, surrounded by sky and clouds, just across a sliver of the Seine. I still love that view and always will.
However, the beauty of Notre Dame was to me somehow lost whenever I crossed the tiny Pont au Double to see the great Dame in person (except late at night, under the moon and stars), since I found myself lost in lines of camera wielding tourists, and surrounded by vendors and other hustlers. Inside the church, there is grandeur and beauty of course, and beautiful music, but there are also wires and cables so that the loudspeaker system works, a gift shop, and, again, crowds and crowds of gawkers.
But walk just to the west of Shakespeare and Company on rue de la Bucherie to Rue St Jacques, and cross rue St Jacques, and there sits St Séverin – looking like a kind of little sister to Notre Dame.
St Séverin was built in the late Gothic style in the 15th century, completed in 1520 with its general appearance as of today, but with additions in the 17th century to accommodate its growing congregation. This was where the students of the Sorbonne came to worship after little St Julien le Pauvre, a short block away on its namesake street, became too small for the growing student population.
Its exterior, like Notre Dame, also features gargoyles and flying buttresses and there is a rose window above the west entrance. I like to think of it as a smaller and more accessible version of Notre Dame, but you can stand at the side and look up at the gargoyles not far overhead instead of climbing thousands of stairs to do so.
Because of the little space available on the Church's land, the expansions occurred on the north and south sides, rendering the interior a grand and beautiful space. St Séverin also has the oldest bell in Paris and is considered by some observers as one of the most beautiful churches in Paris. I agree.
From the first time I walked into St Séverin, I was enamored of her beauty, and her serene silence. You can walk in via a small entrance on rue St Jacques, or a similar entrance on the other side – from the plaza Prêtres Saint-Séverin. Your entrance is quiet and calm. No lines of people waiting to get in. Except for during the time of services, I have yet to see more than five people in the building at one time.
Check the times that the church is open and closed, and the time for services, on a small plaque besides the St Jacques door.
I had come to love just sitting down to contemplate amidst the calm within this building, or looking upon its beautiful stained glass windows – some very old and some modern but equally beautiful; the interior columns that meet far above me, the area around the choir with pillars in the form of palm trees; the dark wood; and the feeling of vastness and space.
Then one day I decided to remain during a service, and heard the St Severin organ for the first time. The beauty of the sound enveloped me and I had to catch my breath. This year, I walked into the church maybe 30 minutes before the start of a service, and discovered that the organist was practicing and playing a panoply of different kinds of music – some beautiful, some raucous, some fast, some slow – what felt like an entire concert. I recorded three minutes of it, and here is the video.
As you walk around St Severin, note that there are shiny plastic covered materials attached to wood stands from time to time, with information about the history of the part of the church in which you are standing.
Saint-Étienne-du-Mont (located just northeast of the Pantheon, and across from the Bombardier British Bar, on rue montagne Sainte-Geneviève in the 5th arrondissement)
This is a very historic and beautiful church, with one of the most beautiful collections of stained glass window in Paris (considered second only to Sainte Chapelle), the only rood screen remaining this day in a Paris church, and an organ built in 1630 and recently restored, considered one of the three finest in Paris.
I discovered this wonder – which I had walked by numerous times – after seeing "Midnight in Paris", but have since returned over and over to enjoy the services and listen to the wonders of its organ. I have discovered that after the service, the organist often continues to play, while some of the congregation remains behind in anticipation – and the music is a panoply of different classical pieces rather than just what would be considered church music. Here is the video.
I now consider this church one of my neighborhood churches since I usually rent my Airbnb apartments on or near to rue Mouffetard, and St Etienne du Mont is just two minutes to the left after continuing to walk north on rue Mouffetard where it becomes rue Descartes a couple blocks north of the Contrescarpe. I can awake on or near rue Mouffetard, and walk down to St Etienne du Mont to attend a morning service in just a few minutes.
This is also the church on the back steps of which the lead character in the movie Midnight in Paris waited as Ernest Hemingway drove by at midnight in a vintage car, towards the Pantheon. An aside – the Bombardier is open until well past midnight, so I doubt that Mr. Hemingway could have slowly driven by without being noticed by the young people standing in front with their beers.
St. Etienne is the successor to a church built at the top of Mount Leucotilius by King Clovis who died in 511 and wanted to be buried next to his spouse Clotilde and St Geneviève, the patron Saint of Paris. It was founded as an abbey and a shrine to St Geneviève which is why the mountain came to be called "Montagne Sainte Geneviève" (which is of course the name of the narrow steep street leading to that plaza).
A new church was built in the 7th century, dedicated to St. Steven, the first Martyr, and the present church was built between 1492 and 1626 when even that church became too small. The choir and bell tower were completed in 1540, and the nave and cloister in 1580, with the façade started in 1610.
You can see the remainder of the old Abbey church – the old tower – looking slightly to the south which is on the grounds of the lycée Henry IV.
A new church was also built in the Abbey courtyard, which was secularized in 1791 and became the Pantheon. In 1793, St Geneviève's shrine was melted down, her bones burnt where the Hotel de Ville now sits, and the ashes thrown into the Seine. The church is spectacular with sculptures and paintings – including a pulpit built in 1650 showing a powerful sculpture of Samson holding up the bowl surrounded Prudence, Justice, Faith, Hope, Temperance, Force and Charity.
The cloister at the back of the church (built in 1605) is now a corridor leading to the vestry once surrounded a small cemetery where the bodies of Mirabeau and Marat were taken when they were pulled out of the Pantheon – and it became a larger cemetery at the northwest corner of the church.
The stained glass windows lining that cloister corridor are comprised of 12 windows put together in 1734 from the remains of the original 22 windows, were painted with colors embedded in the glass itself and affixed enamel so that they literally glow, and are considered the second best collection in Paris after the Sainte-Chapelle windows.
I often just wander slowly down that corridor to again see the windows.
Other Churches: The above is far from a comprehensive list – only the three churches I have come to know the best. When you find yourself passing one of the many churches in the city, be open to walking in and looking around. I am always discovering new ones as I walk around.
For example, I noted that there was a baroque style church on Ile St Louis called St-Louis-en L'Ile which the internet tells me was completed in 1726. I walked in only once – years ago – but recall it was beautiful and had a large gold star type sculpture high on the wall above the altar, which I never had time to find out about. I will have to go back.
Another example: St Eustache just next to the Pompidou is a huge and beautiful church that I have only walked through once – but I have read that it was completed in 1633 and its 8000 pipe organ is the largest in France!
Yet another: St Julien le Pauvre, tiny and old, right between Notre Dame and St Severin, sits on its tiny street next to the park, and is one of the oldest buildings in Paris, started in the 1100s and completed in the 13th century, and later changed from being a Roman Catholic church to a Greek Melkite church, it is the only one of the city's 12th century Parish churches to survive. Next to it in Square Rene Viviani is a tree planted in 1602 by the Gardener in Chief of Henry III, Henry IV and Louis XIII, considered the oldest tree in Paris. Concerts are held at the church each week.
And a final example: Recently I was walking by L'église des Saints-Archanges on the narrow rue Jean de Beauvais near Maubert, with my friend Raluca who is from Romania, and she took me inside to show me this one and only Romanian Orthodox church in Paris, in a 14th century building, once the chapel of a college and now the only remaining medieval chapel in the neighborhood, purchased by Romania in 1882. It is unusual, full of gold and bright colored designs, and is absolutely beautiful, and we have a mutual friend who sings in the choir and tells me it is beautiful three part harmony. Again – I will be back.
Visiting and learning about the churches of Paris and catching one's breath in the beauty of the surroundings and in the music is to me a wonderful past time that I encourage others to partake of.
Lead photo credit : Saint-Gervais-Saint-Protais. Photo: Michele Kurlander
More in eglise, Paris churches
---
---
Comments