Just Like a Woman: Françoise Hardy as a Muse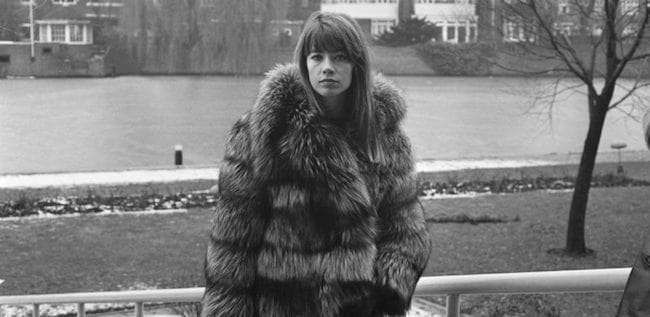 "She takes just like a woman, yes she does She makes love just like a woman, yes she does And she aches just like a woman But she breaks just like a little girl." Bob Dylan sang his song to the French chanteuse, Françoise Hardy backstage at the Paris Olympia in 1966. It made her obviously uncomfortable. Dylan's show had not been up to his usual standards. It was his 25th birthday and he said he would not return to the stage unless Françoise Hardy came to see him behind the scenes. She was at the concert, having requested time away from filming John Frankenheimer's Grand Prix in order to see the '60s icon. But she found him gaunt and sickly looking as vintage video will attest to. In 1964 Dylan included a poem to her on the sleeve of Another Side of Bob Dylan; it read, "for Françoise Hardy/at the Seine's edge/a giant shadow/of Notre-Dame/seeks t'grab my foot/ Sorbonne students/whirl by on thin bicycles." He was a huge admirer but she seemed oblivious to this. She wasn't aware of how far his admiration went until the night of the concert. Swept up in his entourage, she was at Dylan's party suite later that evening at the
George V hotel
. Dylan cracked open his bedroom door and separated her from the partiers, reeling her into his inner sanctum for some more stilted talk. He sang to her again. "I Want You," he crooned. Hardy admits she was bad at reading between the lines. Françoise loved Dylan's songs, but not the man. She later stated that, "the thought that he was giving me a message with his songs did not cross my mind." They never met again. So who is Françoise Hardy that she would have such a hold on Dylan and others? Françoise Hardy was born in 1944, in the
9
th arrondissement of Paris, to an unwed mother – a married man's mistress. Separated from her father, they lived in a little flat at 24 rue d'Aumale.  She grew up listening to Anglo-American music like Paul Anka, Elvis and the Everly Brothers, and Brill Building pop, via Radio Luxembourg. Her father bought her a guitar for passing her high school baccalaureate, and she rejected university after one year in favor of a music career. She went to Mireille's Petit Conservatoire for singing lessons, and was quickly signed to a record label. She recorded her big hit, "Tous les Garcons & Les Filles," in 1962. It sold thousands of copies per day until her sales reached the stratosphere. She sold millions. Her rise to fame with Disques Vogue was meteoric to say the least. Françoise Hardy was the "singer of sad songs." Her songs had a fine, dreamlike quality, which reflected her cool and calm demeanor. Young and casually chic she naturally possessed the Je ne sais quoi that so many women strived for, but the shyness and insecurity of her teens never really left her. "If it weren't for the way I dress," she said, "no one would notice me." When Vogue magazine first introduced the Yé-Yé (French pop) idol to its readers in 1963, she became a fashion phenomenon. "She looks like a gazelle in miniskirts," one American reporter put it in 1966. She didn't wear rouge or much lipstick, but she was not adverse to a well-defined cat's-eye. Hardy's slightly androgynous charm rendered the exaggerated pin-up style of femininity old-fashioned. For a Sixties icon, she was very much the opposite of the reckless abandon found in those tumultuous years. In her impressionable late teens, she was plunged into a world of sex, drugs, and alcohol, but she steered clear. "Pleased to meet you, hope you guess my name: But what's puzzling you is the nature of my game." In her memoirs, The Despair of Monkey's and Other Trifles (2018), Françoise remembers being invited to the Stones' guitarist Brian Jones' flat in London. When she found Anita Pallenberg there too, this time she was able to read between the lines. Sure that she was to be the third in a threesome, she refused their marijuana cigarettes and she split the scene as soon as possible. Apparently, Brian Jones would dress up in drag as Françoise Hardy to the titillation of Pallenberg. Hmm… Mick Jagger claimed Hardy was his perfect woman. Hardy told The Guardian in 2005 that Jagger was someone she could have really fallen for but, "he was with Chrissie Shrimpton at the time." David Bowie mimed that his radio was on fire whenever she came on the dial. Kinder, gentler Paul McCartney wrote Michele at the time the British students and artists were inspired by all things French, including Françoise Hardy. She recorded in German, Italian, and English. She also had a short movie career, appearing in eight feature films. Apart from Grand Prix with James Garner and Yves Montand, she had a cameo in What's New Pussy Cat in 1965. She worked with famous directors such as Vadim, Frankenheimer and Godard. Her first boyfriend, the French photographer Jean-Marie Périer, captured her image for many fashion magazines. Richard Avedon also photographed her for Vogue. Her face appeared on Paris Match so many times that she was their cover girl for the 1960s. In the second half of the 60s she became the muse of fashion designers. Being tall and androgynously thin, fashion designers such as Paco Rabanne,…
SUBSCRIBE
ALREADY SUBSCRIBED?
BECOME A BONJOUR PARIS MEMBER

Gain full access to our collection of over 5,000 articles and bring the City of Light into your life. Just 60 USD per year.

Find out why you should become a member here.

Sign in

Fill in your credentials below.
"She takes just like a woman, yes she does
She makes love just like a woman, yes she does
And she aches just like a woman
But she breaks just like a little girl."
Bob Dylan sang his song to the French chanteuse, Françoise Hardy backstage at the Paris Olympia in 1966. It made her obviously uncomfortable. Dylan's show had not been up to his usual standards. It was his 25th birthday and he said he would not return to the stage unless Françoise Hardy came to see him behind the scenes. She was at the concert, having requested time away from filming John Frankenheimer's Grand Prix in order to see the '60s icon. But she found him gaunt and sickly looking as vintage video will attest to. In 1964 Dylan included a poem to her on the sleeve of Another Side of Bob Dylan; it read, "for Françoise Hardy/at the Seine's edge/a giant shadow/of Notre-Dame/seeks t'grab my foot/ Sorbonne students/whirl by on thin bicycles." He was a huge admirer but she seemed oblivious to this. She wasn't aware of how far his admiration went until the night of the concert.
Swept up in his entourage, she was at Dylan's party suite later that evening at the George V hotel. Dylan cracked open his bedroom door and separated her from the partiers, reeling her into his inner sanctum for some more stilted talk. He sang to her again. "I Want You," he crooned. Hardy admits she was bad at reading between the lines. Françoise loved Dylan's songs, but not the man. She later stated that, "the thought that he was giving me a message with his songs did not cross my mind." They never met again.
So who is Françoise Hardy that she would have such a hold on Dylan and others?
Françoise Hardy was born in 1944, in the 9th arrondissement of Paris, to an unwed mother – a married man's mistress. Separated from her father, they lived in a little flat at 24 rue d'Aumale.  She grew up listening to Anglo-American music like Paul Anka, Elvis and the Everly Brothers, and Brill Building pop, via Radio Luxembourg. Her father bought her a guitar for passing her high school baccalaureate, and she rejected university after one year in favor of a music career.
She went to Mireille's Petit Conservatoire for singing lessons, and was quickly signed to a record label. She recorded her big hit, "Tous les Garcons & Les Filles," in 1962. It sold thousands of copies per day until her sales reached the stratosphere. She sold millions. Her rise to fame with Disques Vogue was meteoric to say the least.
Françoise Hardy was the "singer of sad songs." Her songs had a fine, dreamlike quality, which reflected her cool and calm demeanor. Young and casually chic she naturally possessed the Je ne sais quoi that so many women strived for, but the shyness and insecurity of her teens never really left her. "If it weren't for the way I dress," she said, "no one would notice me."
When Vogue magazine first introduced the Yé-Yé (French pop) idol to its readers in 1963, she became a fashion phenomenon. "She looks like a gazelle in miniskirts," one American reporter put it in 1966. She didn't wear rouge or much lipstick, but she was not adverse to a well-defined cat's-eye. Hardy's slightly androgynous charm rendered the exaggerated pin-up style of femininity old-fashioned.
For a Sixties icon, she was very much the opposite of the reckless abandon found in those tumultuous years. In her impressionable late teens, she was plunged into a world of sex, drugs, and alcohol, but she steered clear.
"Pleased to meet you, hope you guess my name: But what's puzzling you is the nature of my game." In her memoirs, The Despair of Monkey's and Other Trifles (2018), Françoise remembers being invited to the Stones' guitarist Brian Jones' flat in London. When she found Anita Pallenberg there too, this time she was able to read between the lines. Sure that she was to be the third in a threesome, she refused their marijuana cigarettes and she split the scene as soon as possible. Apparently, Brian Jones would dress up in drag as Françoise Hardy to the titillation of Pallenberg. Hmm…
Mick Jagger claimed Hardy was his perfect woman. Hardy told The Guardian in 2005 that Jagger was someone she could have really fallen for but, "he was with Chrissie Shrimpton at the time." David Bowie mimed that his radio was on fire whenever she came on the dial. Kinder, gentler Paul McCartney wrote Michele at the time the British students and artists were inspired by all things French, including Françoise Hardy.
She recorded in German, Italian, and English. She also had a short movie career, appearing in eight feature films. Apart from Grand Prix with James Garner and Yves Montand, she had a cameo in What's New Pussy Cat in 1965. She worked with famous directors such as Vadim, Frankenheimer and Godard.
Her first boyfriend, the French photographer Jean-Marie Périer, captured her image for many fashion magazines. Richard Avedon also photographed her for Vogue. Her face appeared on Paris Match so many times that she was their cover girl for the 1960s.
In the second half of the 60s she became the muse of fashion designers. Being tall and androgynously thin, fashion designers such as Paco Rabanne, Courrèges, and Yves Saint-Laurent were crazy for her and made her custom-made outfits. A steel plate dress given to her by Paco Rabanne weighing 35 pounds kept stretching, so a team had to be onsite with pliers to raise the already short hemline again. She was unable to wear this metallic number for a performance at the Savoy Hotel and had to rely on her YSL smoking suit, Le Smoking – a look she preferred.
Hardy's impact influenced Rei Kawakubo, the Japanese designer who founded her label in 1969, choosing the name Comme des Garçons, based on the very French-ness of the classic Hardy lyric.
Françoise was everyone's muse, but she, on the other hand, was inspired by Salvador Dali. He was her favorite painter; he was the most intriguing public persona she had ever met. He held a place in her heart and she spent a week with him in Cadaques – "His wonderful bizarre universe." A roll of very unusual pictures was taken at the time. Dali can be seen rising out of an egg beside Françoise or donning hippy clothes. Hardy said, "It was very simple to get a good picture of Dali. All you had to do was give him free rein to let his imagination flow, and he'd always come up with the weirdest ideas."
Oddly enough, despite her strong will and strong opinions, she did not support the student movement of May 1968. Her record company sent her to Corsica, "until calm was restored." The same year, at age 24, she rose once more to the French and British pop charts with It Hurts to Say Goodbye, written by Serge Gainsbourg.
She had Dylan and Jagger enamored with her sad beauty, but Françoise preferred the most casual and seductive Frenchman of the time, the singer Jacques Dutronc. With her new love, she had a son, Thomas. 
During the 1970s and 80s Hardy released 12 albums in as many years. Her output dwindled after 1982. However, over the years Françoise recorded with Iggy Pop, Blur and Malcolm McLaren. Iggy Pop and Françoise sang together on Vera Lynn's classic "I'll Be Seeing You." His baritone is quite pleasant. Even Iggy was crushing on Françoise in the 1990s saying, "No one can sing like Françoise. Her emotional and musical accuracy combined with her sense of reserve and mystique make an indelible and very French impact on the listener. There's no one else as good around." After a 1995 collaboration with Malcolm McLaren, Françoise revealed she did not care for him, confirming what many already thought, that McLaren was a user of people.
Fifty years on from her heyday, Françoise Hardy is still beautiful and still projects a quintessentially French elegance. She fought a battle with cancer of the lymphatic system for almost a decade. A bad fall in the hospital resulted in her being placed in a coma for three weeks. Her son was prepared for her death. She pulled through. Her new album called Personne d'Autre, is her 24th. A quote from The Guardian sums up this cool, calm and collected muse. "I always write about the same subjects, but when you are 74 you become more reflective. Also, you cannot sing the same kind of lyrics as when you were 20 or 30. That would be somehow undignified. For some people, of course, it does not matter, but for me it does."
Lead photo credit : Actress Francoise Hardy in Amsterdam, 16 December 1969. Taken by Evers, Joost / Anefo. Image © Wikipedia, CC BY-SA 3.0 nl
---
---
Comments