For Sale: The Lost Gold Leaf Symbolizing Napoleon's Coronation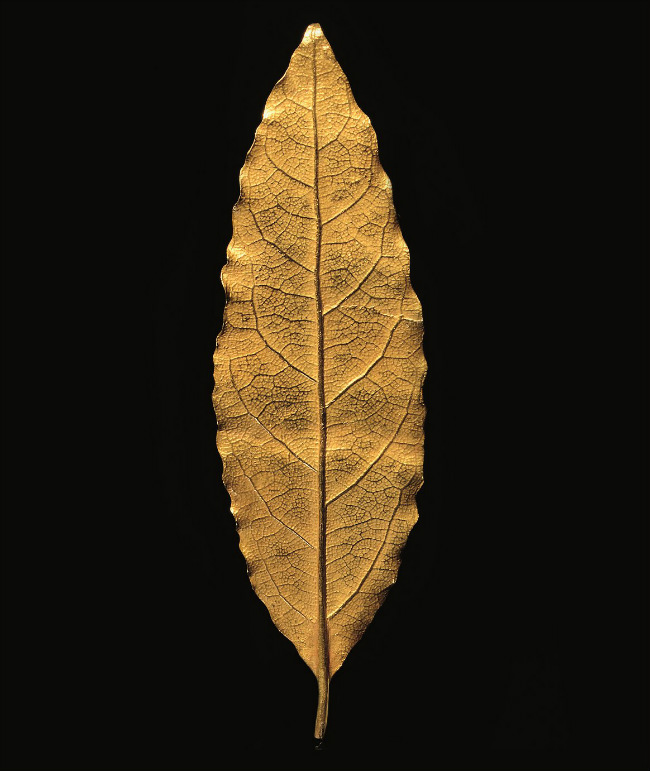 Even to this day, Napoleon Bonaparte commands endless fascination. The Emperor's myth and legend have inspired countless books, while rare Napoleon memorabilia is snatched up in international auctions— from New York to Paris. The latest such auction to cross our radar will be held on Sunday, November 19 by auctioneer Jean-Pierre Osenat in
Fontainebleau
(Hôtel d'Albe, 9-11 rue Royale, 77300 Fontainebleau). "The First Empire at Fontainebleau" is comprised of rare and exceptional souvenirs, including the gold laurel-leaf from Napoleon's coronation crown, made by Martin-Guillaume Biennais (1764-1843) and consigned by his descendants (est. €100,000-150,000). Napoleon is said to have declared, "Biennais, you have created a work that will stand the test of time." Here's a bit of history about the crown from the official Ossenat press release: "The royal or imperial Regalia used at a sovereign's coronation received especial attention from Napoleon, for reasons easy to understand: how could he legitimize his own coronation (and power), just ten years after the death of the last King, without appearing to parody a royal ceremony ? The symbols were attentively chosen, with legitimacy sought among a former ruling dynasty of France (the Carolingians) and the greatest Empire in Napoleon's eyes: the Roman Empire. The crown of laurels established a link between the new dynasty and the emperors of old." The auction house will also display the Empress Josephine's dressing mirror along with her gorgeous gold & mother-of-pearl powder box. (The Empress was famously obsessed with make-up, particularly rouge.) The First Empire at Fontainebleau, Ossenat, Sunday, 19 November 2017 VIEWING: Saturday 18 November, 10am – 6pm, Sunday 19 November, 10am – noon CONTACTS: +33(0)1 80 81 90 04, Jean-Pierre Osenat:
[email protected]
, Jean-Christophe Chataignier:
[email protected]
, Charles-Alban de Pontanel:
[email protected]
SUBSCRIBE
ALREADY SUBSCRIBED?
BECOME A BONJOUR PARIS MEMBER

Gain full access to our collection of over 5,000 articles and bring the City of Light into your life. Just 60 USD per year.

Find out why you should become a member here.

Sign in

Fill in your credentials below.
Even to this day, Napoleon Bonaparte commands endless fascination. The Emperor's myth and legend have inspired countless books, while rare Napoleon memorabilia is snatched up in international auctions— from New York to Paris. The latest such auction to cross our radar will be held on Sunday, November 19 by auctioneer Jean-Pierre Osenat in Fontainebleau (Hôtel d'Albe, 9-11 rue Royale, 77300 Fontainebleau).
"The First Empire at Fontainebleau" is comprised of rare and exceptional souvenirs, including the gold laurel-leaf from Napoleon's coronation crown, made by Martin-Guillaume Biennais (1764-1843) and consigned by his descendants (est. €100,000-150,000). Napoleon is said to have declared, "Biennais, you have created a work that will stand the test of time."
Here's a bit of history about the crown from the official Ossenat press release: "The royal or imperial Regalia used at a sovereign's coronation received especial attention from Napoleon, for reasons easy to understand: how could he legitimize his own coronation (and power), just ten years after the death of the last King, without appearing to parody a royal ceremony ? The symbols were attentively chosen, with legitimacy sought among a former ruling dynasty of France (the Carolingians) and the greatest Empire in Napoleon's eyes: the Roman Empire. The crown of laurels established a link between the new dynasty and the emperors of old."
The auction house will also display the Empress Josephine's dressing mirror along with her gorgeous gold & mother-of-pearl powder box. (The Empress was famously obsessed with make-up, particularly rouge.)
The First Empire at Fontainebleau, Ossenat, Sunday, 19 November 2017
VIEWING: Saturday 18 November, 10am – 6pm, Sunday 19 November, 10am – noon CONTACTS: +33(0)1 80 81 90 04, Jean-Pierre Osenat: [email protected], Jean-Christophe Chataignier: [email protected], Charles-Alban de Pontanel: [email protected]
Lead photo credit : The gold laurel-leaf from Napoleon's coronation crown. Courtesy of Osenat
---
---