Yannick Alleno @ Ledoyen : L'Hotel: Buddha Bar, Paris Celebrates, Porte 12 Opens & Guy Martin's Apples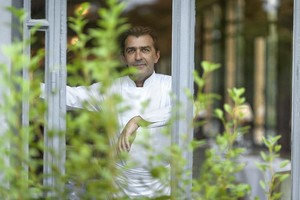 « Yannick Alleno at Ledoyen » a wonderful surprise for La Rentrée for YA aficionados, already hooked on his Paris addys at Mutualité, Bourse, Cheval Blanc, Courcheval, his inspiration and direction at Royal Mansour, Marrakech, Dubai, Beijing, Taipei etc.  And don't forget YAM the glossy foodie magazine he edits.
Sleek and slim Alleno's slipped seamlessly into the rôle vacated by Christian LeSquer, gone to other projects, stay tuned.
Freshly decorated, the bright dining-room, overlooking L'Avenue des Champs Elysées, where Napoleon dined with Josephine and Maupassant, Zola, Flaubert and Coco Chanel were regular guests, is orchestrated by Frédéric Pedrono with chef-sommelier Vincent Javaux.
"The concept is, construct each guest's meal when they have chosen "Le Principal" their main dish core ingredient: Vegetables, Fish or Meat", explains Monsieur Pedrono.
"It's all about extractions", he continues. Me neither, but I feel he's talking about the sauces, "the expression of an evolved cuisine".
So, if you choose, tender roasted turbot, from French waters, with marrow, artichoke Camus au gratin de Parmesan as your main, it may be preceded by, say, a tiny tart of curry spiked champignons de Paris, seasonal vegetables, yellow beetroot jus, pepper oil: followed by Tourteau (crab) en fines feuilles de calamari, grapefruit chutney, lait d'amande: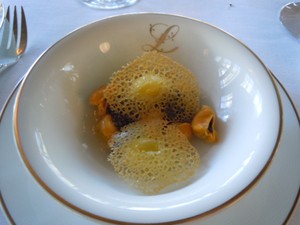 Add freshly baked breads, Bordier butter:  Moules de Bouchot AOP de Mont St. Michel (another story for another day), a few waxy potatoes, golden caviar Boulghar.
Wash down with Domaine Chapoutier's Saint-Joseph "Les Granites" 2012. "Monsieur Chapoutier's wines are unfiltered to preserve their character", says Vincent Javeaux.
The Chapoutier, with notes of white flowers, marries with mini Soufflé d'Anguille (eel) watercress coulis and Tête de Cepe en Civet, a spin on classic civet de lapin, without the lapin. Prefer red? Crozes-Hermitage "Cap Nord" Domaine Combier 2012.
Cheese by Gilles Clayeux and Desserts by Belgium pâtissier wiz Damien Cassart (ex-Louis XV, Monaco etc) include sexy in-mouth exploding orange pearls, with a touch of cinnamon and arlette spuma.
Each dish is a surprise of awesome technicity, love, art and completely different to anything tasted elsewhere. "How do you do it chef?" "A lot of work, a lot of love, I'm here now 'til I retire, we've only just begun", he winks.
Carré des Champs Elysées
8 rue Dutuit, 8th
M : Champs Elysées Clemenceau
Valet parking
T : 01 53 05 10 01
Shut Saturday lunch & Sunday
From 128€ + wine
Take A Walk On the Wilde Side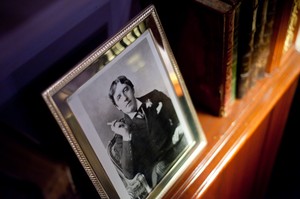 L' Hotel, Paris,  where, in 1900, Oscar Wilde, only 46, breathed his last apparently saying, « I am dying beyond my means »
On the 160 anniversary of the birth of Oscar Wilde, L' Hotel (ex-Hôtel d'Alsace) pays hommage with "In The Footsteps of Oscar Wilde," followed by lunch in the Michelin * restaurant. On the terrace, in warm weather.
Dominique Vibrac, Doctor of History, Philosophy, and Oscar Wilde maven, takes you by the hand and leads you through the streets of Paris from the L'Hotel, to Opéra, the Malaquais, St. Roch Church and Palais Royal. Expect vibrant conversation, lots of details and anecdotes as Monsieur Vibrac evokes the fascinating and tragic fate of the genius that was Wilde. From Oscar's first trip in 1883, when he met Victor Hugo and Marcel Proust, to his final Paris visit, where he found refuge at the Alsace, following his years of hard labour in prison.
After this exciting and emotional walk it's back to L'Hotel, for lunch by chef Julien Montbabut in the chic Jacques Garcia decorated restaurant. Oscar would love it.
"In the Footsteps of Oscar Wilde" includes:
1 hour 30 minute Wilde guided tour and Lunch.
85€ euros per person
Resident or non-resident book ahead on:
01 44 41 99 00
L'Hotel & Le Restaurant
20 Rooms/4 Suites from 225€
13 rue des Beaux-Art, 6th
T : 01 44 41 99 01
M : St-Germain des Prés,
Restaurant shut Sun-Mon
Lunch 45-55€ Dinner 110/180€
A La Carte 98/139€
Buddha-Bar Cloud 9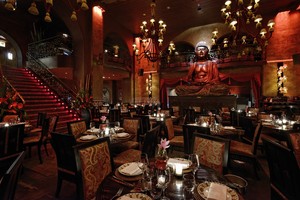 18 years since the original BB concept by the late, great, Raymond Visan who created, with Claude Challe, the zen Buddha-themed bar/restaurant/ with oriental style 'lounge' ambience" showcasing great Asian cuisine, vintage wines and funky music.
The Golden Book is signed Jagger, Naomi Campbell, Bill Clinton, Carla, Sarko & Co.
Visan and Challe took a disused antique furniture depository, just off Place de la Concorde, transformed it into a two-story zen space dominated by a large statue of Buddha. The rest is history.
Love it or loathe it, there are now Buddah Bars world wide. "Each with its' own identity" explained Brand Manager, Grégory Dausse and Franck Fortet Vice President Development of George V Entertainment one day last week.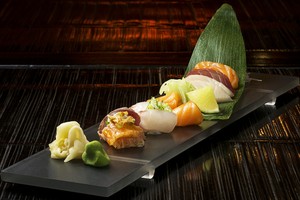 Begin with a Monacopolitan cocktail, then order Executive Chef  Eric Rousselieres' delicious Salade de Poulet Buddha-Bar, Rougui Dia's Gravlax de Saumon Combava Chef Nakbayashi's masterful Sushi with spicy mango sauce, California & Sashimi rolls. If you're a supermodel and skip dessert, nibble signature Allumettes Croustillantes au Chocolat and Sesame, because you're worth it.
In Paris, not only Buddha Bar but, across the Faubourg, Buddah Bar Hotel, alert readers will recall this.
You get the picture, it's an exciting experience, Here's to the next 18 years. Onwards in peace and love.
Buddha-Bar Restaurant/Bar,
8/12 rue Boissy d'Anglas, 8th
M : Concorde
T : 01 53 05 90 00
Open 7/7
What's Behind the Green Door ?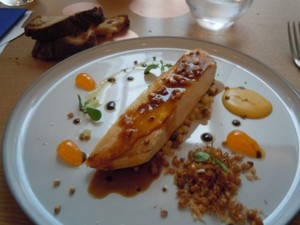 Porte 12, open since 12 September, located in a former lingerie factory. Minimal open kitchen hip decor, read, copper corset shaped chandeliers, by RARE, Ligne Roset pieces, upstairs mezzanine for wine/beer/cider tasting, post dinner digestifs.
Wearing the whites, chef Vincent Crepel (ex-Philippe Rochat, Crissier, Suisse : Restaurant André, Singapore). Heading the salle, wine specialist/sommelier Thibault Passinge, (ex-Ducasse at The Dorchester : Australia ) creating « it's all about the terroir » wine-pairings.  Here's the perfect Paris playground for market driven produce that rocks to the rhythm of the seasons.
Starters include : Thin sliced raw Chinchard (scad, mackeral like fish used in Phillipine cooking) sits on top of soft Ratte de Touquet jacket potatoes, a drizzle of smoked basil, glass of 2013 Domaine de l'Ecu Muscadet Sevres et Maine « Granit ». A main, Landes chicken tells the story of the little red hen, with maîs, grains, the plate punctuated with mini egg yolks.
« Port 12 », say Crepel (from the Basque region) & Passinge (from Lyon) represents the memories of our world travels and experiences, we've both gone full circle and are very excited to be back home ».
Porte 12
12 rue des Messageries, 10th
M : Poissoniere (Line 7)
T : 01 42 46 22 64
Shut Sun-Mon
Lunch 28-35€
Dinner 58€-65€ + wine pairing option 30-35€
Big (Normandy) Apple (s) :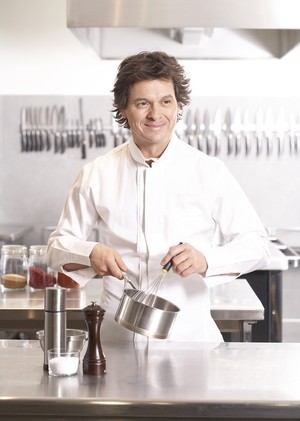 Celebrating La Fête de la Gastronomie super-chef Guy Martin hosts « open-house » at his Hôtel Particulier, L'Atelier Guy Martin, with an apple themed afternoon.
Saturday 27 September between 14-18hrs.
Leave a reply
Your email address will not be published. Required fields are marked *