Where to Eat in Paris in December 2022
"I can't, I don't want to, stop! First of all, I don't know how to do anything else. I have  one desire: to continue. I'll never stop, until the end at the crematorium: I just pray I won't be overcooked!" – Guy Savoy on reaching 70.
December is a month of feasting and celebration in Paris. Eat, drink, enjoy, repeat… Looking for the perfect table? From burgers to meals with a view, here's the latest restaurant news for your foodie fix.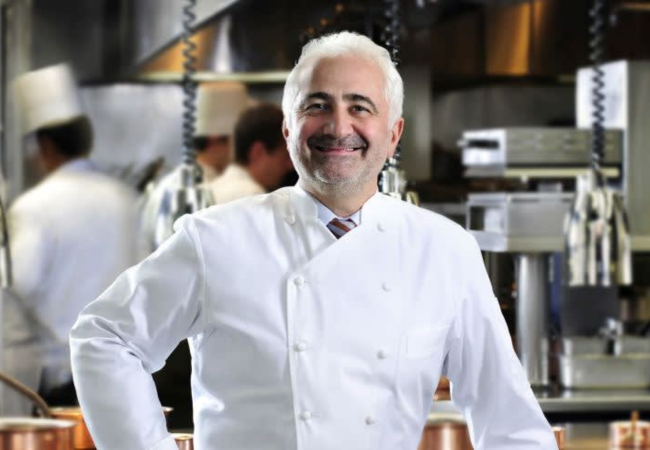 Having hosted the pop-up restaurant ADMO (Alain Ducasse at Musée d'Orsay) for 100 days, the restaurant Les Ombres, Quai Branly – Jacques Chirac Museum has a new look.
Perched on the roof of the museum, the restaurant opens onto a panoramic terrace with mesmerizing views. Here Alain Ducasse combines the three components of his culinary philosophy: Mediterranean, Modernity and Naturalité. Read all about it in his book.
Discover, say: smoked beets cooked on an olive wood brazier, dancing with a vegetable tartar sauce to which the chef adds mineral-rich orach leaves and full-bodied red onion juice; San Remo gamberoni, with squash sofrito, pan-roasted squash, squash seed jus, a touch of shredded pomelo and gamberoni coral emulsified with chili paste. Wow!
The team in Les Ombre's kitchen include Executive Chef Rui Martins, Chef Alexandre Sempere and pastry Chef Jérémy Schotte. In the dining area, the perfect ambiance is created by Siham El Qit and Sid Ahmed Bouhizeb, who know a thing of two about hospitality.
Alain Ducasse explains: "At Les Ombres, I want to share the synthesis of who I am today. I've had a rich and passionate culinary career during which I have celebrated  the Mediterranean region, chiseled contemporary French cuisine, and created Naturalité. Now, we'll combine these three in a restaurant that showcases my original DNA."
"Les Ombres" Lunch from €58-€158 + wine from Monday to Friday. Dinner: 5-course (€128), 6-course (€158) and 8-course (€188) menu. The restaurant is open every day, for lunch and dinner.
Musée du Quai Branly-Jacques Chirac
Metro: Bir Hakeim
Tel: +33 (0)1 47 53 68 00
Casimir Mahoudeau already helms the superb Le Camondo restaurant, an olive stone's throw from Parc Monceau. Now he and Theodore (ex Monsieur Bleu) present… Alfred, Paris. The restaurant is named in homage to Alfred de Musset (1810-1857), the writer and former resident on rue du Mont Thabor. "Take love as a sober man takes wine; do not become a drunkard," he wisely wrote. Alfred immerses its visitors in a warm, Parisian atmosphere.
On the menu, you'll find classics of French cuisine revised, lightened and corrected by chef Alexia Duchêne (whom you remember from Alain Ducasse's Allard Brasserie). A few examples: radishes with flavored butter, terrine, Spanish style "pan con tomate" made with French anchovies or crunchy vegetables as appetizers. Then there's egg-mayo, topped with big-leaf lovage and/or trout eggs. The pepper steak is perfectly smoked with hay and whiskey. Turbot for two. Buckwheat gnocchi and candied lemons. A very chic Croque-Madame with Reblochon cheese. For dessert, the white dunes and pistachio chocolate mousse.
The trolley makes a stylish comeback here, shimmering with digestives and full-bodied alcohols – to end your meal in style. Alexia says her recipes invite sharing/or not!
Excellent products from small artisan producers include our chou-chou Terroirs d'Avenir. The catch of the day respects the seasons. All of this to discover in an interesting, Musset-inspired décor created by Necchi Architecture.
"We want guests to sit down and toast, in good company, the end of 2022 and the beginning of 2023." We'll drink to that!
Average spend €42 + boissons
8, rue du Mont Thabor, 1st
Tel: +33 (0)1 40 26 46 27
Metro: Concorde
Open at lunch & dinner from Tuesday-Saturday
Overlooking Pont Sully and Ile Saint Louis, this new restaurant is a spectacular "turn on" addy by Paris Society, the restaurant/hospitality company with the mission statement: "we specialize in the amazing." Bonnie is located on top of the recently opened SO/Paris Hotel, which offers 162 rooms and suites, a pool, and fitness facilities within the David Chipperfield-designed building. From the Bar/Restaurant /Club you will gaze in wonder at the views, but also at the magic mirror ceiling by design maven Olafur Eliasson. Dishes are French with a New York/international twist as in: Lobster Rolls, avocado, Mayo (€28); Truffled croque Monsieur (€18); Truffled (well it's the season, n'est ce pas?) beef ravioli, mushrooms, foie gras (€24); Lobster Salad (€48); Luscious roast scallops, black rice, pumpkin (€46); Tender veal chop (2 share/or not) french fries, bearnaise sauce (€52); Mac n'Cheese (€18); and the Vegetable tian, céreals (€26). Desserts include honey roasted figs served with speculoos ice cream (€18) and Bonnie's Cheesecake (€16).
Look no further, here's your super-chic spot for New Year's Eve dinner. (€150 per person.)
10 rue Agippa d'Aubigné, 4th
Metro: Sully-Morland
Tel: +33 (0)1-78-90-74-74
Père & Fils by Alléno unveils the Empereur 2.0 burger during Paris Burger Week (through December 11). To snag the "best burger in the capital" award, Père & Fils chefs designed a brand new burger "Emperor 2.0" specially for the occasion.
To tickle your taste buds, Yannick Alléno together with Head Chef Anisa Usmanova present a new, exciting, Japanese inspired recipe. Read: an ode to travel.
The Emperor's ingredients are: Normandy beef marinated in soy, spiced up with a magic mix of ginger and garlic, wrapped in a delicate sheet of shiso tempura and served with a delicious neo-mayo on delicious housemade bread.
To match, Alléno suggests the bold structured Couronne de Chabot "Saint Joseph" white from Alléno Chapoutier.
For the second edition of Paris Burger Week, the song remains the same: each competing establishment offers its own burger recipe, which will then be tasted and voted for by the public.
The Emperor 2.0 burger is priced from €17 – menu formula from €21
You can vote here for Paris Burger Week.
Beaupassage, 53-57 rue de Grenelle, 7th
Metro: Rue du Bac
Open 7/7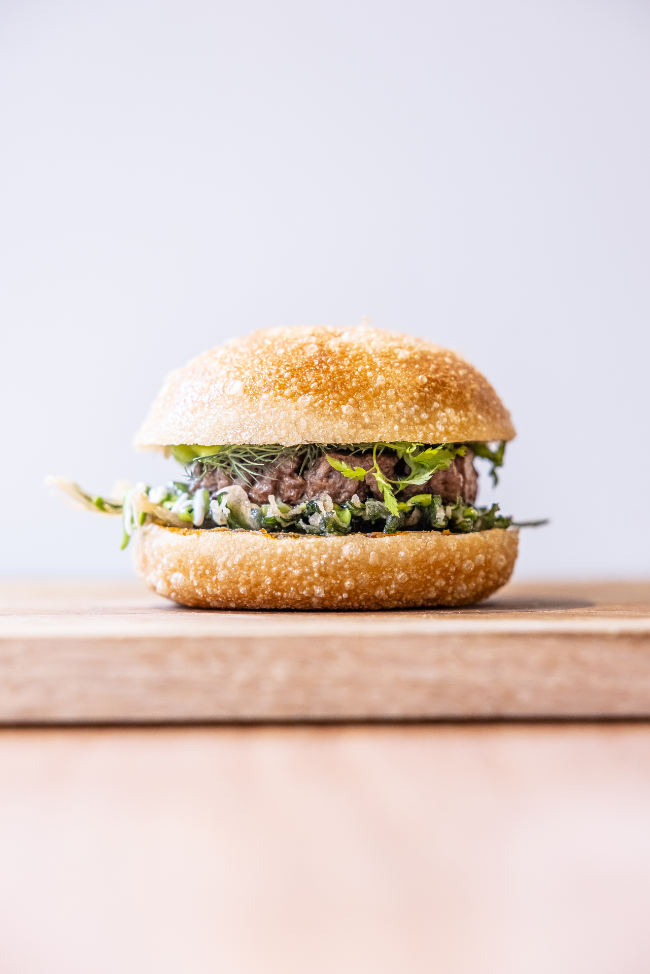 L'Association pour la Sauvegarde de l'Œuf Mayonnaise (ASOM)
Grégoire Simon, chef of Le Grande Brasserie, situated at 6 rue de la Bastille in the 4th, wins this prestigious prize. Simon's super simple recipe with mayo eggs placed on celery remoulade will soon feature on GB's menu. On the podium, in second position: a chef from Vaucluse, Jérémi Fontin and his Atelier du Jardin, a veritable Garden of Eden. The bronze medal goes to another Parisian, Thomas Plazol, who runs the Boucherie Bidoche in the 11th. A total of 12 chefs were in the running.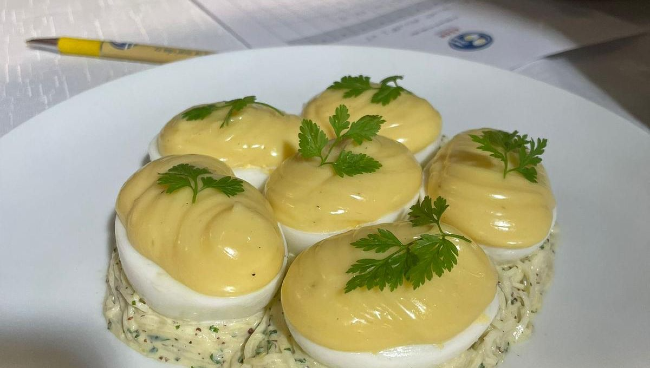 For the end-of-year celebrations, the iconic brasserie LIPP, HQ for left-bank influencers, and the likes of Kate Moss, Jean Cocteau, YSL etc., team up with brand Maison Labiche, who have three boutiques in Paris and online. On the menu for the festivities, a white cotton T, a seasonal must-have from Maison Labiche's collection and which asks – "Waiter, please?," verbal banter and play on this classic Parisian brasserie. The second T plays the tasting card, in the figurative sense with: "A table in paradise, please!" embroidered on the heart. Lipp was launched in 1880 by Leonard and Pétronille Lipp. 142 years later, Lipp x Maison Labiche celebrate their mission to promote "ze French art of living" in all its contemporary glory.
Season's Greetings, see you on the other side!
Last but not least, I'm highlighting a cool new offering that's one for the holiday wish list…  Forget ski hire! Treat yourself this year to the Bomber Pro Carve skis, developed and designed with a racing construction for 100% piste skiing. Handcrafted from top quality materials, the Pro Carve is designed for unparalleled precision, grip and stability on groomed trails. Read Val d'Isère, Megève, Verbier, Courchevel. Made with all-wood core and sandwich construction, ensuring an extraordinary degree of balance, stability and consistency. Bon Ski!
Pair of skis: €3,100. The cool collection is available on the e-shop.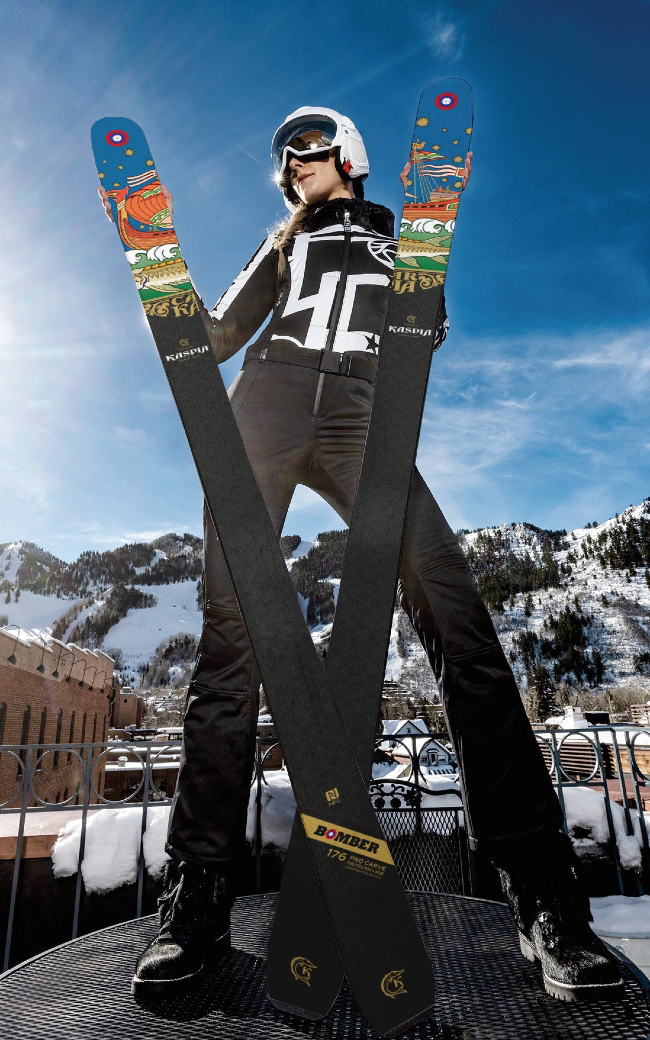 Lead photo credit : Bonnie. Photo credit: Romain Ricard.
More in Alain Ducasse, alfred, ASOM, Bonnie, Brasserie Lipp, Caviar Kaspia, food, Guy Savoy, Les Ombres, Maison Labiche, Pére & Fils by Alléno, restaurant news
---
---