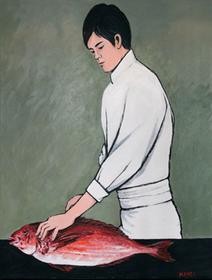 « So I cooked my own food », grins Toyo. With two young chefs, behind the counter, of his attractive minimal space, his post is the plancha at the end, very shy he watches diners reactions to his dishes, usually it's thumbs up, but if something is not perfect you get the impression he'll vanish in a flash and give himself a karate chop.
« I only ever wanted to cook », he reflects. From Ecole Hôtellerie, Osaka, Toyo went to Kobé and honed his skills at the, now closed, Restaurant Jean Moulin then, in 1994, came to France and worked at Issé, rue Saint-Anne, then with Tony Vianello at the fabled L'Osteria. « Where I learned the secrets of gnocchi »
At Issé he impressed one of the clients Kenzo Takada, fashion designer and founder of brand Kenzo, so much he asked him to chef for him, and Toyo became private chef to the couturier, in his magnificent Hôtel Particulier near the Bastille, for ten years. « It was a fantastic experience, the kitchen was small, but the wine cellar was very big ! I cooked for 100 people or 10, and always on Sunday a brunch with Kenzo's favourite pancakes !
In the préface to « Toyo, Cuisine Parisienne Saveurs Japonaises » Kenzo Takada writes :
« Toyo's ambition was always to base his career on classic French cuisine, he's fascinated by Escoffier…. Toyo's a man of loyalty and talent whose cuisine is delicious, raffiné, elegant I begged him not to leave ! » Don't be surprised to see the couturier sitting in the corner, opposite Toyo's plancha.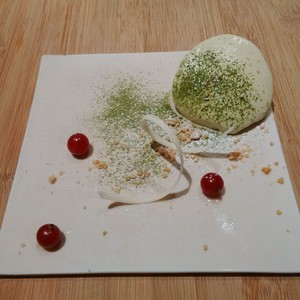 Begin with a glass of saké or Asahi beer. Be guided by Pierre-Edouard and Jean-Philippe who will guide you through the excellent wine card, suggest pairings to go with say : Poulpe grillé : Velouté de céleri rave et moules de bouchot : the glam sandwich caviar/oursins : Saint-Jacques, gnocchi et boutargue : Mains include, Curry façon Toyo, lotte panée : Paëlla Japonaise : Homard, sauce Vegetale : and for beefies : Faux-filet de bœuf juste saisi. From the dessert list, don't hesitate, choose Toyo's spin on Tiramisu au thé vert.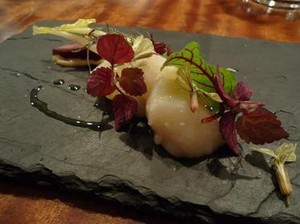 Bread by Eric Kayser : Monsieur Bordier's seaweed butter : Meat from Hugo Desnoyer : Veg from Joël Thiébault and Japanese products from Workshop Issé.
So, Toyo's restaurant, launched in 2011, a fusion of the best of Japan and France, with a touch of Italy and Spain, is a reflection of Toyo's travels, « a voyage de gôuts inextricablement mêlés », says author and foodblogger Chihiro Masui. « Une rencontre de l'Est et de l'Ouest dans chaque bouchée ».
As you walk in check out the edgy painting of the chef – it's signed Kenzo.
Need to know :
If you're a dish on your menu ?
« Homard et Bouillon »
A tip from your kitchen ?
Don't waste ! Some of the tastiest dishes are made from left-overs ! For example transform a bouillabaisse, prepared yesterday, into a base for a curry or a bon pot-au-feu.
How do you keep fit ?
« Judo, I'm a black belt ! And I jog or cycle every day in the Luxembourg Gardens »
Your favourite addresses to eat with your wife Yoko ?
« Wadja : Ze Kitchen Gallery : Astrance : Anywhere they cook classic Escoffier dishes »
Next Summer ?
« Return to Japan to cook with my friends and maybe Granada, Spain »
TOYO
17 rue Jules Chaplain, 6th
M : Notre Dame des Champs/Duroc
T : 01 43 54 28 03
Shut : Sunday and Monday lunch
Lunch 39-49€
Dinner 95€
Menu Carte Blanche 125€