The Real Chef Behind 'Emily in Paris' and More Restaurant Buzz
"To eat is a necessity, but to eat intelligently is an art."
— François de Rochefoucauld (author, 1613-1680, born and died in Paris)
The chef behind season 3 of "Emily in Paris"
Have you binge watched the latest Netflix series? Before, or after, going out to lunch/brunch/cocktails/dinner? You're not alone…
Parisian born actor Lucas Bravo plays Gabriel the "hot chef" at the bistro where Emily & Co. eat and hang out. He's also her downstairs neighbor and sometime love interest. But, do you know which chef is hiding behind the marvelous menus served in Paris and Provence in season 3? It's Thibaut Spiwack, Michelin Green star and Top Chef 2022 competitor. "Spiwack skillfully and cleverly showcases produce with a firm emphasis on sustainable development and the desire to rock the culinary applecart," notes the Michelin Guide of Spiwack's eco-friendly Boulevard de Batignolles canteen.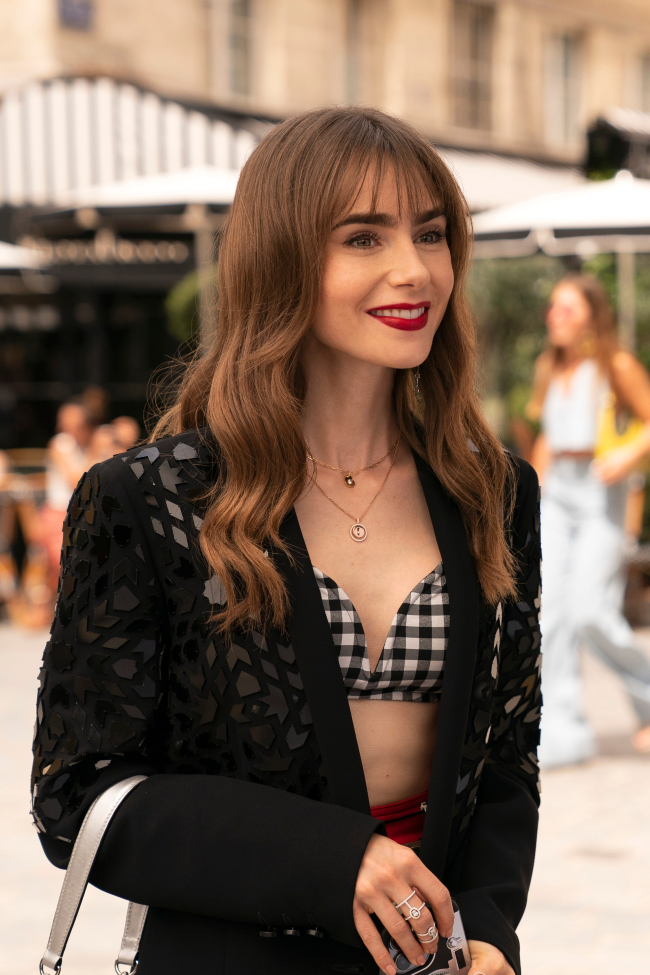 The imaginary "Spirit of Gigi" menu was designed in close collaboration with the production teams, paying homage to the Normandy origins of Gigi, the fictional Gabriel's grandmother, presenting visually sublime dishes such as:
– Flower tart, Pont l'Evêque mousse with Isigny cream.
– Normandy garden, earth emulsion, pear condiment, Calvados saffron.
– Shellfish served warm, brioche roasted like meat, mousse and marinière jus.
– Creamy gingerbread, camembert ganache, burnt opaline with Pommeau.
– Candied toffee apple with peppers, honey compote, pollen.
– Teurgoule (Normandy style slow creamy, dreamy, baked rice pudding, milk jam) "from grandma Gigi's recipe."
Any comparison with Jean Imbert and his Mamie is purely coincidental!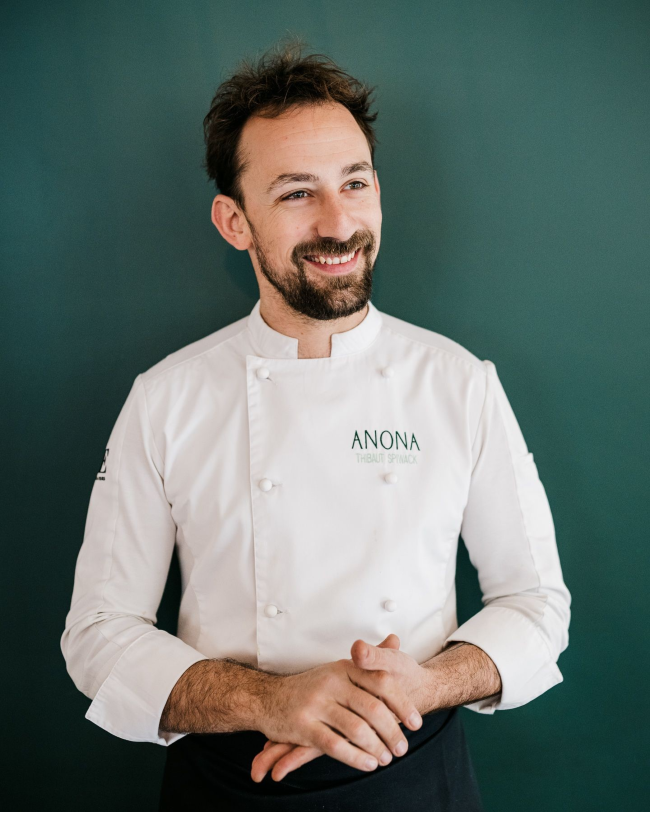 By the way, if the starring actor's name sounds familiar: Lucas Bravo's father is former footballer Daniel Bravo who played for PSG (Paris-Saint Germain). Lucas's favorite restaurant is La Cantine du 18, Montmartre his favourite walk's in the Park Buttes Chaumont.
Other excellent eateries showcased in season 3 include: Le Jules Verne, Café Marly, Breakfast in America, La Maison Rose, Café de Flore, Ralph's and La Boulangerie Moderne.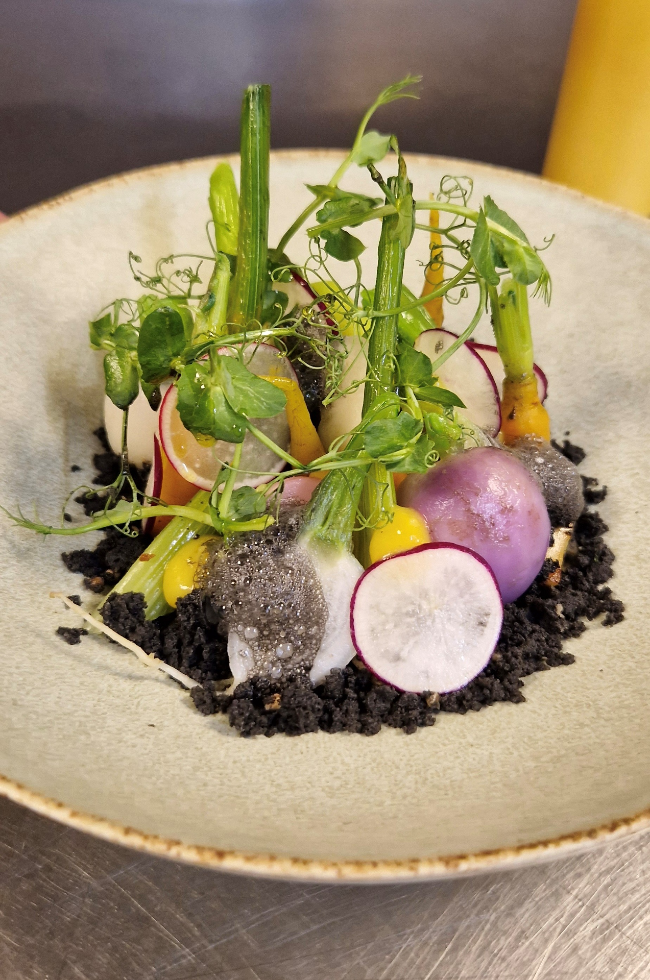 La Traboule bistros have their origins in Lyon. The word "traboule" designates the narrow passageways that cross houses and courtyards. "With the shape of our space, we couldn't name our restaurant anything else, could we?" says Italian chef Francesco Fezza.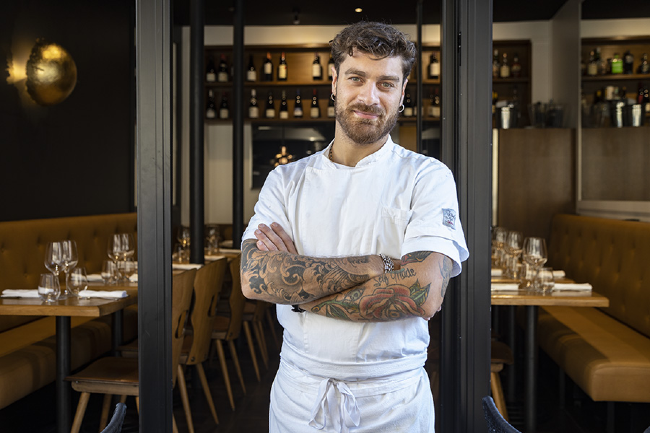 Combining the France-Italy-Japan triumvirate, "the world's three great cuisines", Rezza sends out from his tiny cucina (respecting the seasons, bien sûr):
– plump scallops gleaming with Roscoff onion sauce, shitake.
– cuttlefish tagliatelle, herring roe, salted lemon, avocado.
– lobster cannelloni topped with yellow wine lobster sauce, yellow courgettes.
– Gillardeau oysters No. 2, Ginger beer, green apple, celery granita, oxalis.
Mains include 30-day matured beef and potato millefeuille, or chef's signature sweetbreads revised and corrected for 2023 with cime di rappa (broccoli rabe), Greek yogurt, kaffir lime. Match with red Bourgueil Epineuil AOC Domaine Gruhier 2018 (€48) with notes of blackcurrant and wild strawberry or try the flinty, refreshing Bourgogne Aligoté AOC Domaine Larue 2021 (€35). For dessert, don't miss the miso ice cream chocolate crumble, served with coffee cream. Here's exciting bistronomy as its best.
DETAILS
Lunch from €29
Menu La Traboule €39
Tasting Menu from €59
27, rue de Pentievre, 8th
Metro: Miromesnil
Tel: +33 (0)1 42 56 27 32
Closed Sunday
One Paris evening (1986), we had a table booked chez L'Archestrate (on the corner of rue de Varenne, 7th) where chef Alain Senderens was chef. This genius was credited by Le Figaro as the inventor of food & wine pairings and dubbed the "Picasso of French cuisine" by other publications.) Arriving at 7:30 p.m. there was nobody in the Left-Bank dining room. A young chef came out of the kitchen, drying his hands on a white tablier. "Bonsoir," he said. "I'm the new chef/owner. Monsieur Senderens has taken over a bigger space on Place Madeleine (Lucas Carton). I'm renaming my restaurant Arpège." Looking nervously around the empty salle, he added: "I completely understand if you don't want to stay."
"No question," we replied together. "We'll be your first clients, then when you snag three Michelin stars, we can boast about it!" The rest, as they say…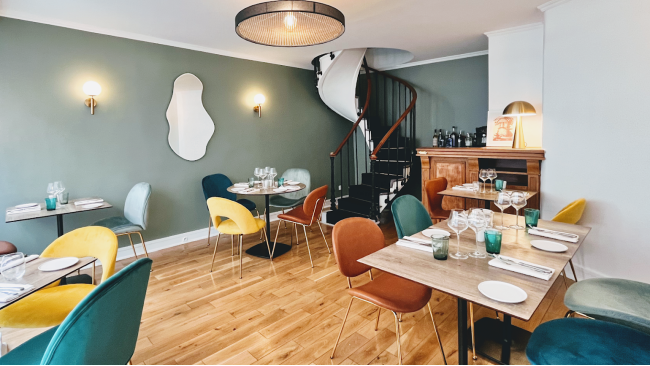 Recently young chef (ffe) Shirley Duthilleux opened a neo-Archestrate, on rue de Bourgogne, in the former bistro Savarin La Table. "Archestrate of Gela or Syracuse was an epicure and poet in the 4th century BC," Shirley explains. Inspired by both Archestrate and the late great Alain Senderens (1939-2017), Shirley Duthilleux's tiny space, with sympa 50s-style decor in the dining room, is just an olive stone's pitch from the former Archestrate – still housing Alain Passard's beloved ***Arpège.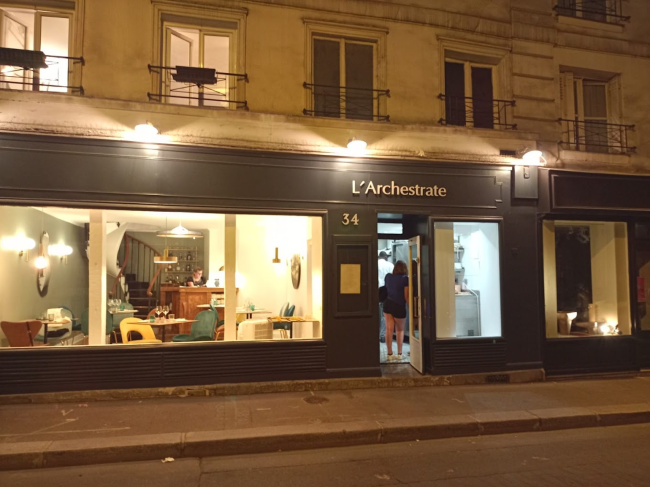 Here are a few of the recent, perfectly seasoned and original dishes:
-paté en croûte terrre/mer, a touch of quince.
– soft bio egg, corn, clementine, hazelnuts.
– celery root, Ethiopian coffee, wild mushrooms. 
– scallops, Jerusalem artichokes, blackcurrants, chestnuts.
– roast chicken roasted with pomegranate and beetroots.
– veal roasted, parsnips, cabbage, sorrel.
To clean the palate, try a tasting of Comté cheese and/or the Pumpkin, Madagascar vanilla dessert with blackberry.
"Take a trip into the future while looking at the past," suggests Shirley.
Definitely one to watch.
DETAILS
34 rue de Bourgogne, 7th
Metro: Varenne
Tel: +33 (0)9 50 58 42 91
Lunch €49
Dinner €69 with wine pairings + €20
A La carte: starters €16, mains €32, desserts €13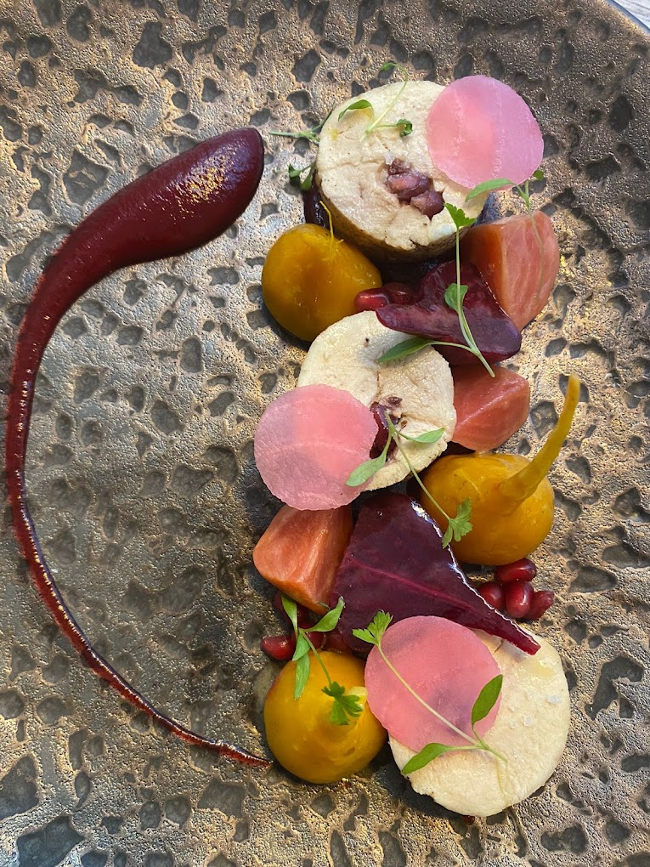 Located between rue de l'Arcade and rue Pasquier, punctuated by the charming passage Puteaux, the Hôtel Royal Madeleine (since 1976) struts the serenity of a bourgeois maison in the beating heart of Paris.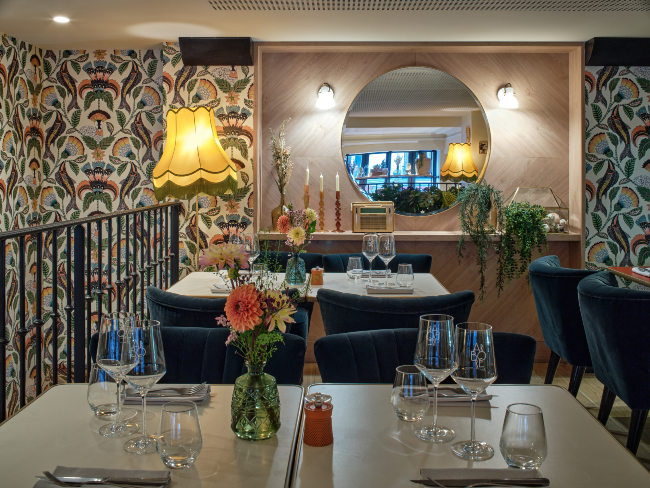 It's a family affair; the hotel's present director/owner Coralie Legrand, took over from her parents and worked in collaboration with interior designer and decorator Marie-Paule Clout of Agence Noir Nuance to preserve the history of the 19th century building. The result's a chic 59-room hotel and spa with bucolic gardens.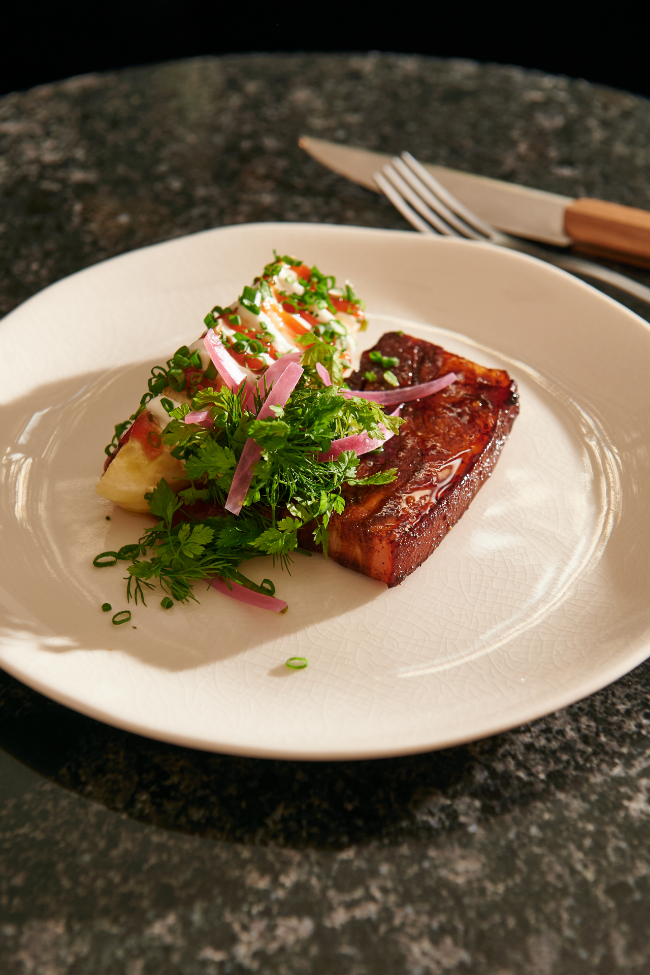 Under a skylight, the spacious Arboré restaurant rooms are named for the lemon and orange trees dotted throughout the hôtel. Marie-Paule Clout wanted to create a "pleasant space…between romanticism and chic country house."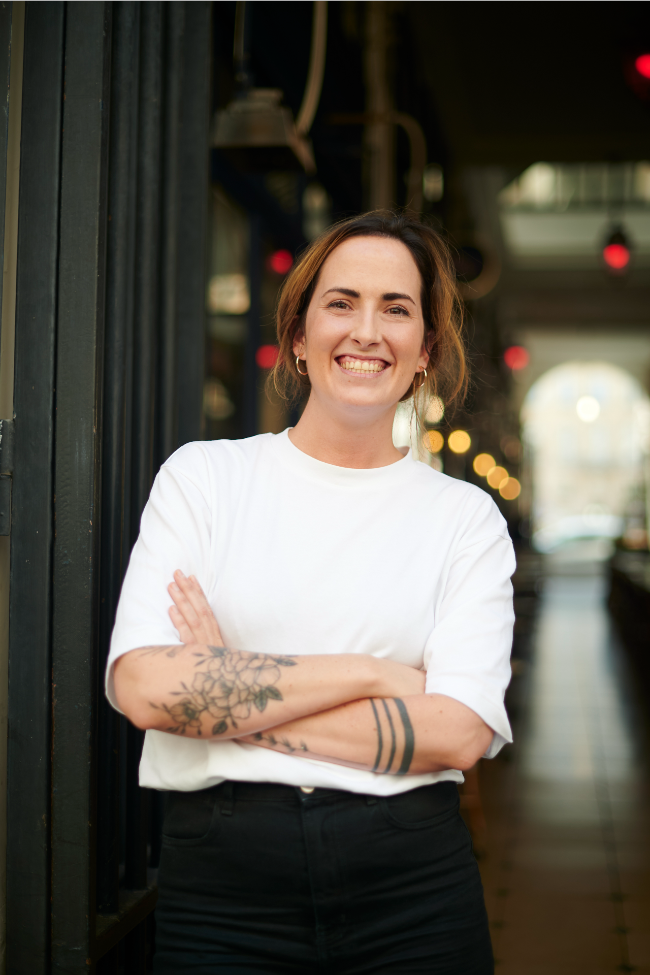 Young cheffe Pauline Séné (you first spotted her talent on Top Chef 2021) was formerly at the now shuttered Fripon in the 20th arrondissement. And, before that, cheffe put in time between starred kitchens such as Laurent, L'Auberge Basque, Cobéa and bistrots Sémilla and Le 52. "These kitchens forged my culinary identity," she explains. Pauline admits she likes to draw inspiration from the French classics while imposing her instinctive style using flavors from around the world.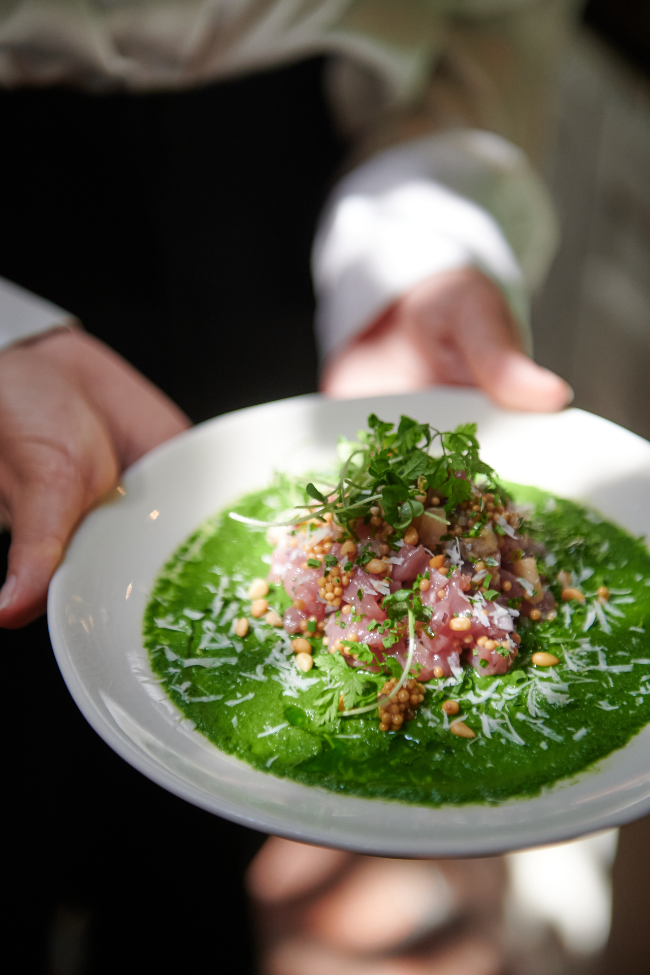 There's a light, bright starter of veal tartare, smoked herring, parmesan, mustard and pine nuts. Main events include lemon and harissa shoulder of lamb, tabbouleh and mint yoghurt. Or, grilled cauliflower, mussels, chorizo and corn cream. And desserts: fragrant lemon curd, mascarpone, meringue, Breton shortbread, coriander sorbet. Sharing dishes from €9. Starters from €12. Mains from €22 and divine desserts from €10.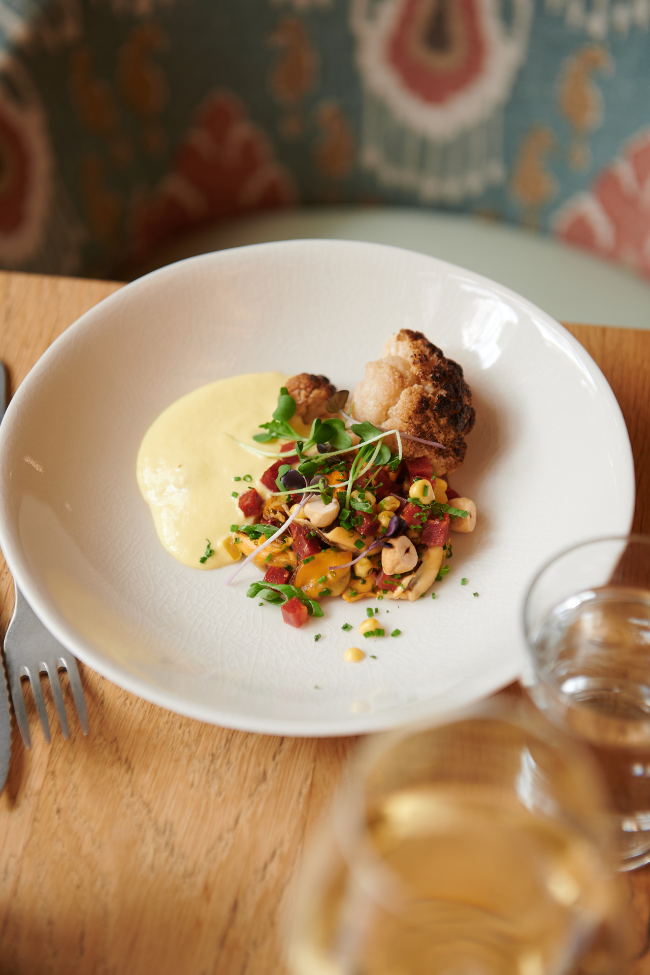 Excellent vibes and cocktails (from €11) at the bar – open 7/7 from 5 p.m. until last orders at midnight. Arbore's wine list (from €11 a glass) by sommelier Biagio Cicchelli is an impressive homage to French terroir and winegrowers producing organic, sulfur-free wines. Here's a few wine picks: Vouvray "Le Peu Morier" from Domaine Vincent Carême (AB), Muscadet SM sur lie "Contre-courant" by Domaine Ménard-Gaborit (AB without sulfites), Fleurie "Gamay Originel" from Domaine des Grands Fers (without sulfites), Terrasse du Larzac "Les Maros" from Domaine Le Clos du Serres (AB), and an Orange Wine "Chenin Orange" from Domaine Le Rocher des Violettes (AB).
DETAILS
29 rue de l'Arcade, 8th
Tel: +33 (0)1 88 32 74 27
Metro: Madeleine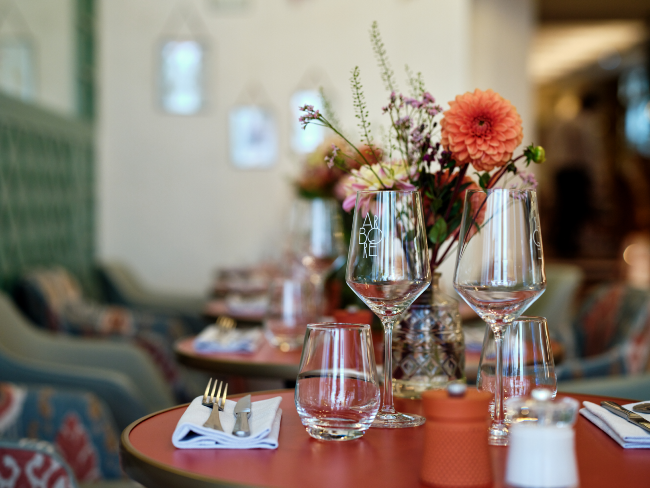 You have been warned: "In Italy, pasta is a dish – not a side dish."
Following a brilliant sunny makeover, the site of the former "Le Père Claude" welcomse a cool, Amalfi Coast-style cantina called Claudia. Choose from a host of tasty dishes from the buzzing open kitchen:
– Black Angus Beef Carpaccio arugula, Grana Padano shavings, balsamic vinegar reduction (€17)
– Vitello Tonnato, tuna sauce, confit tomato (€16)
– Burratta datterino tomato, basil, olive oil (€15.5)
– Fritto Claudia, ricotta, meat stuffed fat fried Ascolane olives (€22)
– Truffle stuffed ravioli, parmesan sauce (€21)
– Gnocchi, pesto, pistachio (€18) Osso Bucco, polenta
There are also great pizzas from €12. La Dolce Eater needs cocktails (from €12), mocktails (from €9), or how about a bottle of Montepulciano d'Abruzzo? (€32) Fantastico !
DETAILS
51 Av. de la Motte-Picquet, 15th
Metro: La Motte-Piquet Grenelle
Tel: +33 (0)9 81 15 18 65
Open 7/7 from noon- 11 p.m.
Lead photo credit : "Emily in Paris"
More in arboré, boulevard de batignolles, claudia, emily in paris, l'archestrate, La traboule, lucas bravo, quoi de neuf, thibaut spiwack
---
---