November Restaurant Buzz: Where to Eat in Paris
"You learn a lot about someone when you share a meal together."
—Anthony Bourdain
For food lovers in Paris, you're spoiled for choice when it comes to delicious dining experiences. Need some insider tips? Here's the latest restaurant news from the City of Light.
Bistro des Fables
Anthony Bourdain (1956-2018) was an aficionado (as were we all) of Christian Constant's exciting addresses on rue Saint Dominique. The late great Tony B would certainly have had an opinion as to why the former Café Constant, which became Café Lignac, has been closed since October 31st, 2023, almost two years after its launch. Lignac took over when chef Constant decided to retire. Cyril sent out traditional bistro cuisine continuing Constant's theme but removing the formula! "That was the mistake," say the locals who had their ronds de serviette and would eat and meet daily from 7 a.m.-11 a.m. (even on Sundays). So what now? David Bottreau has taken over, from Comptoir des Fables located at 112 rue Saint Dominique. "The new Bistro des Fables will open in early December," he tells us.
Delicious news. See you there!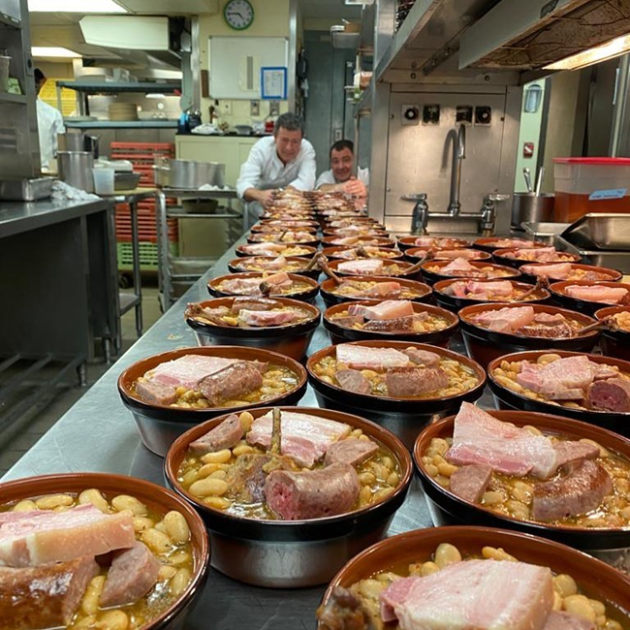 Remember Le Petit Colbert? The traditional bistro is now called Le Minet Galant, located a baguette's throw from the iconic Theatre Bouffes Parisiens. It serves neo-traditional French cuisine by chef Jérôme Jeusselin with Adrien Briot "en salle."  
Le Minet Galant refers to Feydeau's play "A Flea in her Ear." (Raymonde suspects her husband of cheating on her at the Hotel Minet-Galant. "It's a tribute to the Paris of yesteryear, the capital of parties and Vaudeville, deliciously raunchy," explain Jerôme and Adrian.   
The chic, 70-seater neo-bistro (and terrace) shows off smart navy blue benches, gold mirrors and "interesting" pieces sourced by Jerôme & Co. From the bistronomique menu begin with organic Mimosa eggs; Père Jeusse's country terrine with green pepper (Jérôme's dad is a charcutier on rue Cler); frisée salad with bacon, croutons and poached egg; onion soup with Emmental cheese; Burgundy Snails; fresh tomato Pissaladière with anchovy fillets or mozzarella; or the Shish Taouk chicken skewer and taboule, fresh herbs.
Mains include the bacon cheeseburger and fries; Salade Niçoise; grilled red tuna steak; grilled veal steak, served with thyme, shallot butter, and Provençal fried potatoes; Burgundy-style braised beef chuck; pan-fried squid and chorizo, creamy squid ink risotto; and Colbert-style sea bass, herb sauce and fresh green beans (a nod and a wink to the late great Joel Robuchon?)
Wines by the glass cost from €8, or go for a bottle of the Pinot Noir from Laurent Cognard (€45). And who can resist La Poire Belle Hélène en dessert? Average spend from €29-€66. 
DETAILS
8, rue Monsigny, 2nd  
Metro: Quatre-Septembre 
Tel: +33 (0)1 40 20 42 16 
Closed Sunday-Monday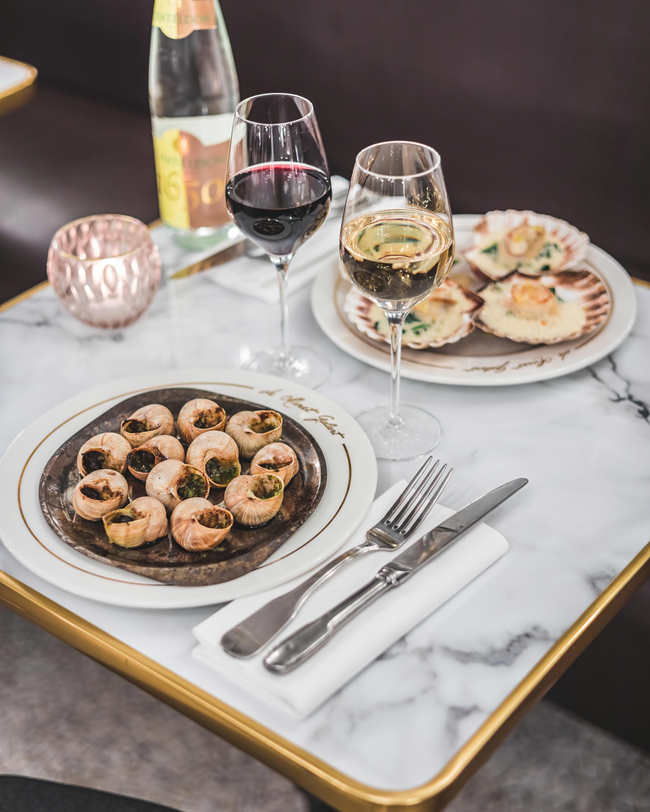 Laurent de Gourcuff, the founder of Paris Society, and the multi Michelin-starred chef Mathieu Pacaud reinvent this classic and so romantic address. The perfect pink mansion (off the Champs Elysées) was originally a hunting lodge for Louis XIV, then, during the French Revolution (1789-1799) a dance hall. During the reign of King Louis Philippe (dubbed "the Citizen King) new plans were created for city improvements and the pink mansion was restored by architect Jacques-Ignace Hittorf at the same time as he designed the Champs Elysées! When it became a restaurant the third owner gave it his own name "Laurent". What goes around… Now Laurent de Gourcuff continues the magic.
Order a cocktail Atomic Margarita (€25) and toast the good news that the pretty pink villa, which has hosted the great and the good for decades, is set to light up the Golden Triangle once again. The divine décor's by Cordelia de Castellane, Paris Society's Artistic Director. In the newly painted cuisine, Mathieu Pacaud's dishes will delight – as will the impeccable Laurent classics such as Blue Lobster Salad, Crispy Langoustines with basil leaves, Spider crab/Fennel Jelly, and toujours Le Dessert Trolley. Long live Laurent (the restaurant and de Gourcuff)!   
DETAILS
41 avenue Gabriel, 8th 
Metro: Champs Elysées Clemenceau 
Tel: +33 (0)1 42 25 00 39 
Closed Sunday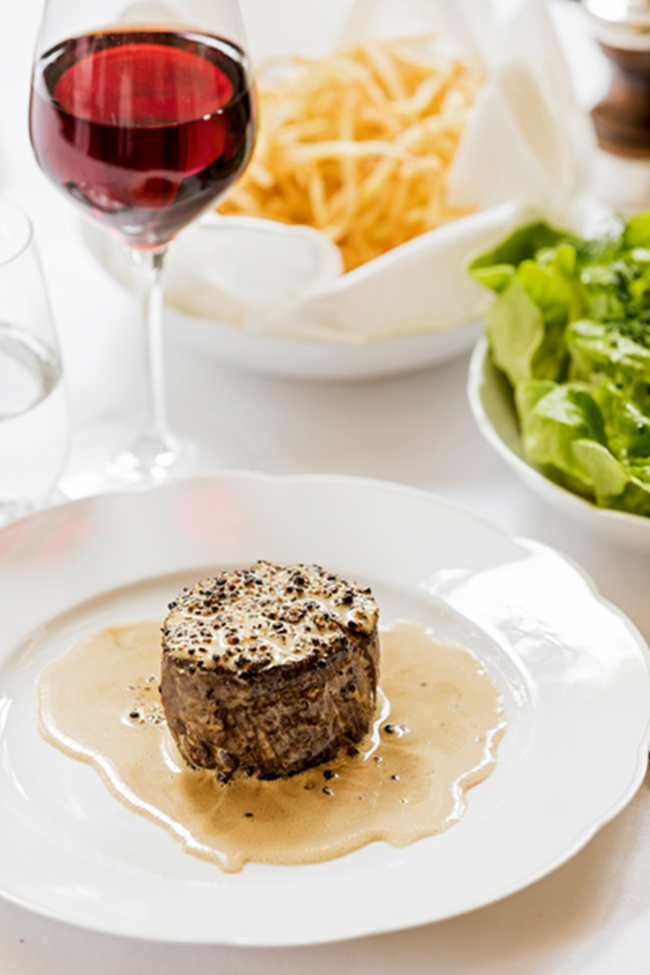 That's what we love about France, they worship at the alter of the protein-packed but humble egg! The Hexagon even has a competition for the best Oeufs en Meurette (poached eggs covered in a rich red wine sauce with lardons, mushrooms and onion – a traditional dish in Burgundy cuisine). This year's winners include Paris chef Jean Sevegnes. Fourteen chefs competed for the prestigious title "World Champion of Oeuf en Meurette" at the romantic Château du Clos de Vougeot on October 15, 2023. Bravo! Eggsellent news!   
DETAILS
Discover, or rediscover, the iconic dish by Jean Sevegnes (€16) at: 
Café des Ministeres, 7th 
Metro: Assemblée Nationale
Tel: +33 (0)1 45 33 73 34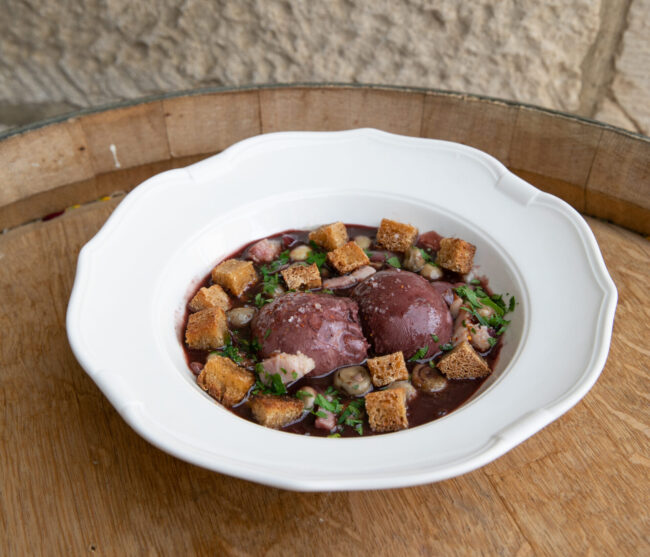 An incredibly imaginative and exciting concept has debuted in the MK2 Bibliotheque cinema. This underwater "speakeasy" is an idea by the young Ephemera group. Jade Frommer and Annaig Ferrand, who met at Institut Paul Bocuse, have the mantra: "We Make Undersea Restaurants." They took the plunge with the backing of Xavier Niel, the French billionaire entrepreneur, owner of telecoms giant Iliad, partner of Delphine Arnault, the Dior CEO, daughter of you know who.
Loris de Vaucelles, the young chef and co-founder of Ephemera Group, formerly worked at Institut Paul Bocuse then chez Thierry Marx and Sylvestre Wahid. Given the undersea strategy, the menu unsurprisingly gives pride of place to marine products, with a focus on sustainable fishing. Examples include: octopus with cauliflower (€16); trout with herbs (€13.50); plaice, beetroot and eel (€22); sea bream and cockle tartare (€26); pollock burger (€20); curried pollock (€17); sea bream ceviche (€19.50).
There's also a Little Sailors Menu priced at €13.50. Cocktails/mocktails start from €7. Interesting wines include Pic-Saint-Loup from Languedoc (€9-€37). Staying open until the end of the year, the 100-seat space with then be dismantled and set up in another French city. BTW this is not Ephemera Group's first venture, they launched two venues in Lyon's Part-Dieu shopping mall. One paid tribute to Tim Burton's Charlie & The Chocolate Factory, the other themed on Athera, The Enchanted Forest. Fascinating! A suivre…. 
DETAILS
160 Avenue de France, 13th 
Metro: Chevaleret
Open 7/7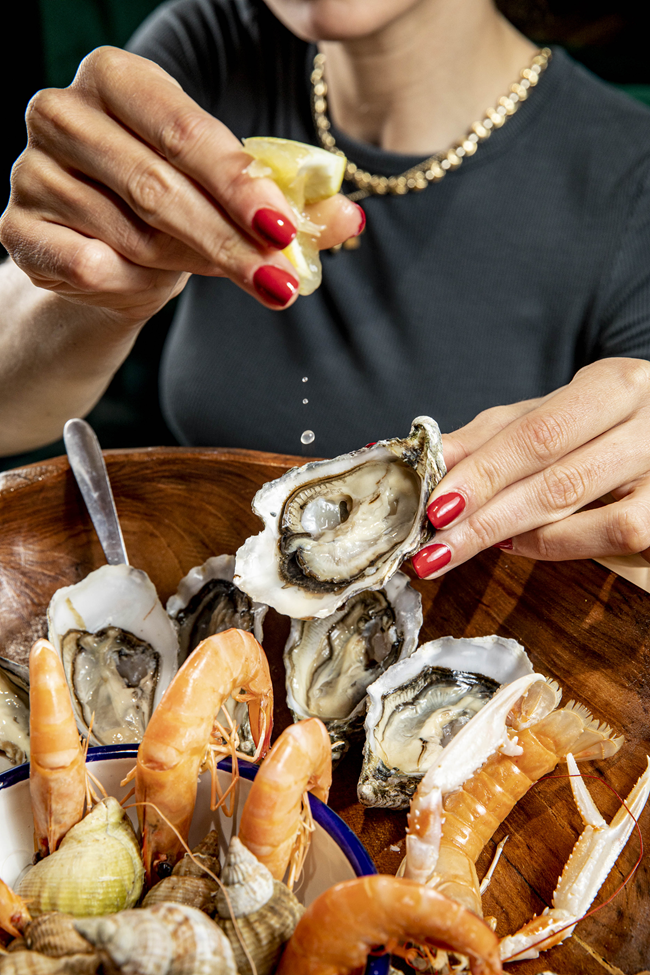 You love the boutique; now the best cuts of meat are cooked in the kitchen of the master artisan butcher shop for lunch from Tuesday to Saturday and Thursday evenings for dinner. Find the best morsels in Desnoyer's boucheries in the 14th and 16th arrondissements. The Limousin veal, Desnoyer's pride and joy, has an exceptional reputation, used by the top chefs. Available as rib, tartare, carpaccio etc. 
Lunch or dinner chez Desnoyer means conviviality, seated at a large square block table, which seats up to 10 people. Or book for two or four- either in the heart of the butcher shop or on the terrace. Choose your meat at the counter and taste it sur place; the window's full of the most beautiful pieces (Francis Bacon comes to mind). "The butcher shop of happiness," as Desnoyer likes to say.
What to expect: rib of beef or veal, "tab", tournedos, sweetbreads, beef or veal tartare with a knife, carpaccio, leg of lamb, chicken – it's an anthology of gourmet dishes where tastes and flavors are celebrated. Add blanquettes, Osso bucco, Navarin, Burgundy and seasonal specialties and the house signature dishes: veal tartare with lime and olive oil or the famous vitello senso tonnato. 
French speakers should check out Partisan Boucher, Desnoyer's opus featuring recipes to make at home, alongside precious cooking tips. A dedicated butcher who, for more than 30 years, has maintained a strong bond with his breeders. His credo: No pesticides and pasture-fed animals. 
DETAILS
From Tuesday to Friday. Starter of the day + Main course or Dish + Pie of the day (€25 – €28 + wine)  
28 rue du Docteur Blanche, 16th 
Metro: Jasmin 
Tel: +33 (0)1 46 47 8300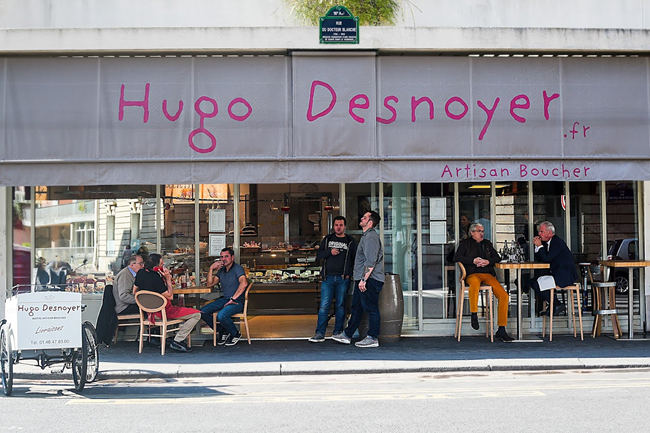 This discreet elegant restaurant and bar is in the handsome Haussmannian building housing the Sofitel Paris Baltimore Tour Eiffel. The beautiful residence was, as legend has it, the favorite halt for Lord Baltimore (a wealthy British polo playing businessman traveler) when he was in Paris. Chef Yassine Riahi tells us, "this bourgeois residence borrows its style from British clubs." 
The decor is by Michael Malapert: soft lighting, cognac-colored striped velvet benches, chic curly wool armchairs. On the tables, you'll find Ralph Lauren leather napkin rings, horse knives, memorabilia. Everything's in the details here. "We wanted to infuse it with a comfortable, relaxed and domestic Anglo-Saxon atmosphere," explains Monsieur Malapert.  
Chef Yassine suggests Lord's Cocotte Egg, parmesan cream (€14); Paris-NY Shrimps with champagne jelly (€19); mains of Very British Pie (€24), lobster thermidor for two (€110). Cap your meal with the authentic New York cheesecake (€14), or the coffee/tea with madeleine (€12). The wine list is extensive; enjoy a glass from €10 (Saint Joseph red or white). 
DETAILS
1, rue Leo Delibes, 16th 
Metro: Victor Hugo 
Tel: +33 (0)1 44 34 54 34 
View this post on Instagram
Mark your calendars for November 18-26. This sixth annual event, sponsored by Pierre Gagnaire, Olivier Poussier and Nathalie Quatrehomme, is showcasing wines and cheeses throughout the four corners of the capital, between wine bars, boutiques, bistros, top restaurants and pubs. Originally launched in New York by Jean-François Hesse, creator of Essentiel PR. "Who doesn't love cheese and wine?", Hesse enquires. There's 150 locations to discover the likes of Chablis, Mondeuse and Roussette de Savoie, and also wine/cheese pairings chez Repaire de Bacchus and the incredible fromagerie of MOF Laurent Dubois.
Sublime! Delicious discoveries – the world is your Roquefort!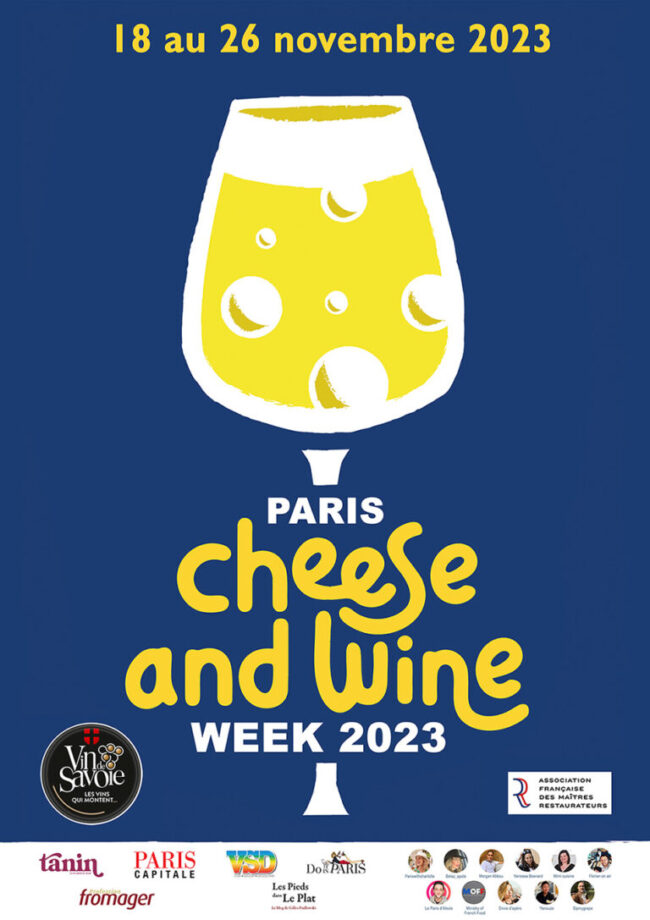 Lead photo credit : Photo courtesy of UNDER THE SEA/ Simon Detraz
More in food, Paris food, Paris restaurant news, restaurant
---
---