November News: Where to Eat in Paris
"You learn a lot about someone when you share a meal together." – Anthony Bourdain 1956-2018
Looking for a great place to eat in Paris? From the new café concept by éclair genius Christophe Adam to Frédéric Vardon's takeover of the historic Café Max, here's the latest restaurant news from the City of Light.
We know and love Le 39V high above Avenue George V: the roof terrace, chic bar, open kitchen, lovely atmosphere, delicious food. Now chef Frédéric Vardon has taken over the historic Café Max. The team, already in place under the former management, consist of chef Régis Letourneur (18 years at Café Max, formed by the holy trinity of Alains: Chapel, Ducasse and Dutournier) and, heading the salle for the last 10 years, Julio Levée.
There's a daily changing blackboard menu. Starters might include Œufs Bio Mimosa (€9), Pig's Ears (€22), Vitello Tonnato (€20); mains of Beef tartare, served with Macaroni Old Comté, girolles (€28), or the Fish of the day… For dessert, why not go for the Chocolate Profiteroles (€13) with a glass of Champagne AR Lenoble "Intense" (€16)?
Who knew?
From 1941 Café Max was part and parcel of La Résistance. Eugène Germain, the owner of the café, at the time named "Helice," was a former pilot who'd survived the First World War. At Café Hélice, Germain hosted Thursday evening dance nights with live music, which were frequented by the upper echelons of the German military. Germain and friends (also Resistance fighters) set themselves the mission of gleaning information during these soirées. As curfew sounded, the Germans returned to Les Invalides or  L'Ecole Militaire, located close by, while the brave band of Resistance fighters were just beginning their evening! First task – take out the transmitter hidden in the accordion! Then contact the services of General Charles de Gaulle in London sharing the information collected. Every Thursday, the same score… And many plots were foiled.
Café Hélice was renamed "Café Max" when Eugène Germain sold it to Valdo Riva, when he retired in 1972, to honor Max, a resistance hero who fought alongside Jean Moulin and was part of the small group of Thursday evening spies.
"I'm truly emotional and honored with the privilege that was granted to me to keep this historic, fascinating and life-loving place alive," says Vardon.
7, Avenue de la Motte-Piquet, 7th
Metro: La Tour Maubourg
Tel: +33 (0)1 47 05 57 66
Closed Saturday-Sunday
Closed for two years, the Maison de beauté Carita (L'Oréal group) reopened in early October after a stunning facelift by architects Sophie Thullier and Cristiano Benzoni.
And it's Amandine Chaignot whom Maison Carita asked to orchestrate the menu of Rosy, the new second-floor bistro.
The cheffe of Pouliche and Café de Luce is serving "Parisian cuisine using delicate and locally sourced ingredients." The short healthy menu includes vitamin, floral, and mineral notes reflecting the seasons. #BeautyHasAnAddress
Open Tuesday-Saturday from 10h-19h
11, rue du Faubourg Saint-Honoré, 8th
Metro: Concorde
Tel: +33 (0)1 44 94 11 11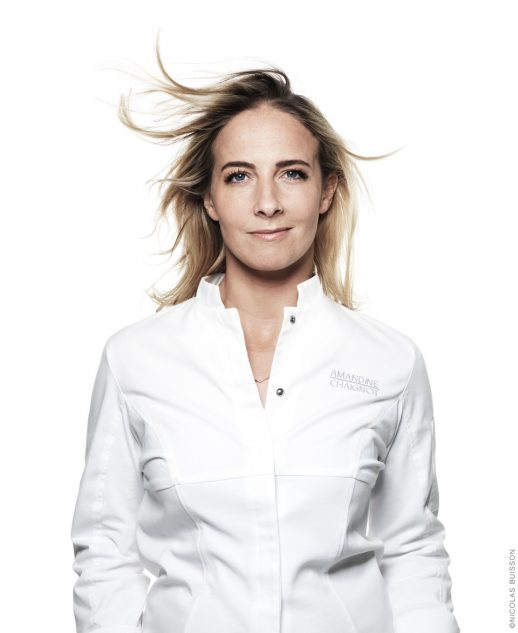 Christophe Adam celebrates the 10th anniversary of Eclair de Génie and, by popular demand, opens his first Paris coffee shop. The charismatic pastry chef says it's a unique and experimental space, throwing culinary curveballs and showcasing exclusive products – only available at this address. The pastries and savories go beyond the signature éclair concept for which the chef/génie is famous. Maybe there will be the chocolate petal and passion fruit water lilies – poured with hot chocolate they open as if by magic. And don't leave without tasting a Tiramisu Cup!
Strasbourg-based roaster Moxsa selected very special blends from Brazil and Rwanda. You'll love Dirty Coffee consisting of an espresso topped with mascarpone cream and cocoa, or pistachio latte with sitio da torre coffee, Iranian pistachio syrup and orange blossom.
122, rue Montmartre 2nd
Metro: Sentier/Bourse
Closed Sunday
The former La Locanda has been renamed by new owners in homage to Didon, the legendary founder and first queen of Carthage (we know it now as Tunisia). Architect José Pascal, Kann Design Studio and the Kanaan Workshop strut pure lines in neutral tones, highlighting exposed stone and, overhead, an eye-catching DCW chandelier.
The kitchen's visible from the dining room and is helmed by chef Erik Marcheson in collaboration with Michel Portos. On the menu you'll find interesting variations on meat, fish, vegetarian and vegan dishes (for sharing or not) with Eurasia meets the Rive Gauche flavors. Say:
Zucchini, guancamole, kalamata, Espelette pepper, drizzled with mint olive oil (€15);
Mackerel, grilled, ratatouille, smoked caviar aubergine, dashi broth (€18);
Veggie risotto, ginger, burrito sauce, tonka bean (€20);
Charcoal grilled King Prawns, smoked béarnaise, white radish salad (€36);
Rack of lamb, grilled with sweet potatoes, earthy zaatar sauce (€34).
The cheese is from Laurent Dubois and delicious desserts include raspberry pistachio cream with coco sorbet (€15). "Our wine carte is created by Stephane Derenoncourt, our dear friend, a craftsman and self-taught winemaker," explain the chefs. And there's excellent glasses waiting to be sipped/discovered thanks to the Coravin system.
8 rue du Dragon, 6th
Metro: Saint-Germain-des-Prés, 6th
Tel: +33 (0)1 81 69 63 72
Open 7/7, lunch and dinner (Note that on Monday it's only open for dinner).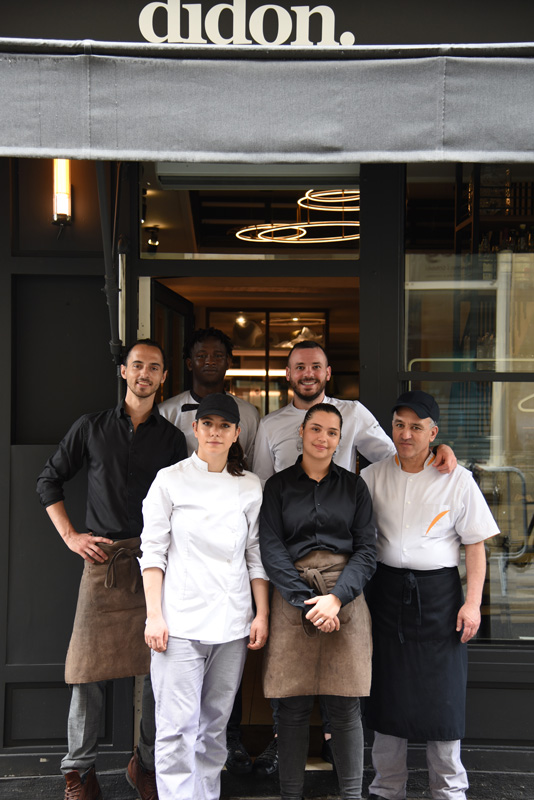 Remember chef Thibault Sombardier's Antoine restaurant? An olive stone's throw from the Seine and the Eiffel Tower (great food, shame about the décor). The space has been beautifully transformed by architectural studio Beau Bow and Alexis Mabille, inspired by the fiesta atmosphere of an Andalusian summer evening. Lovely stone fountain, large green plants, shell dotted arches, wrought iron lanterns and chic cane furniture. Bathed in natural light, the bar is topped with vintage fans. Olé.
Chef Esteban Salazar blends seasonal products while calling in an original, worldwide mix of culinary techniques and influences for his market-driven menus.
Salazar works on ancestral methods, such as fermentation, salting, lactofermentation. Say, lamb and beet tartare cooked in a salt crust, served on a crunchy tart with verbena oil and Île de Ré salt. Or smoked tomato steak, married with creamy mashed potatoes, almond milk, cashew butter. Add Galician prime rib matured for 30 days or fish of the day, both cooked on the Japanese barbecue. Desserts combine, say, "tarta de queso", white chocolate cheesecake revisited with dulce de leche and cider vinegar, vanilla and cinnamon rice pudding – scoop of homemade olive oil ice cream. Or, churros served with chocolate sauce made from Columbian 85% cocoa.
Warning: Could be addictive !
P.S. The brilliant Thibault Sombardier has moved on to other culinary adventures…
10 avenue de New York, 16th
Tel: +33 (0)1 49 53 01 79
Metro: Alma-Marceau
Dinner Only Tuesday-Saturday
Average Spend €40-€80 + wine
Need to Know:
This private gardens website has been described as the Airbnb of Gardens, listing 1,170 available gardens- 70% in the Paris region. "It's a way of escaping the city," explains Pascale Krief who launched the site in 2016 because "what I missed most was not being able to relax in my garden after a day at work." One of the most common reasons to rent a garden (from about €10 to the sky's the limit per hour) is if there is an event to celebrate, a wedding, birthday, baby shower.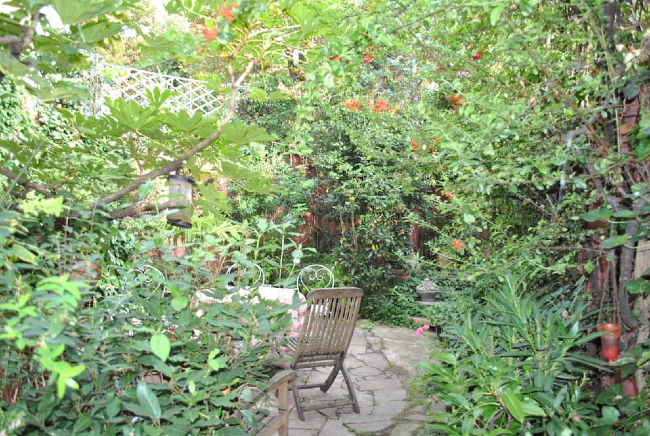 Diary Dates:
"Cheese & Wine Week", created by hotshot bon vivant epicurean Jean-François Hesse in 2016 under the name of "Cheese Day," is now dubbed "Paris Cheese and Wine Week". Savoie wines and perfectly ripened cheeses go hand in hand, from November 12 to 20 all over town. Participating super chefs from Guy Savoy to Pierre Gagnaire. MOFs (Meilleur Ouvrier de France) include Eric Bouchenoire, from Atelier Robuchon Etoile and JR group, uber cheesemaker Laurent Dubois, with the help of Philippe Faure-Brac world's best somm. Explorations, tastings, wine & cheese tours, at Mori Venice Bar, Eataly, Marie Quatrehomme, Marie-Anne Cantin.
24th-27th November at the Porte de Versailles, Salon des Vins des Vignerons Indépendants ends.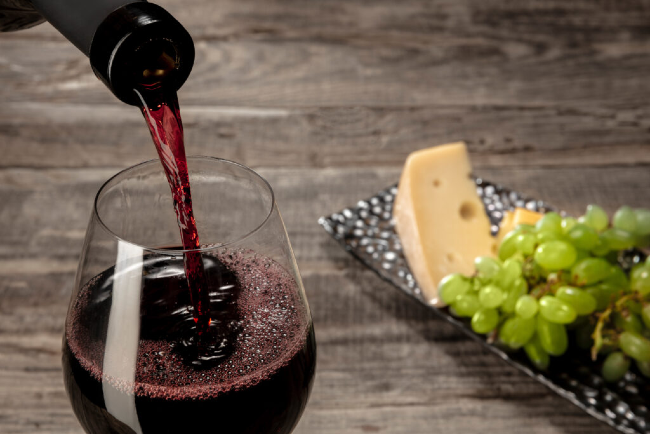 Lead photo credit : Frédéric Vardon at the Café Max
More in Cafe, cafe max, carita x rosy, didon, food, Frederic Vardon, restaurant
---
---