Ma Chère & Tendre : Fables de la Fontaine & Je the…Me Bistro
Ma chère & Tendre
Perhaps named for the chanson by French Caribbean crooner Henri Salvador, sadly not around to-day to enjoy MC&T even though he was/is the voice of Sebastian the crab in the French version of Disney's The Little Mermaid.  Salvador would deffo have penned a song to the excellent crab cakes in this red, aubergine & beige shiny space by Cabinet Nuel, which once housed L'Orenoc, at Porte Maillot. Henri would have liked the mellow jazz in the background, would have ordered a pre lunch/dinner snifter of bourbon on the rocks in the Lionel Hampton bar. Launching a restaurant to-day needs a gimmick to get the punters in, the suits at MC&T have a winner.  Free wine! No, not a bottle darling, but tasters of grands crus available by the glass from the Enomatic dispensers. What a great idea, taste before you order. They're generous, want you to taste them all.  Would be unkind to offend, so stagger back to your table, ask Sandrine to explain the menu. "It's all about the beef", explains Sandrine, who you'll remember from L'Orenoc. "Chef Eric Brujan has revised and corrected classic steakhouse favourites. Although there's always a fish dish", she adds. Begin with crab cakes, black angus tartares, Caesar/spinach salad for the ladies who do, continue with USA or Argentine Black Angus, Salers, Limousine, Aubrac, Charolaise, Simmental de Bavière, Surf n'Turf, hamburger, all with chips, sides and sauces. Take trips to the Enomatic or order from the excellent wine card (from 6€ a glass). Desserts include an excellent New York Cheesecake, Apple Pie or the ubiquitous Café Gourmand. 81 boulevard Gouvion Saint-Cyr, 17th M: Porte Maillot T: 01 40 68 30 40 Open 7/7 Lunch formula 35€
Les Fables de la Fontaine
The credo is still, Être Constant un jour, Être Constant toujours. This jewel-box bistro, created by Christian Constant and taken over by two of his chefs in 2007 is still in the capable hands of David Bottreau. In the steel postage stamp kitchen, sending out eye wateringly beautiful fish is young talent Anthony David (ex-Alain Ducasse). The decor's changed, there's a window bar and always the delightful outside terrace to watch the world go by. Anthony David's dishes sparkle like the blue Med where a lot of his catch comes from. Begin with Sea urchin en gelée de bouillabaisse, tartare d'algues, espuma de rouille au safran de Gironde: The signature, croustillants de langoustines au basilic, émulsion d'agrumes, coulis d'épinard à la menthe, sucrine façon César : Raviolis de King Crab et foie gras, petits légumes au gingembre, consommé de langoustine à la citronnelle : Emulsion d'étrille (tiny crab) aux asperges vertes, perles du Japon, poulpe (octopus) à l'étouffé de cauliflower : Carpaccio d'espadon (swordfish) au caviar d'Aquitaine, vinaigre balsamique blanc, citron perle et sel bleu de Perse. Mains include: Turbot steamed in hay, laitue de mer aux coquillages, fenouil et mousse wasabi : Saint-Pierre rôti sur la peau, poêlée de pommes de terre aux champignons des bois, échalotes confites et fleur d'ail Noix de Saint Jacques au beurre de noix, citron confit, câpres et petits légumes glacés au Noilly Prat: Tournedos de bar, céleris et poireaux en nage de truffe, chips de mélisse et noix de cajou aux épices Sole Meunière, purée de pommes de terre à la vinaigrette de truffe. Drink White Burgundy Auxey-Durresses 2011 from Agnes Pacquet or Saint Joseph Jean-Luc Colombo Le Prieuré 2011 (54€). Fromage by Marie-Anne Cantin is seasonal, this week it's rosettes of SwissTête des Moines, matched with confiture de coings, pain toasté aux céréales et salade d'herbes. Light and astringent desserts, to leave with sweet souvenirs: Panna cotta au cacao, granité au café, mousse caramel, brioche perdue : Fruits de la passion, chantilly citron vert et meringues au jasmin :Ananas rôti à la vanille de Bourbon, sorbet mangue mousse coco : Tarte sablé pamplemousse, crème Limoncello, sorbet litchis. "Ma cuisine is une cuisine gastronomique avec une générosité bistronomique", chef says. Prepare to be amazed ! Laissez-vous surprendre. 131 rue Saint-Dominique, 7th M: Ecole Militaire T: 01 44 18 37 55 Open 7/7 Lunch Mon-Fri 30-35€ Average spend A La Carte 80€ + wine Surprise Tasting menu 120€
Je Thé-me
When my friend Albert called to invite me to lunch, I thought he said, "je t'aime" (I love you) "I know" I said, "but where are we having lunch? It wasn't until, arriving at rue d'Alleray I realised, Je-Thé….me is the name, good food is the game. The play on words of the moniker over the door is by owner Jacky Larsonneur in hommage to the former tea room/epicerie of the 1920's and for which he has kept all the chotxhkies which makes for a romantic and exciting addy, read authentic French atmosphere and charm. Add jazz loving, saxaphone playing Jacky's son, wine expert Damien, who may be off discovering a vineyard, but he'll be back for the 21st June Fete de la Musique, when Je Thé…me put on informal concerts. The menu changes each week, young talent Louis Duresne, who speaks perfect English, suggests: Asperges au sabayon chartreuse: Magret de canard à la rhubarbe: Baba Je Thè..me. Bread's by local boulanger Pichard, cheese by Androuet, the genial Jacky will be your NBF, you'll want to "J'Taime" him when you leave.  PS Albert loves me, schhh don't tell Ashton. 4 rue d'Alleray, 15th M: Vaugirard T: 01 48 42 48 30 Shut Sunday Lunch formula 25€ Average spend A La Carte 40€
SUBSCRIBE
ALREADY SUBSCRIBED?
BECOME A BONJOUR PARIS MEMBER

Gain full access to our collection of over 5,000 articles and bring the City of Light into your life. Just 60 USD per year.

Find out why you should become a member here.

Sign in

Fill in your credentials below.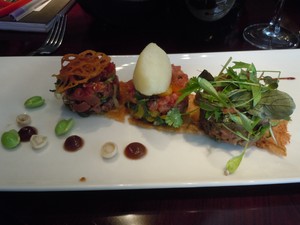 Ma chère & Tendre
Perhaps named for the chanson by French Caribbean crooner Henri Salvador, sadly not around to-day to enjoy MC&T even though he was/is the voice of Sebastian the crab in the French version of Disney's The Little Mermaid.  Salvador would deffo have penned a song to the excellent crab cakes in this red, aubergine & beige shiny space by Cabinet Nuel, which once housed L'Orenoc, at Porte Maillot.
Henri would have liked the mellow jazz in the background, would have ordered a pre lunch/dinner snifter of bourbon on the rocks in the Lionel Hampton bar.
Launching a restaurant to-day needs a gimmick to get the punters in, the suits at MC&T have a winner.  Free wine! No, not a bottle darling, but tasters of grands crus available by the glass from the Enomatic dispensers. What a great idea, taste before you order. They're generous, want you to taste them all.  Would be unkind to offend, so stagger back to your table, ask Sandrine to explain the menu.
"It's all about the beef", explains Sandrine, who you'll remember from L'Orenoc. "Chef Eric Brujan has revised and corrected classic steakhouse favourites. Although there's always a fish dish", she adds.
Begin with crab cakes, black angus tartares, Caesar/spinach salad for the ladies who do, continue with USA or Argentine Black Angus, Salers, Limousine, Aubrac, Charolaise, Simmental de Bavière, Surf n'Turf, hamburger, all with chips, sides and sauces. Take trips to the Enomatic or order from the excellent wine card (from 6€ a glass). Desserts include an excellent New York Cheesecake, Apple Pie or the ubiquitous Café Gourmand.
81 boulevard Gouvion Saint-Cyr, 17th
M: Porte Maillot
T: 01 40 68 30 40
Open 7/7
Lunch formula 35€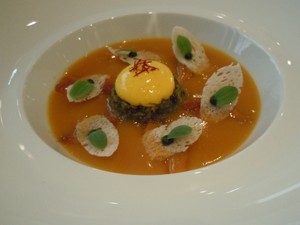 The credo is still, Être Constant un jour, Être Constant toujours. This jewel-box bistro, created by Christian Constant and taken over by two of his chefs in 2007 is still in the capable hands of David Bottreau. In the steel postage stamp kitchen, sending out eye wateringly beautiful fish is young talent Anthony David (ex-Alain Ducasse). The decor's changed, there's a window bar and always the delightful outside terrace to watch the world go by. Anthony David's dishes sparkle like the blue Med where a lot of his catch comes from.
Begin with Sea urchin en gelée de bouillabaisse, tartare d'algues, espuma de rouille au safran de Gironde: The signature, croustillants de langoustines au basilic, émulsion d'agrumes, coulis d'épinard à la menthe, sucrine façon César : Raviolis de King Crab et foie gras, petits légumes au gingembre, consommé de langoustine à la citronnelle : Emulsion d'étrille (tiny crab) aux asperges vertes, perles du Japon, poulpe (octopus) à l'étouffé de cauliflower : Carpaccio d'espadon (swordfish) au caviar d'Aquitaine, vinaigre balsamique blanc, citron perle et sel bleu de Perse.
Mains include:
Turbot steamed in hay, laitue de mer aux coquillages, fenouil et mousse wasabi : Saint-Pierre rôti sur la peau, poêlée de pommes de terre aux champignons des bois, échalotes confites et fleur d'ail Noix de Saint Jacques au beurre de noix, citron confit, câpres et petits légumes glacés au Noilly Prat: Tournedos de bar, céleris et poireaux en nage de truffe, chips de mélisse et noix de cajou aux épices Sole Meunière, purée de pommes de terre à la vinaigrette de truffe.
Drink White Burgundy Auxey-Durresses 2011 from Agnes Pacquet or Saint Joseph Jean-Luc Colombo Le Prieuré 2011 (54€).
Fromage by Marie-Anne Cantin is seasonal, this week it's rosettes of SwissTête des Moines, matched with confiture de coings, pain toasté aux céréales et salade d'herbes.
Light and astringent desserts, to leave with sweet souvenirs:
Panna cotta au cacao, granité au café, mousse caramel, brioche perdue : Fruits de la passion, chantilly citron vert et meringues au jasmin :Ananas rôti à la vanille de Bourbon, sorbet mangue mousse coco : Tarte sablé pamplemousse, crème Limoncello, sorbet litchis.
"Ma cuisine is une cuisine gastronomique avec une générosité bistronomique", chef says. Prepare to be amazed ! Laissez-vous surprendre.
131 rue Saint-Dominique, 7th
M: Ecole Militaire
T: 01 44 18 37 55
Open 7/7
Lunch Mon-Fri 30-35€
Average spend A La Carte 80€ + wine
Surprise Tasting menu 120€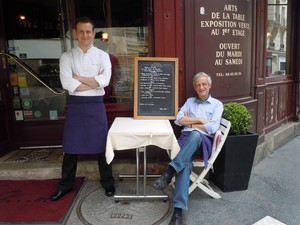 When my friend Albert called to invite me to lunch, I thought he said, "je t'aime" (I love you) "I know" I said, "but where are we having lunch? It wasn't until, arriving at rue d'Alleray I realised, Je-Thé….me is the name, good food is the game.
The play on words of the moniker over the door is by owner Jacky Larsonneur in hommage to the former tea room/epicerie of the 1920's and for which he has kept all the chotxhkies which makes for a romantic and exciting addy, read authentic French atmosphere and charm. Add jazz loving, saxaphone playing Jacky's son, wine expert Damien, who may be off discovering a vineyard, but he'll be back for the 21st June Fete de la Musique, when Je Thé…me put on informal concerts. The menu changes each week, young talent Louis Duresne, who speaks perfect English, suggests: Asperges au sabayon chartreuse: Magret de canard à la rhubarbe: Baba Je Thè..me. Bread's by local boulanger Pichard, cheese by Androuet, the genial Jacky will be your NBF, you'll want to "J'Taime" him when you leave.  PS Albert loves me, schhh don't tell Ashton.
4 rue d'Alleray, 15th
M: Vaugirard
T: 01 48 42 48 30
Shut Sunday
Lunch formula 25€
Average spend A La Carte 40€
More in Bistro de Sommelier, Je Thé-me, Ma Chère & Tendre, Paris restaurants, restaurant, Restaurant reviews
---
---