Le Paris 16, Château Sablé, Alain Ducasse Veggie Burgers: Food News from Paris
"It's Paris. Everyone's serious about dinner."
-Mindy Chen – Emily in Paris (Netflix)
Where to eat in Paris right now? Here's a selection of restaurants we've tested recently, plus a new concept and some exciting culinary events…
You know and love the brothers Jérôme and Stéphane Dumant at Auberge Bressane, Aux Crus de Bourgogne, Aux Bons Crus, Les Marches, Le Trinquet, and the quirky Le Paris 16, on rue des Belles Feuilles, near place Mexico.
Recently les deux frères decided there were too many Italian addresses in the 16th and changed the concept, decor and menu, to focus on "perfect Parisian cuisine."
A good move. The welcome's still as warm from charismatic Mâite d' Frédéric Prud'homme. "I've been here for a quarter of a century," he announces proudly. The setting, as always with the Dumants, plays on classics: velvet banquettes, stunning Art Deco-style sporting paintings, hand-written menu, and red check tablecloths.
There's a youthful spin to dishes by the delicious chef Kennie Bonaventure, recently at Versance near the Stock Exchange, and Jean Chauvel, Boulogne-Billancourt. He sends out perfect egg mayo (€6), Asparagus Mimosa (€19), Terrine de Campagne (€10) with a generous glass of Piscine de Prosecco (€9) via Foie Gras linguine (€20), Saint Jacques snakée with vegetables (€26), Parsley-crusted Cabillaud with lobster bisque for intense flavor (€25), Chicken, roasted with morilles mushrooms (€25). Then enjoy Profiteroles, Paris Brest (€9) etc. Everything on Kennie's menu is what the French call a "valeur sûre." Order the red Morgon Grand Cras Laurent Gauthier (€8-€28) to sip on the terrace.
18, rue des Belles Feuilles, 16th
Metro: Victor Hugo/Trocadero
Tel: 01 47 04 56 33
Closed Saturday & Sunday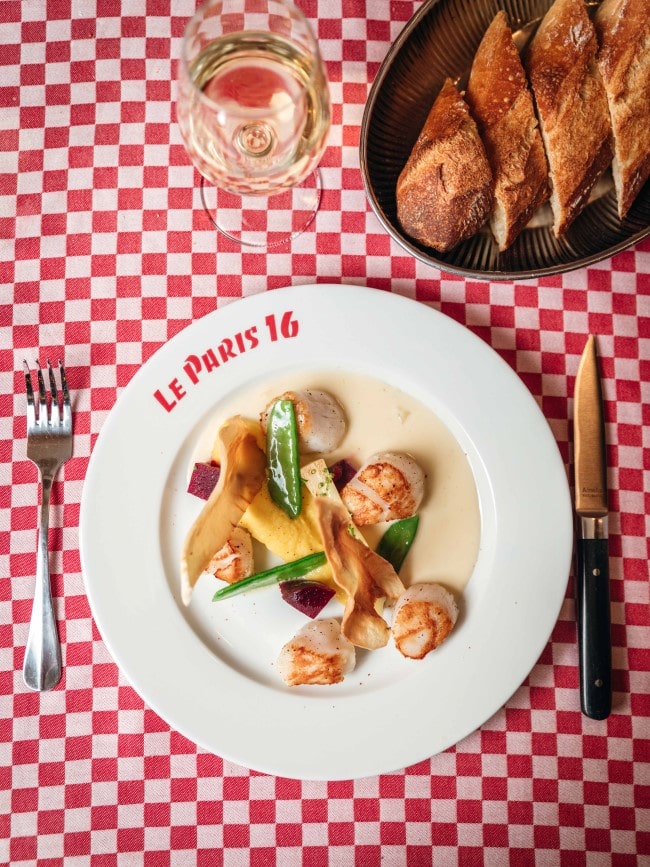 Château Sablé: Les Sablés d'Exception
Legend has it that sablés take their name from Sablé-sur-Sarthe, in the Pays de la Loire region of Western France, where they were first baked in 1670. Sablé means "sandy".
In his Pigalle studio, Thibault de Chastenet, artist, illustrator and, now, culinary artist launched the Château Sablé boutique, where he bakes and showcases his mouthwatering variations on the theme of sablés (think shortbread with French attitude). "They're my childhood memories, a nod to holiday sandcastles," he reflects.
For the love of baking, and following his dream, de Chastenat signed up to L'Ecole Ferrandi where, "in four months you take 10 hours of classes daily. I was the oldest student, it was tough! But happily I got my diploma and then went for work experience at different houses, including Relais Bernard Loiseau, Saulieu, Maison Aleph and Dalloyau, Paris," he told us proudly. "I had lots of encouragement from family and friends, who became addicted to my spin on sablés," he admits. "Especially my two friends opposite, who became partners, Yann Le Pevedic and Segastien Guillo of Restaurant Les Canailles."
In mini or giant versions, there's lemon and ginger, plus mango/passion, Pistachio/raspberry, topped with roasted pistachios and sprinkled with fresh pistachio powder. Try, raspberry/rose, roasted almonds and crystallized rose petals. How about hazelnut, chocolate/praline and roasted hazelnut?
Run, don't walk to the Château, and, by the time you get there, Thibault will have new flavors waiting. And you'll find house-made jams, "but we're not allowed to call them jam because they're 80% fruit!" Salut l'Artiste.
From €2.50-€40
28 rue La Bruyere, 9th
Metro: Saint Georges
Tel: 01 53 20 90 02
Closed Sunday & Monday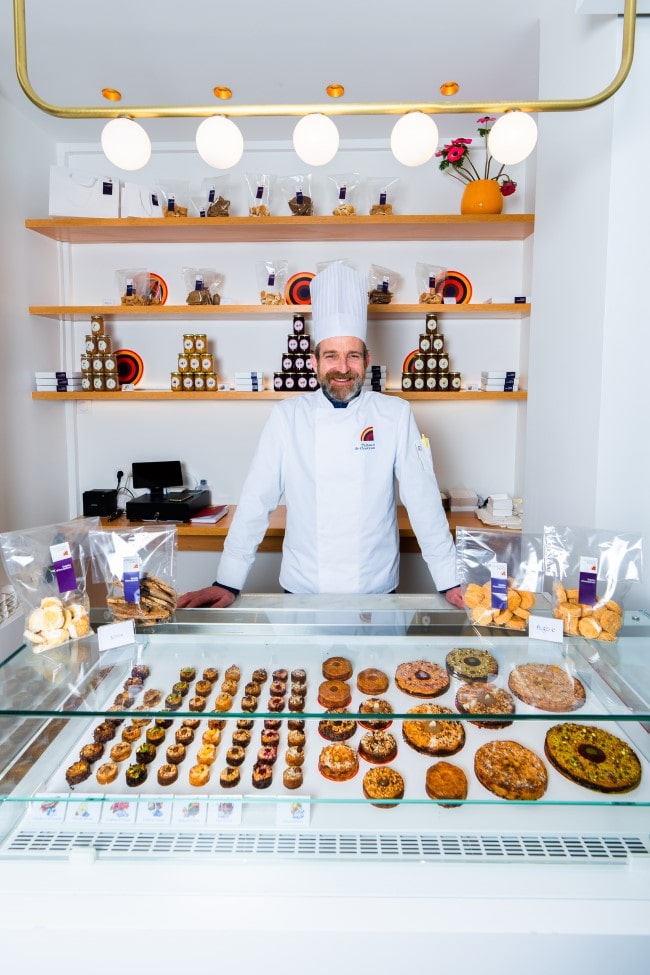 At some time during the last eight years, wanting to send postcards and parcels home, you walked towards the historically classified building on rue du Louvre (circa 1886), formerly La Poste (the Post Office), wondering what was going on? All is revealed, it's now a neo-modern complex of boutiques, offices, social housing, daycare center, yoga studio, police station and post office, bien sûr.
Part of the handsome building is dedicated to the chic, 82-room Hôtel Madame Rêve-  the five-star concept is the result of a nine-year journey by entrepreneur Laurent Taïeb, (Kong, Bon, Lô Sushi, Le Tresor and Les Tours Duo project in the 13th arrondissement). There's a spa, La Plume gastronomic restaurant, Madame Rêve Café and terrace (showcasing Mediterranean cuisine) and, by the time you read this, a vast, airy, plant-filled rooftop space with picture postcard views of St Eustache Church, Notre-Dame, Eiffel Tower and the Centre Pompidou.
Now there's no problem sending those postcards and parcels!
Hotel Madame Rêve
48 rue du Louvre, 1st
Tel: 01 80 40 77 70
Valet parking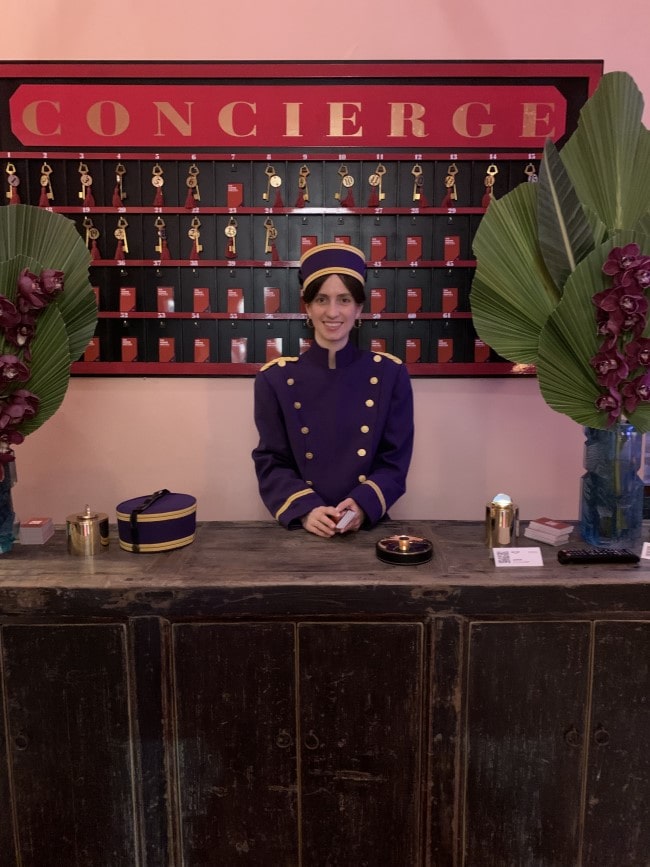 And what's this fascination with post offices? On the way back from Madame Rêve, I popped into the Bureau Postal D'Orsay, the intriguing Parisian perfumery located at 44 rue du Bac in the 7th. Erwan Le Louër and sisters Amélie and Mélanie Huynh's unique boutique features décor that resembles an early 20th-century PO. It showcases candles, fragrances etc., by D'Orsay the French perfume house named for the dandy Alfred d'Orsay, friend of Victor Hugo, Lord Byron and Napoleon III. Apparently Alfie d'O created "a fragrance of absolution" that reflected his forbidden love affair with Marguerite de Blessington, who lies fragrantly beside him in the family mausoleum at Chambourcy! Only in France, eh!?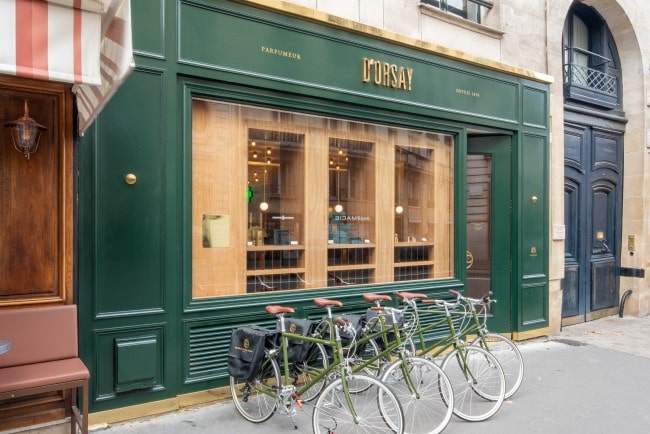 Restaurants, a cooking school, a yacht/restaurant on the River Seine, chocolate factory, cafes – now burgers! Early this month Monsieur Ducasse launched a JC Decaux designer kiosk (by Jouin-Manku) on Place de la Bastille and the veggie Burgal, a contraction of burger and vegetable, was born! Butter, egg and dairy free, the "steak" is composed of organic legumes and vegetables: zucchini, carrot, parsnip, lentil, quinoa, escorted by condiments (eggplant caviar, mayonnaise, etc.) pickles and spicy vegetable or herb sauce). The recipe is a nod to Romain Meder, the former chef at Le Plaza Athénée, who launched it to rave reviews during the 2019 edition of Taste of Paris. The burgal is priced at €7.50 – €12.50 with chips and a boisson/ drink.
12 place de la Bastille between rue de la Roquette & Boulevard Richard Lenoir,
Metro: Bastille.
View this post on Instagram
Need to go:
Until 31st May, Le Château De Ma Mère pop-up boutique brings sunshine, and l'art de vivre de Provençe, to Paris at 18 rue de Grenelle, 7th.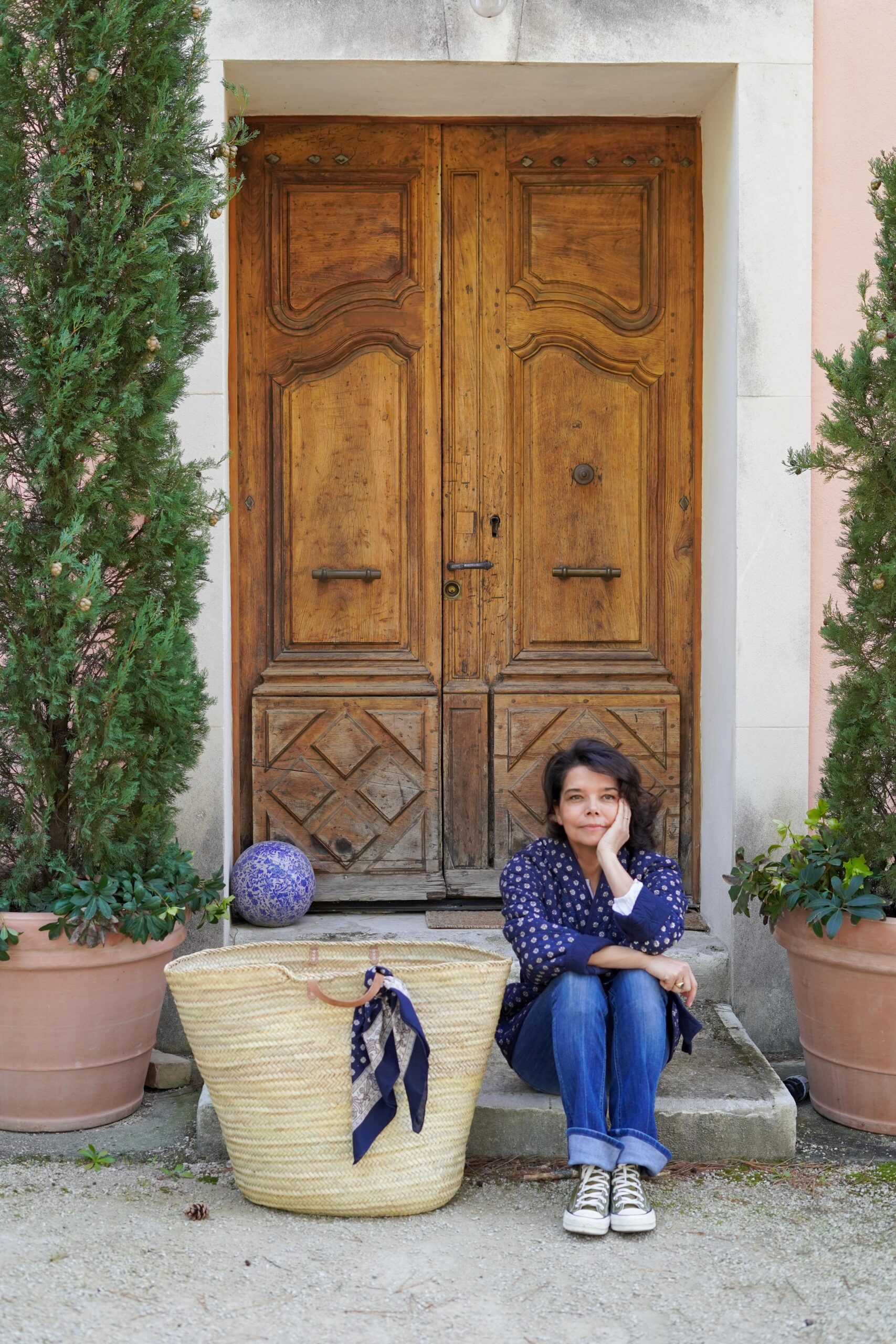 Diary Date: Taste of Paris in May
This fab foodie show proudly struts the zeitgeist of the French and Parisian culinary scene. For the first time, 2022's program includes the chefs and brigades of palaces such as Hôtel de Crillon, Le Meurice and Le Bristol, Paris. And there will be super chefs including Pascal Barbot, William Ledeuil, Denny Imbroisi and the hugely talented "young generation" led by Quentin Lechat, Matthias Marc, Mohamed Cheikh, Mory Sacko and Xavier Pincemin. Cooking demonstrations in the Laurent-Perrier Theatre plus Masterclasses and an eclectic selection of gourmet foodie exhibitors bring to town the new must-have items for your kitchen.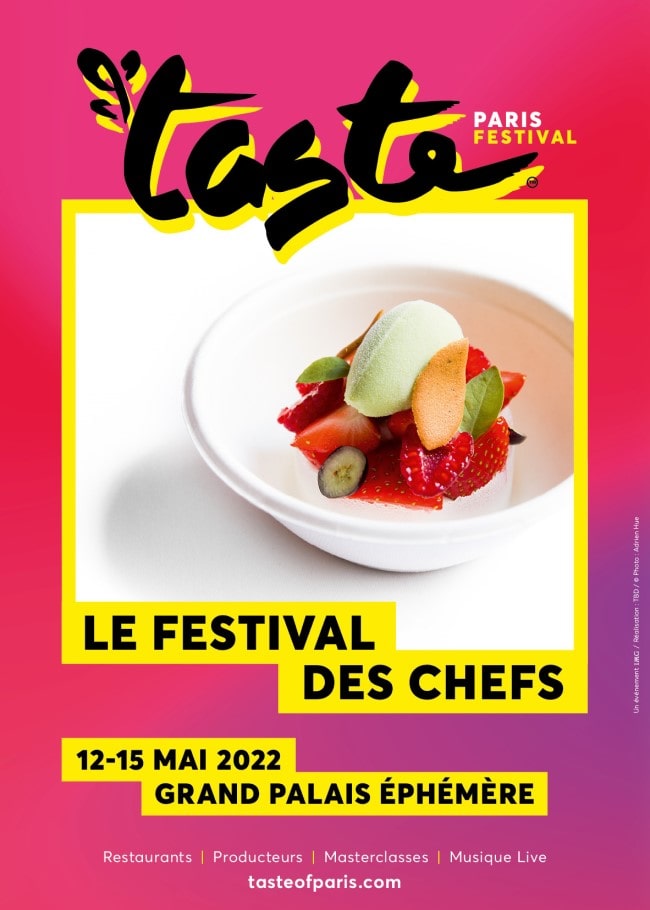 Le Grand Palais Éphémère? What exactly is this venue?
Designed by Jean-Michel Wilmotte, the event space is hosting events during major renovations at the Grand Palais (due to reopen March 2023). The Grand Palais Éphémère is also an important Paris Olympics 2024 site (July 26th-August 11th) and will host judo, wrestling, wheelchair rugby and para judo competitions.
12th-15th May, 2022
Grand Palais Ephémère, 7th
Tel: 01 40 13 48 00
2, place Joffre
Metro: Ecole Militaire
Lead photo credit : Le Paris 16 © Le Paris 16 Instagram
More in burgers, Events, festival gastronomie, foodie, Paris restaurants
---
---
Comments