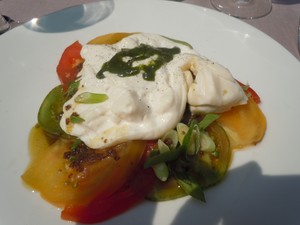 Le Chalet des Iles, located on an island in the Bois de Boulogne, 5 minutes from Porte Dauphine, is accessed by ferry in less than two minutes: no passports required.
Originally created by Napoleon 111 who admired English style gardens which influenced his planting of the Bois de Boulogne. With bucolic matters in mind he created a leetle "Swiss Cottage" as a gift to his adored Empress, Eugenie, obviously with the idea of hiding from the paps; it was for their use only. To-day the charming Chalet des Iles is open to all: paps included.
"It's was a 2nd empire jewel which Napoleon had shipped from Switzerland", explains owner Raphael de Montremy, motorbike champion, sportsman and restaurateur (Le Petit Poucet: La Mediterranee etc.) "We have revised and corrected it, keeping the spirit alive, conserving the flora and fauna including the peacocks and ducks", he says.
Completely renovated after a fire, architects Bruno Borrione and Caroline Lory have preserved the Ralph Lauren style "pavillon de chasse". Huge fireplace, wonderful portraits, club armchairs inside.  Airy, spacious terraces that wrap themselves around the lake, "feet in the water", outside".
So, at the water's edge, study the menu created by chef Cédric Poncet . "I want simple dishes and fresh seasonal products. It's also important that we serve quickly at lunch-time. We have lots of clients from La Defence and the nearby offices of Porte Maillot. They are so happy to relax for an hour before going back to work", he says.
Starters include: Croustillant de crevettes to eat with fingers: Tomates de plein terre, burrata, tapenade: Carpaccio d'Escolier (smoked fish), perles d'amour, mango. Match with Mercurey Chateau de Chamirey 2007 (42€) or by the glass from 5€.
For the ladies who do,  a simple Tartare de Saumon with a few leaves. For Ashton, Tartare de Boeuf aller-retour and you can steal his frits. Fish options include wild sea-bass à la plancha, courgette fleur farcie. I'd hesitate over the magret de canard due to them thrashing about in the water nearby!
Lovely desserts, it's obvious which one to choose cheri/cherie: Ile flottante du Chalet, Coco: Mangue.
Walk around the island afterwards – beware of nude sunbathers! Shame they don't have a few rooms, be lovely to stay overnight. Over to you Monsieur M.
Lac Inferieur du Bois de Boulogne,
Porte de la Muette, 16th
Valet parking,
T: 01 42 88 04 69
Open 7/7
Lunch formula weekdays: 24€-40€
A La Carte about 50€ + wine
Children's Menu 12€
Get a Room – Hôtel Marignan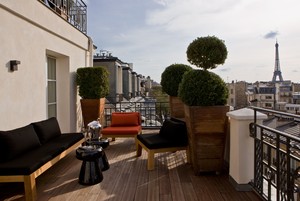 Hôtel Marignan, a former art-deco hôtel particulier within the Golden Triangle, is now owned by French Groupe Richard. President of the group, Nathalie Richard was keen to pull the Marignan into the 21st century. A total new contemporary look has been created by Ms Richard and interior architect Pierre Yovanovitch. While working on the design they've preserved lots of original details, like the staircase and wall etchings. It's chic, perfectly punctuated with contemporary furniture, flea market finds and wonderful pieces from Ms Richard's private collection. The bar is the perfect meeting place, the restaurant in the capable hands of Filipe Da Assuncao, Meilleur Ouvrier de France (ex-Chalet des Iles, "you must visit", he insists, that's where I go on my day off!"). There's a private luxury cinema. 50 rooms and 10 suites, all different, charming, serene, in the best possible taste.. Check it out: then get a room!
12 rue de Marignan, 8th
T: 01 40 76 345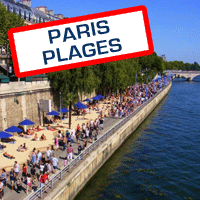 Until 18th August the beach comes to Paris with activities for all:
Food trucks and kiosques: basketball, tennis, wrestling, fencing, table tennis, bowls, tai chi, ballroom dancing, a gym area, a micro-droplet shower spray to cool you down, "adventure beach" for young children with water games; concerts, workshops, shows. With palm trees, fine sand and plenty of deckchairs Seine-sur-Mer attitude reigns.
See you there !
Georges-Pompidou Street,
voie Georges-Pompidou 4th
M: Pont Neuf/Pont Marie/ Sully-Morland
Open 7/7 from 10:00 to 22:00
Admission: Free!