Le Carre : Association Française des Maîtres Restaurateurs : L' Eclair du Genie : Mini-Palais & 2014 French Michelin 3-Star Revealed
Connaissez-vous L'Association Française des Maîtres Restaurateurs ?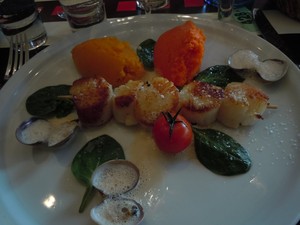 "Since November 2010, the "gastronomic meal" is officially recognized within the framework of the French cultural heritage of UNESCO", explains AFMR President Francis Attrazic.
The Association, which publishes Terres de Chefs Magazine, has north of 3,000 members throughout France and the world, the Maître Restaurateurs plaque on the wall/door means  products are fresh, not frozen, behind the pianos chefs who know how to strut their stuff, to the tune of a warm welcome and bang tidy decor.
Leaf through the « Annuaire National des Adhérents » taking in Martinique & Guadeloupe, La Réunion and discover the soon-to-be Michelin 3-star Arnaud Lallement (see below) at L'Assiette Champenoise.
In Paris, the 43+ addresses include Chez Thoumieux : L'Ami Jean : La Fermette Marbeuf : La Maison Blanche : Kaiseki and Le Carré where I found the annuaire, red bible of the Association.
Located in the shadow of the magnificent Church of St. Augustin (which would make a superb luxury hotel !) buzzing with businessmen, and the ladies who do, at lunch. Lovers and locals by night, returning time and time again for chef Christophe Binet's delicious dishes.
Staff, headed by Laurent Leviel, are helpful and discreet. Choose from 9 starters, with wine pairings if you like. 5 fish dishes including : Juicy Noix de Saint Jacques rôties, carrot mousseline, jus de coquillages : Wok de Gambas, legumes croquants. Yum ! For Ashton, 6 meats, including : Filet de bœuf Normand Rossini, with foie gras. 3 dishes for Vegetarians. And, cherry on the gateau, chef's grandmother's Tarte Fine aux Pommes « Royal Gala » créme Chiboust `a la vanilla Bourbon.
See you there !
Le Carré,
12 place Saint Augustin, 8th
M : St Augustin,
Shut Sunday – Terrace
Average Spend 40€ + wine
T : 01 44 69 00 12
Afternoon Tea – Mini Palais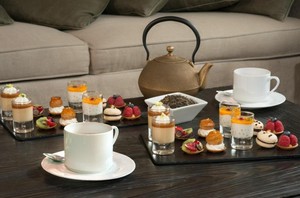 Meet here after heavy-duty retail therapy on the Golden Triangle, or an expo at Grand Palais. Choose from from Betjemin & Barton teas, delicious patisserie, great people watching. And, bookmark The Palm-Court Terrace for warmer days.
3 Avenue Winston Churchill, 8th
M : Champs Elysées Clemenceau
T : 01 42 56 42 42
Open 7/7
Website
L'Eclair du Genie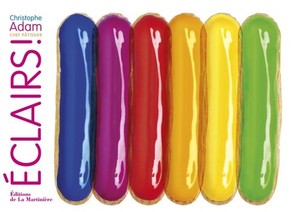 Following the lipsmacking success of his Marais address, pâtissier Christophe Adam launches a bar/concept boutique « Tout Eclair » on the BCBG side of the right-bank at Passy Plaza.
"The humble 19th-century éclair has surpassed the macaron as the most buzzed about Parisian bonbon of the moment", says Slate Magazine.  It's not all eclairs, recently Adam created chunky, nutty chocolate bars (forgot to ask if there's one named Eve !) : mini-bonbons tasting like eclairs, crunchy chocolate balls in handy zip bags and, addictive chocolate flavoured spreads in square contemporary jars.
Each piece is a work of art, each month showcases a « star » eclair and ingredient, say, yuzu, pecan nut, caramel, hazlenut etc. Prepare to be eclaired.
Enjoy there or take away. Yum !
53 rue de Passy 16th
Shut Sunday
M :Passy
Website

Arnaud Lallement wins his third Michelin star ?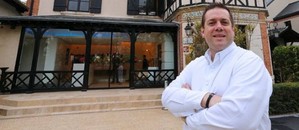 Featured this week by Le Point who leaked Arnaud Donckele correctly last year, it's Arnaud Lallement who'll be dubbed on 24th February when the 2014 Guide publishes. « Behind each dish I try to tell the story of a producer, a fisherman, a market gardener », says the man who's been reading Michelin Guides since he was 8 years old.  A suivre.
Leave a reply
Your email address will not be published. Required fields are marked *