Lasserre : Miss Kō : Les Ombres &Jeanne B
Lasserre
: Michelin call this 2-star maison "one of the top temples of Parisienne gastronomy. "The décor may be resolutely "of the epoque" but chef Christophe Moret's revised and corrected classic dishes seem timeless". To celebrate Spring, "although the cold weather made it very late", says Moret, Lasserre have created the perfect lunch for the ladies who do. Putting the spotlight on Jérôme Galis, Thierry Riant and Benjamin Chiquet organic French growers and suppliers, Moret presents a vegetarian menu that he says will become a classic. "More and more we have requests for vegetarian dishes and, as I'm from a family of market gardeners, it's a total pleasure for me to comply", he says. "We're even making our own milk tofu", he adds proudly. Green pea velouté is matched with "tender gnocchi" and small spelt and cédrat are cooked in a casserole enhanced with whatever green shoots are available. Each of the vegetarian dishes can be mix n' matched with the main menus or ordered as a 3-course lunch or dinner. Talented young pâtissier Claire Heitzler's desserts include the magnificent Paris-Brest revised and corrected in her style. Interesting themes on raw, cooked, emulsified ingredients that create, "surprising but identifiable flavours in the mouth". When summer comes I feel like using flowers in everything", she says. Christophe Moret says that: "Often we have a table of eight, with three generations of a family, so there's something to suit everyone on the menu". Let chef-sommelier Antoine Petrus (MOF) suggest bio-dynamic wines to match Lasserre's menu, sit back and enjoy the opening roof, the quality of the products, the sublime service. 17 avenue Franklin Roosevelt, 8th M: Franklin Roosevelt, T: 01 43 59 53 43 Shut: Tuesday lunch: Wed lunch: Sat lunch: Sun-Mon Lunch menu 80€ A La Carte from 143€ + wine Vegetarian dishes from 40-55€
Miss Kō
Order a Spirit of Miss Kō cocktail for Ashton, bubble tea Agar-Agar Mocktail for you, in this psychedelic Starck designed space that once housed Bound & Barfly. Chef Fabrice Monot explains: "I prepare dishes with diverse tastes, mild, intense, aromatic, call it flavour clash!" Homarshu, lobster spring roll with avocado, mango and shiso leaves to dip in sweet chili sauce. Sashizza: tiny Japanese style pizzas topped with sashimi de thon rouge, truffle oil, shiso shoots: Sushi Rock n'Rolls: Tartares, salads: Bo bun Chic for you/Tiger for Ashton or Rossini Kobe Burger with truffle bread and Togarashi chips maison. Yum ! Drink Côtes du Rhone Terra 6840, label designed by Ara Starck. Check out the awesome wall painting by David Rochline: the red dragon, by Label Dalbin, dashing across the multi-tele screens along the 26m "zinc" bar, the furry chairs, the upside down multi-coloured parasols. So who is Miss Kō the magnificent totally tattooed signature face of the maison? She's who you want her to be. Starring in the theatre that is Miss Kō. Philippe Starck says: "This place is a street out of Blade Runner: a cement parking-garage with Formica chairs, TV screens that spew out hundreds of images of live news coverage from Asia, a kitchen that smokes and smoulders".  Add the designer's outsize teapots and you're at the Madhatter's Tea Party, with Asian-Fusion attitude. 49 avenue George V 8th M: George V T: 01 55 28 38 28 Average spend about 50€
Open 7/7 12h to 2h
Les Ombres
You're in a Woody Allen movie. Glass space designed by Jean Nouvel, outside terrace/lounge with the best view of the Eiffel Tower in town. The food's a modern gastro- dialogue blending the different cultures showcased by the Musée de Quai Branly which opened in 2006. Young chef (32) Cyril Lenoir, from the Auvergne and a family of cuisiniers, takes inspiration from time spent with Pierre Gagnaire and Eric Frechon, is excited to be directing the kitchens of Les Ombres and Cafe Branly. "I'm the ideal chef for Branly, I've worked and travelled all over the place and identify with the exhibitions here which influence my dishes. Although, the clientele want classic French, I put my spin on the food such as raw and baked tomato starter with purple mustard ice cream and spicy crumble", he adds. Lenoir's a passionate pâtissier which explains the "sweet sour" aspect of his dishes. Try his salmon cooked in Italian curlpaper, almond and praline sauce: tender as a first kiss. Try the lunch menu at 28-38€ a real test in a restaurant of haute gastronomy. No stinting, portions are generous. You could add a whole perfectly ripe Camembert by Mme Cantin (+12€) and take home whatever's left. Add a glass or two of Veuve Cliquot (18€) or of Chablis (8€) or the excellent fruity Château Roubine cru classé 2011 (8€). Bread by Jean-Luc Poujauran, rumoured to be re-opening soon, but where? And creamy Cantin butter. Desserts include Chouquette puffs stuffed with praline, almond nougatine and passion fruite juice: Chocolate Tart, Tonk bean ice cream: Fraises des bois-pistaches, sablé breton. Coffee and cannelés outside: you may end up staying for dinner with Woody Allen! 27 Quai Branly, 7th M: Bir-Hakeim Open 7/7 Tea-Time on the terrace from: 14.30-17hrs Bar: 14.30-23h00 Lunch Formula 28-38€ Dinner Menu 65-95€ + A La Carte T: 01 47 53 68 00 Jeanne B In a former funky children's boutique, Jeanne B has taken a place in the hearts and minds of  Montmartre locals. A mixed crowd of artists, writers, film-makers who'll be creating a neo-salon on the first floor as soon as the Baby-Foot machine is installed. The space, directed by Sébestien Maréchal, cheffed by Cyril Boulet, is light and bright with an epicerie for take away picnics on the Butte: tables and tables d'hôtes, all excellent for table hopping and making NBF's. From the blackboard choose: crumble niҫois au chèvre: chunky terrines, both meaty and veggie: carpaccio of vegetables: lasagne de legumes: vegetable or rabbit tourtes: gateau de petits gris (snails). Charcuterie and a hot or cold soup of the day, depending on the weather. For mains: tender Challans chicken "Pates Noires" from the rôtisserie with creamy gratin dauphinoise. Croq Homard de Jeanne: Jarrret de Veau: grosses crevettes de…
SUBSCRIBE
ALREADY SUBSCRIBED?
BECOME A BONJOUR PARIS MEMBER

Gain full access to our collection of over 5,000 articles and bring the City of Light into your life. Just 60 USD per year.

Find out why you should become a member here.

Sign in

Fill in your credentials below.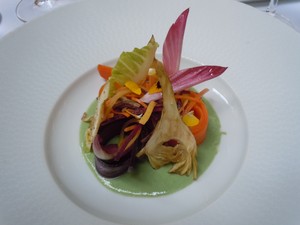 Lasserre:
Michelin call this 2-star maison "one of the top temples of Parisienne gastronomy. "The décor may be resolutely "of the epoque" but chef Christophe Moret's revised and corrected classic dishes seem timeless".
To celebrate Spring, "although the cold weather made it very late", says Moret, Lasserre have created the perfect lunch for the ladies who do. Putting the spotlight on Jérôme Galis, Thierry Riant and Benjamin Chiquet organic French growers and suppliers, Moret presents a vegetarian menu that he says will become a classic.
"More and more we have requests for vegetarian dishes and, as I'm from a family of market gardeners, it's a total pleasure for me to comply", he says. "We're even making our own milk tofu", he adds proudly.
Green pea velouté is matched with "tender gnocchi" and small spelt and cédrat are cooked in a casserole enhanced with whatever green shoots are available. Each of the vegetarian dishes can be mix n' matched with the main menus or ordered as a 3-course lunch or dinner.
Talented young pâtissier Claire Heitzler's desserts include the magnificent Paris-Brest revised and corrected in her style. Interesting themes on raw, cooked, emulsified ingredients that create, "surprising but identifiable flavours in the mouth". When summer comes I feel like using flowers in everything", she says.
Christophe Moret says that: "Often we have a table of eight, with three generations of a family, so there's something to suit everyone on the menu".
Let chef-sommelier Antoine Petrus (MOF) suggest bio-dynamic wines to match Lasserre's menu, sit back and enjoy the opening roof, the quality of the products, the sublime service.
17 avenue Franklin Roosevelt, 8th
M: Franklin Roosevelt,
T: 01 43 59 53 43
Shut: Tuesday lunch: Wed lunch: Sat lunch: Sun-Mon
Lunch menu 80€ A La Carte from 143€ + wine
Vegetarian dishes from 40-55€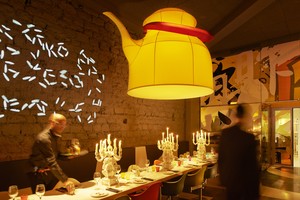 Order a Spirit of Miss Kō cocktail for Ashton, bubble tea Agar-Agar Mocktail for you, in this psychedelic Starck designed space that once housed Bound & Barfly. Chef Fabrice Monot explains: "I prepare dishes with diverse tastes, mild, intense, aromatic, call it flavour clash!"
Homarshu, lobster spring roll with avocado, mango and shiso leaves to dip in sweet chili sauce. Sashizza: tiny Japanese style pizzas topped with sashimi de thon rouge, truffle oil, shiso shoots: Sushi Rock n'Rolls: Tartares, salads: Bo bun Chic for you/Tiger for Ashton or Rossini Kobe Burger with truffle bread and Togarashi chips maison. Yum !
Drink Côtes du Rhone Terra 6840, label designed by Ara Starck. Check out the awesome wall painting by David Rochline: the red dragon, by Label Dalbin, dashing across the multi-tele screens along the 26m "zinc" bar, the furry chairs, the upside down multi-coloured parasols.
So who is Miss Kō the magnificent totally tattooed signature face of the maison? She's who you want her to be. Starring in the theatre that is Miss Kō.
Philippe Starck says: "This place is a street out of Blade Runner: a cement parking-garage with Formica chairs, TV screens that spew out hundreds of images of live news coverage from Asia, a kitchen that smokes and smoulders".  Add the designer's outsize teapots and you're at the Madhatter's Tea Party, with Asian-Fusion attitude.
49 avenue George V 8th
M: George V
T: 01 55 28 38 28
Average spend about 50€
Open 7/7 12h to 2h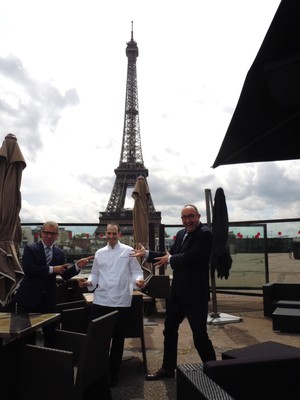 You're in a Woody Allen movie. Glass space designed by Jean Nouvel, outside terrace/lounge with the best view of the Eiffel Tower in town.
The food's a modern gastro- dialogue blending the different cultures showcased by the Musée de Quai Branly which opened in 2006.
Young chef (32) Cyril Lenoir, from the Auvergne and a family of cuisiniers, takes inspiration from time spent with Pierre Gagnaire and Eric Frechon, is excited to be directing the kitchens of Les Ombres and Cafe Branly.
"I'm the ideal chef for Branly, I've worked and travelled all over the place and identify with the exhibitions here which influence my dishes. Although, the clientele want classic French, I put my spin on the food such as raw and baked tomato starter with purple mustard ice cream and spicy crumble", he adds. Lenoir's a passionate pâtissier which explains the "sweet sour" aspect of his dishes. Try his salmon cooked in Italian curlpaper, almond and praline sauce: tender as a first kiss.
Try the lunch menu at 28-38€ a real test in a restaurant of haute gastronomy. No stinting, portions are generous. You could add a whole perfectly ripe Camembert by Mme Cantin (+12€) and take home whatever's left. Add a glass or two of Veuve Cliquot (18€) or of Chablis (8€) or the excellent fruity Château Roubine cru classé 2011 (8€). Bread by Jean-Luc Poujauran, rumoured to be re-opening soon, but where? And creamy Cantin butter.
Desserts include Chouquette puffs stuffed with praline, almond nougatine and passion fruite juice: Chocolate Tart, Tonk bean ice cream: Fraises des bois-pistaches, sablé breton. Coffee and cannelés outside: you may end up staying for dinner with Woody Allen!
27 Quai Branly, 7th
M: Bir-Hakeim
Open 7/7
Tea-Time on the terrace from: 14.30-17hrs
Bar: 14.30-23h00
Lunch Formula 28-38€
Dinner Menu 65-95€ + A La Carte
T: 01 47 53 68 00
Jeanne B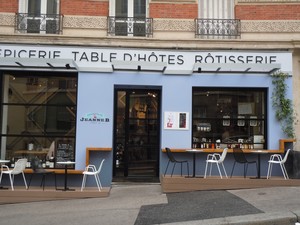 In a former funky children's boutique, Jeanne B has taken a place in the hearts and minds of  Montmartre locals. A mixed crowd of artists, writers, film-makers who'll be creating a neo-salon on the first floor as soon as the Baby-Foot machine is installed.
The space, directed by Sébestien Maréchal, cheffed by Cyril Boulet, is light and bright with an epicerie for take away picnics on the Butte: tables and tables d'hôtes, all excellent for table hopping and making NBF's.
From the blackboard choose: crumble niҫois au chèvre: chunky terrines, both meaty and veggie: carpaccio of vegetables: lasagne de legumes: vegetable or rabbit tourtes: gateau de petits gris (snails). Charcuterie and a hot or cold soup of the day, depending on the weather.
For mains: tender Challans chicken "Pates Noires" from the rôtisserie with creamy gratin dauphinoise. Croq Homard de Jeanne: Jarrret de Veau: grosses crevettes de Madagascar. And nobody minds if you order lasagne de petit pois for the table.
Cheese and/or dessert. Waffles: Fruit Tarts: Clafoutis: Mousse au chocolat caramel and Alperel ice creams and sorbets.
Fréderic Hubig-Schall has already made his mark launching Cafe Moderne: Astier: and Jeanne A. With Jeanne B he proves he's an original and talented restaurateur with a concept that merits transporting to every arrondissment in Paris.
Jeanne B
61 rue Lepic, 18th
M: Blanche
Open 7/7 Lunch formulas at 15-19-23€
Dinner 12-23-27€
T: 01 42 51 17 53
Terrace
More in Jeanne B, Lasserre, Les Ombres, Miss Kō, Paris restaurants, Pierre Herme, restaurant, Restaurant reviews
---
---