La Tour D'Argent : Victoria 1836 : Rôtisserie d'en Face & Cyril's Thanksgiving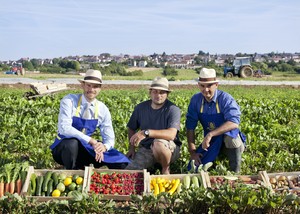 La Tour d'Argent, landmark off-white stone building with the silver tower, located on Quai de la Tournelle, overlooks the Seine.
The regal ground-floor showcases the maison's history, so don't press the lift button until you've had a good look round. Signed photos include 1930 : Franklin Delano Roosevelt : 1948 : Queen Elizabeth & Prince Phillip : 1956 Harry & Margaret Trueman : 1978 : Mick Jagger, Elton John, Serge Gainsbourg, Charlton Heston : A table's set just the way it was on June 7, 1867, when Tsar Alexander II of Russia, King Wilhelm I of Prussia and Otto Von Bismarck, architect of German unity, discussed Europe's future at La Tour d'Argent.
Last week owner André Terrail gave a few close personals the chance Woody Allen (a regular when he's in town) had to miss. The last scene of « Everyone Says I Love You » (1996) should have been shot on the roof, but, it was too complicated, so he filmed at street level.
On the roof, reached by a very steep staircase, MOF Head Chef Laurent Delarbre and André Terrail wanted to talk, not movies, but vegetables. And, being La Tour d'Argent, only the best.
« We need our vegetables to shine on the plates as much as, say, the signature duck », explained Terrail and Delarbre.
Enter market gardener Fabrice Robert from the Yvelines region, 45 kilometers from the restaurant. « It's about sustainable development, helping reduce the carbon footprint », say André Terrail, chef Delarbre and Monsieur Robert. They explain they contacted Fabrice through SAFER (Société d'aménagement Foncier et d'établissement Rural) a sort of dating site for vegetable producers and have since become NBF's (New Best Friends).
Chef Delarbre (ex-Ritz, Lasserre, Louis X111 : La Tour d'Argent since 2010) is delighted with the quality of Robert's "Agria" potatoes, perfect for the signature pommes de terre souffle accompanying the celeb Challans ducks.
« The Ile de France », says Delarbre, « is a pantry of products ».
For vegetarians, a new menu, "no seafood, meat, animal fat, dairy, gluten, peanuts, nuts », paired with wines by chef-sommelier David Ridgway. There's 15,000 listed in the telephone directory sized book.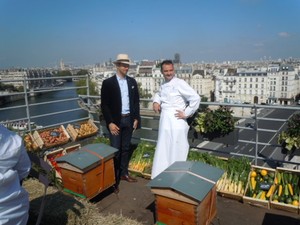 Up on the roof, where the beehives produce excellent honey, we had a taste of things to come, the spirit of Claude Terrail, ever present, no doubt looking down on his son, with pride.
In 2003, André Terrail took on a chunk of French history, and now looks as if he'll be making it. Worth the detour.
La Tour d'Argent,
15 quai de la Tournelle, 5th
M : Maubert Mutualité,
T : 01 43 54 23 31
Shut Sun-Mon
Valet Parking – Boutique
Lunch 75€ – Dinner Menus 180-200€
A La Carte 150/350€
Jacques Cagna – La Rôtisserie d'en Face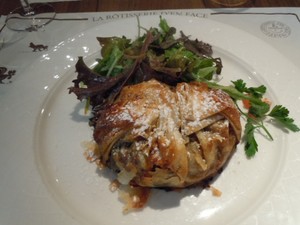 Located in the heart of Saint Germain des Prés, this is chef Jacques Cagnas' neo-brasserie, revised and corrected, "en face" (opposite) his former ** restaurant where he served, arguably, the best game in town in a listed XVIIth century maison, all exposed beams, Flemish paintings, candles, warm red carpet, a stone's throw from Picasso's Hôtel Particulier where Guernica was painted.
To-day Cagna, and his sister Annie, welcome you to their contemporary rôtisserie,  zinc bar where there's plenty of space between tables to enjoy starters of signature Terrine of chicken liver: Frog's legs with garlic and fresh herbs:  rib-sticking home-made duck foie gras and house-made 6- grain bread.
Mains include a blackboard special, say, guinea fowl pastilla, aubergine, pine nuts, a drizzle of honey, as well as excellent Mackeral Brandade, La Belle Sole, plancha, or pan fried: signature Rôtisserie chicken, purée or hand cut chips: Cervelle (brains) de veau meuniere : Cheese, and, for dessert, look no further than "Traditional Paris-Brest" de Jacques Cagna or the wicked iced Vacherin, walnut ice cream, meringue and caramel sauce.
For wine, Givry 1er Cru Clos Jus 2007 from Vincent Lumpp, ask Director Olivier Tourlet to lead you through the impressive card.
2 rue Christine, 6th
M : Odeon
T : 01 43 26 40 98
Average Spend Lunch 37€ – Dinner 41€
Shut Saturday lunch-Sunday
Victoria's Secret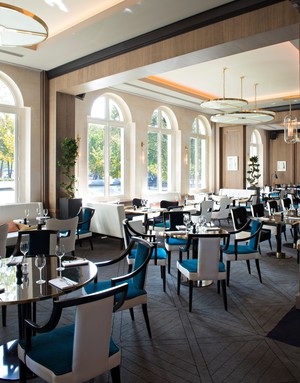 In honour of the date the last stone was laid at the Arc de Triomphe, the handsome Hôtel Particulier, formerly L'Arc, re-opened last week, as Victoria 1836 ; it was destroyed by fire 18 months ago.
New décor's by Sarah Lavoine and, wearing the whites in his brand new kitchen, young talent Alexandre Auger ex-Yannick Alleno, Le Meurice.
From eleven starters (and always dishes of the day) choose : Œufs au plat, foie gras, salpicon de homard : Ceviche de daurade, sauce yuzu ponzu, shiso, grilled sesame.
Burratina, tomatoes, basil : salad for the ladies who do. The crowd's just returned from St. Tropez, businessmen, discreet corners for lovers. Chivas Bar for meeting NBF's.
They continue with tasty truffled Croque Monsieur : Burger « AAA » cheddar, fries. « My father's a butcher, so there's lots of accents on excellent cuts of beef », says chef. Ashton orders Château Pessan Saint Hilaire 2011 (40€). I'd prefer the Petrus 1986 (4,200€). Desserts include Lemon Tart : Cheesecake : Profiteroles, chocolat chaud. Yum !
Benjamin Patou, CEO of MOMA Group, creator of the concept, says of the renaissance, « we aim to create a hotel atmosphere, open from 7.30 for breakfast, but without the rooms ! »
At garden level watch for the opening of L'Arc Night-Club, designed by singer/actor/designer Lenny Kravitz. (See him in concert at Bercy 23 November 2014).
12 rue de Presbourg, 8th
M : Charles de Gaulle-Etoile,
T : 01 44 17 97 72
Shut Sat Lunch/Sunday
Breakfast/Lunch/Tea Time/Cocktail/Dinner
Lunch 36€-45€ – Dinner Expérience du Soir 55€ (hors boissons)
Valet Parking
Photo credit:  Nicolas Matheus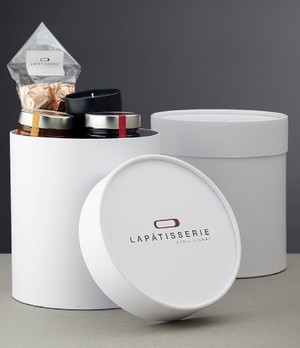 Both Cyril's addresses are open 7/7 from 7h-20h. The Autumn collection stars Cyril and Benoît Couvrand's spin on the classics : Croc'noisettes : Lemon Tarts : Eclairs :
From 15th December three beautiful büches : Dulcey : Equinoxe : Caraïbe :
From 1st December, the chic hat box to fill with Cyril's home-made jams, heavenly honey : chestnut spread : candles and macarons.
Leave a reply
Your email address will not be published. Required fields are marked *